Walmart introduced a brand new uniform in 2018, saying goodbye to the required khaki or black pants and blue or white shirt, and welcome to a trendier, more casual look.
Yet, what exactly are the "can" and "can't" of Walmart dress code? We'll discuss several of the most often asked queries in this piece, so continue reading to learn more!
Walmart Dress Code 2023
Employees at Walmart can wear any shade of denim jeans and any graphic shirt of any color. However, there should be no rips, decorations, or diamonds on the jeans. 
The store also permits workers to wear sneakers rather than dress shoes for the greatest convenience, and most tattoos and colored hair are permitted.
Keep scrolling down to discover about the Walmart uniform policy (shirts, outfit, hair, shoes…) in more detail!
Frequently Asked Question About Walmart Employee Dress Code
Is It True That Walmart Provides You With A Uniform?
Of course! Walmart does provide their staff with a uniform consisting of a vest and a name tag. Based on your position, you will receive a different color.
Besides, you are free to dress however you like; just make sure you follow the dress code. The jackets themselves are free; yet, customizing it will set you back roughly $11.
Is It OK For Walmart Employees To Wear Leggings?
No.
Employees at Walmart are not permitted to wear tights (including pants for yoga). Jeggings and cargo pants, jeans, trousers, capris, or chinos are all acceptable.
Can You Work At Walmart In Ripped Jeans?
Walmart does not allow employees to wear ripped jeans and pants with designs, ragged edges, or rips.
Distressed jeans, along with those with spots, discoloration, white stitching, patches, or sequin/jewel details, are not approved as well.
Does Walmart Allow Their Employees To Wear Hoodies?
Several managers may approve hoodies, while others will not. This is dependent on your position in the workplace and if the hood is considered a safety threat.
Some individuals may be allowed to wear a hoodie with the hood tucked inside their Walmart Jacket, whereas others may not be allowed to wear a pullover at all. It's wise to double-check with your boss.
Can You Work In Shorts At Walmart?
Shorts are generally not acceptable for retail employees, but there are still exceptions for several positions.
Skirts, capris, or skorts are allowed as long as they are no more than 3 ½ inches above your knee.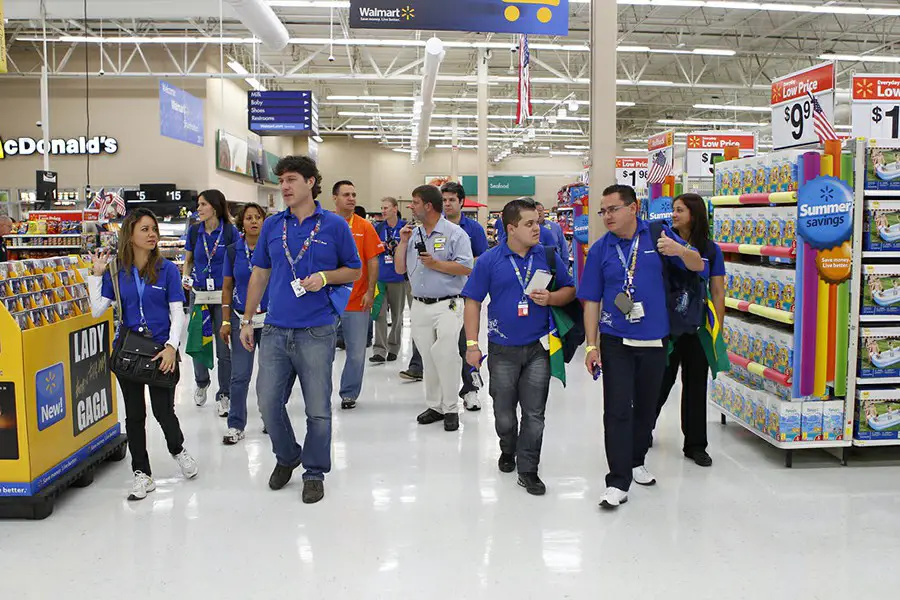 Is It Permissible For Walmart Employees To Wear Hats?
Employees can put on a baseball cap as long as it's a Walmart one. Those who are working at the check-out counter are exempt from this rule. But you will not be allowed to wear a cap if you work as a cashier.
How About Facial Piercings, Hair Dye, And Tattoos?
Face piercings
When Walmart issued its new uniform policy in 2018, it relaxed limitations on facial piercings. This enables employees to keep facial piercings while working.
Staff working in a fresh food court, such as a bakery, are exempt from this rule. If you're working with raw food, you can be required to take your piercings out for cleanliness reasons.
Hairstyle
Most limitations on hairstyle have been lifted from the Walmart uniform code. According to the rules, employees are permitted to do anything they want with their hair as long as it does not distract them from their duties, according to the rules.
Of course, every supervisor has a different perspective on what is and isn't 'disorientating,' so it would be a good idea to double-check.
Tattoos
Walmart has also modified the dress rule for tattoos, and body art is now generally accepted among Walmart employees.
Your manager is unlikely to urge you to conceal your tattoos unless they are in some way offensive. This varies per manager and shop, so confirm with yours before going out and getting a whole sleeve.
Are There Any Other Things To Pay Attention To?
If you're ready to start working at Walmart, you may be curious to learn more about the Walmart Discount Card. Workers receive a 10% in-store discount and exclusive offers on vacation or other retailers with this card.
Before applying, aspiring Walmart workers must familiarize themselves with the company's drug-testing policy.
Also, remember to learn about Walmart's lunch break policy, pay stub policy, retirement policy, and bereavement policy.
Final Words
Employees now have many options thanks to improvements in the Walmart dress code. This versatility may come with some ambiguity, so it's always a good idea to check with your boss before showing up to work in anything that violates the uniform policy.
Many dress code requirements are role-specific, and various managers are likely to enforce separate rules. So if you're seeking a casual outfit, a shirt, pants, and trainers are a great place to start.
Related Walmart Source: