Quitting Walmart is one of the hardest things someone can do because leaving could mean a major drop in monthly income. But most of all, leaving and starting life elsewhere is psychologically difficult to deal with.
There are a lot of questions that need to be answered before you can call it quits. This is where we come in. Our blog will provide tips on preparing for your next step and how to resign from Walmart!
How To Quit Walmart Professionally? 
To resign from Walmart, plan a resigning meeting with your manager and notify them of your decision to ensure a smooth transition. Ensure that you provide notification within two weeks to avoid disruptions and maintain a positive image with the company. 
If you cannot speak to your boss, go through the appropriate channels with the store's Assistant and if you're worried about when exactly you can use up all of your PTO (paid time off) or what happens next, keep reading for more details!
Who Do I Reach To Resign From Walmart? 
It's ordinarily the job of your direct manager to get the information that you're quitting Walmart; however, because these days, managers are not always available to meet, it is often imperative to enlist the help of a store manager assistant or even the HR staff when making a quitting notice.
Before you give your employer the official word that you will leave, inform them that you value their hiring decision for you and the experience you've had in the position. Thank them for giving you a chance to prove your worth. 
Showing that level of gratitude is important, and it will come across at this time more than ever before. If possible, try to have one final conversation with the people you've worked with before handing in your notice.
How Can I Resign From Walmart Online?
Many people are afraid of meeting and speaking directly with their boss to inform them about quitting. They are trying to do it indirectly by submitting a resignation letter online.
One other way you can consider this is to mail your direct manager a formal letter of resignation. Please don't write it lengthy; one should state in a few sentences that you will be resigning and the exact day you expect things to come to an end.
It's indeed faster and more convenient to inform people online. We'd advise you to meet your boss in person and tell them about your leaving. After all, your boss will ask you directly about your decision even though you have already sent them an email. 
Do I Have To Leave Walmart With A Notice?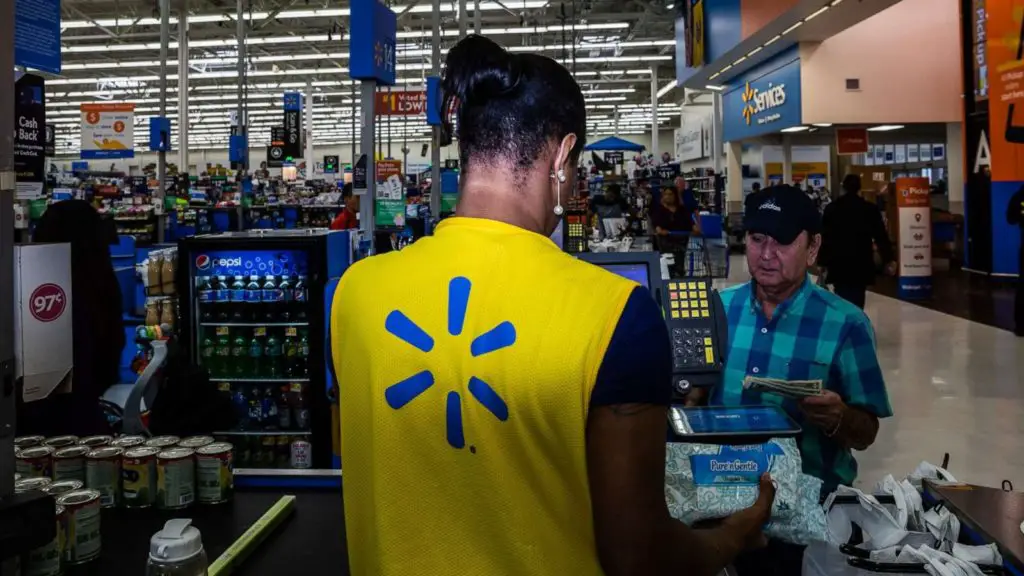 Yes, for sure! As an employee, it's a good habit to write a 2-week notice for Walmart when quitting your job. This two-week period gives your manager more time to rearrange schedules to make sure the work will be covered while spending time finding a replacement for your absence.
If you haven't been employed on the job site for very long, you may not need to inform them before two weeks. Your managers can contact past applicants to fill the void left by you. A clean exit will make it less likely for you to get bad references yourself when applying for future positions. 
Even if everything has been running smoothly and you have built up a solid reputation for yourself, it might still be useful to prepare a quitting notification to leave on good terms.
What Can I Do With My Unused PTO When Leaving Walmart? 
One of the main steps to take once you've decided to leave will be to make sure you get a payout of your earned and unused PTO.
Salaried associates who work at the retailer for over a year will get a payout of their unused and accrued paid time off for up to five days. However, in some locations, hourly associates who have been working for a shorter amount of time may also be eligible.
How Can I Receive The Final Pay Stub After Resigning From Walmart? 
Any last paycheck stub when you quit your job should be sent to your home address. Suppose, for some reason; it doesn't get sent out. In that case, it's important to initiate contact with the company's customer service by calling them directly and telling them that you need their support in accessing this information. 
Alternatively, pick up the phone and dial straight into the HR department, which will help send your pay stub.
Some Tips For You Before Resigning From Walmart 
Only give your notice until you have another job offer, and make sure that when you hand in your resignation, it's going to be polite and professional. 
Don't write a letter that tells anything about disregarding the company or its policies even if you have no respect for them at all, and leave the place without hatred or ill feeling
Remember to provide your notice beforehand. It gives other employees time to adjust their work schedule to accommodate the gradual shift in the workload over a few weeks worth of training.
Conclusion 
There are a lot of reasons why you would want to quit the retailer, and it is much easier than you think with our guide on how to quit Walmart! Just remember, if you're having trouble making ends meet, you're not alone. We're here to help, so don't hesitate to get in touch with us if you have any questions or concerns!
Related Walmart Source: