Walmart is undoubtedly one of the largest retailers in the world. This company boasts millions of employees and witnessed billion of yearly revenue. Thanks to its huge business success, it is also known for affording to pay its workers generously. 
In recent years, Walmart has picked up the slack by giving various bonuses. So what is the case? Who is liable for a Walmart employee bonus? Keep reading this article to get the answers.
About Walmart Performance
Walmart is one of the biggest retailers in the US, with up to 10500 clubs and stores in 24 countries. There are 2.3 million employees and associates around the world.
The company has breathed a new life and solved the daily struggle of millions of customers. Besides being a big retailer, Walmart is also among the most dynamic e-commerce and fastest-growing organizations in the world. 
The convenience and superior customer service of this company are always undeniable. You will likely experience an unparalleled selection of categories and brands at a reasonable price.
In terms of employment, high revenues and good business performance allow the company to pay higher salaries for associates and workers. For this reason, Walmart is always a welcoming door for those looking for a stable income.
How Much Bonus Does Walmart Pay Annually?
Walmart pays an average of $2,769 in annual bonuses to employees. Range from $200 to $28,000 annually for employees who report receiving bonuses. Employees with the title of Senior Product Manager earn the highest bonuses with an average annual bonus of $28,000. Employees with the title Deli Contributor earn the lowest bonuses with an average annual bonus of $200
| | |
| --- | --- |
| Job Title | Average |
| Sales Associate | $430 |
| Software Engineer | $13k |
| Cashier | $410 |
| Department Manager, Retail Store | $483 |
| Retail Sales Associate | $272 |
| Stocker | $153 |
| Pharmacy Technician | $520 |
Source: https://www.payscale.com/research/US/Employer=Walmart.com/Bonus
Does Walmart Give Further Bonuses 2022?
Sadly, since January, Walmart has stopped its quarterly bonus 2022 policy for its employees. In the past, its employees had received wage bonuses four times each year for decades.
Will Walmart give raises in 2022? The program was canceled after the company increased its base pay by $1 per hour. Walmart also promised to increase the starting wait from $11 to $12. Instead of this previous policy, the company started to raise the hourly rate. 
The final elimination of quarterly bonuses promises not to cancel the wage hike. All Walmart workers will receive a portion of a pay hike and roll in higher hourly pay. The change partly results from most Walmart associates' claims. 
They find that hourly wage is the most crucial part of their pay. Thus, folding the bonuses into the pay rise will offer a more consistent and predictable monthly salary.
Besides, there is also a new strategy encouraging employees to postpone their holidays and work extra hours. Those working through unusual situations will benefit from this new policy, like the Walmart Christmas bonus 2022.
During the pandemic, there are several bonuses paid out to workers to boost productivity. In the tight job market, Walmart also increases wages, expands employees' benefits, and offers sign-on bonuses to attract more workers to join the line.
The new change is due to the side effect of the quarterly bonuses. This type of incentive shows reductions in the overall performance as it is not always stable.
Newly introduced bonuses and incentives are given to workers in clubs, fulfillment centers, stores, and distribution facilities. Supervisors, assistant managers, and drivers also deserve bonuses. 
A full-time employee will receive cash bonuses valued at $300, while a temporary and part-time one deserves a $150 bonus. Walmart announced offering more than $500 weekly for bonuses. 
Each year, Walmart spends nearly $1.1 billion on raising the wages of employees. The company will also give out up to $500 per week to pay for full-time warehouse employees. As long as they are willing to delay vacation time, they can receive this enormous amount of cash.
How Much Bonus Does Walmart Employees Receive in 2022?
With the new bonus policy, Walmart employees will likely have more wages and money in their paychecks on a stable and regular basis. This is especially welcoming during the outbreak of the COVID-19 pandemic when workers of all retailers experienced hit hard and were forced to the brink. 
The bonuses during this period served as a thank you to Walmart employees for their hard-working attitude under strenuous conditions. Full-time employees received $300, and part-time ones got $150.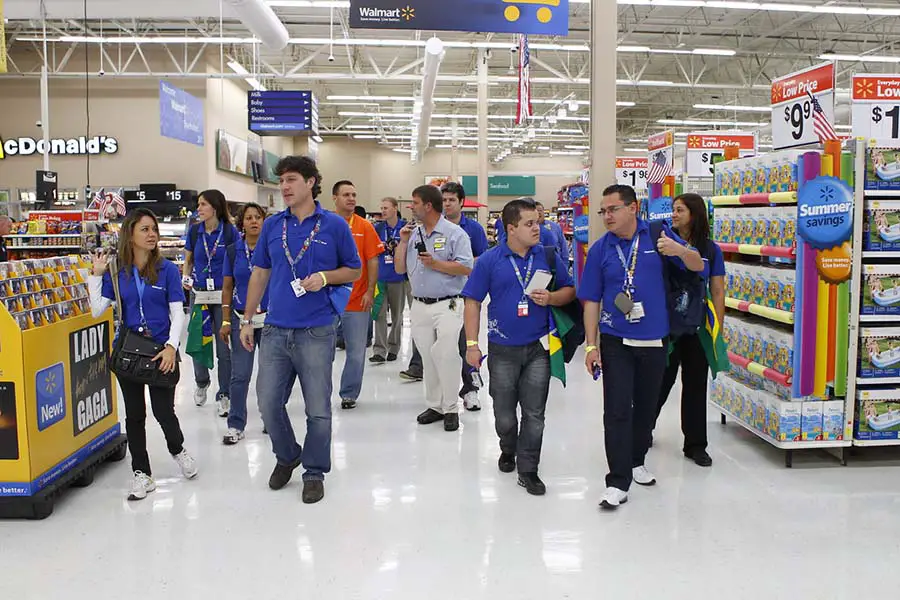 Do Walmart Managers Get Bonuses 2022?
Despite the canceling of the quarterly bonus programs, Walmart managers and team leaders will deserve the annual bonuses. Yet, they have to guarantee the store's performance. 
In particular, as an annual incentive, an assistant store manager can get up to $8000. A shop manager will even receive a much higher figure around $60000 to $90000!
The quarterly bonuses are only eliminated for salaried employees. On the reverse, managers will still benefit from this policy. 15%, 25%, and 50% bonuses are awarded to assistant managers, co-managers, and store managers respectively.
Without a shade of doubt, the CEO is the one receiving a sizable Walmart yearly bonus in 2022. The CEO Dough McMillion got a total of #3,816 million bonus, adding to his #1,276 million salaries.
All the bonuses are attributed to the revenue and operating income by sales. 
How Often Do You Get A Raise In Walmart?
In the past, 48 hours was the minimum working hour requirement for a bonus. Besides, you have to make sure that you get no overtime pay. All store managers and associates tended to receive a bonus compatible with the overall store performance. 
From now on, instead of relying on the quarterly bonus policy, you should shift to benefit from your regular paycheck. Plus, Walmart appears to give a wage raise every six months a year. While it is tied into overall performance, the raise is not substantial.
The minimum wage in Walmart is $12 at the moment. A new raise can follow a more common time frame at Walmart. You will likely get a raise once a year. From now on, Walmart is no longer an ideal door for those desiring to ascend up the wage quickly.
Conclusion
Regarding Walmart employee bonus, the system has canceled its quarterly bonus policy since January 2022. However, while some people claim that it lowers the overall rate for employees, the new policy will positively bump up the salaries and give a more stable income.
Beyond raises in wages, Walmart also offers a better package of benefits and perks to its employees. The process of awarding a substantial wage may take time, but it is surely worth your effort.
Related Walmart employee resources: