Television has become one of the most purchased home appliances of Walmart over the past few years. Along with the warranty policy, the Walmart TV return policy is also something that customers care about when choosing to shop.
This article will guide customers in detail about the return process as well as the necessary conditions. Let's scroll down and read carefully.
Walmart TV Return Policy 2023
Walmart will accept TV returns within 30 days after purchase for all LED, LCD, OLED, and QLED TVs that are still in good keep. It means that the TV must come with all of the necessary accessories, such as a remote, legs, and receipts.
If you buy a TV at a Walmart retailer, you must return it directly to that store. Or if you order at Walmart.com, you can work by mail or contact any Walmart store near you.
In case you lose the box, you can still return the TV to Walmart. But it would be better to bring the original packaging. For more details, keep reading the following sections.
Can You Return A TV to Walmart after 30 days?
Better yet, when you just bought the TV, monitor it for any problems within 30 days. The closer the return time to the purchase date, the easier it is to return.
If you cannot return the TV to Walmart within this period, there is still a chance that the employee will accept it. In case they do not agree, you can contact another Walmart store to ask for the returns. You can also talk to the manager of that store.
Even if the manager refuses, but you believe your TV is eligible for a return, inform them that you will file a complaint about the store with Walmart headquarters. The store manager will review and agree to return at this point.
Can Customers Return Refurbished TVs To Walmart?
This is great news for those of you who are worried that Walmart wouldn't accept refurbished televisions. If a receipt is available, customers can return the refurbished TV for an exchange or refund within 30 days.
You can request this return at any Walmart store, or you can mail it back. But keep in mind that you cannot give it back at a Walmart store if you purchased it through a third party. In such cases, you need to contact the seller, talk to them about the return issue, and see if they accept it.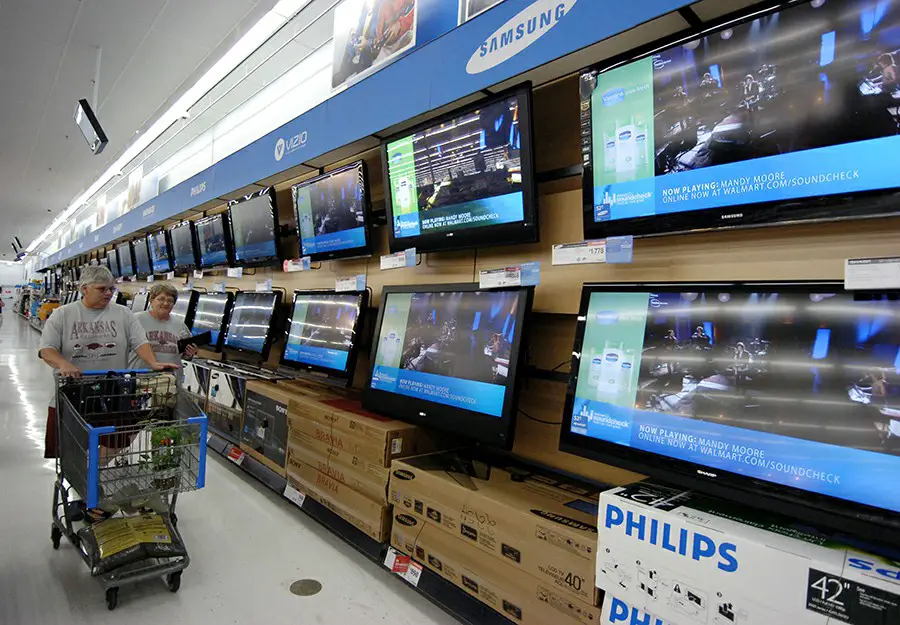 Is It Possible Without The Original Box?
All products from Walmart have a barcode or sticker to identify the product. When you want to restore a product without the box, Walmart still accepts returns. However, you need to bring a receipt to confirm the purchase from the company. Your television must be in good working order, undamaged, and complete with all accessories.
Walmart Return Policy on TVs With Receipt 
You are able to return your TV and get your purchase amount back in the same method you paid for Walmart as long as your TV comes with a barcode and accessories intact with a receipt.
Walmart will be responsible for processing your return and refunding you in-store. When you purchase your TV online at Walmart.com, you could give it back by email or any Walmart store within 30 days. You need to pack your TV carefully, with a direct purchase voucher. 
On the other hand, if you want to send your TV by post, log into Walmart.com or call Walmart customer service directly to complete the return form and print the shipping label. 
It will take about three weeks to complete the return process after sending the TV to USPS or FedEx near you. You will receive your refund approximately five days after the return is approved.
Is It Possible Without A Purchase Receipt?
Without a purchase receipt, you can still be accepted for a return within 30 days of purchase; however, you can only exchange it for another item or store credit.
In this case, you'll need the original packaging and valid identification to restore the TV to Walmart. It is necessary to bring the credit card or debit card with the chip that you purchased at the store so that the Walmart staff can scan the barcode and search for your order.
The same goes for buying TVs online, and you can still return the TV in two ways. The first way is to give back in person at a Walmart store near you or send it by mail. Either way, however, you're only allowed to redeem or shop a card at Walmart without a receipt.
Can You Return A Broken TV To Walmart? 
When ordering any product from Walmart, it's important to check it out thoroughly, especially valuable products like TVs. If you find any problems such as scratches, damage, please return it immediately within 30 days. If it was damaged by your misuse, the company will not be responsible.
Also, you cannot return the damaged TV to the store after the 30-day return policy even if you have the receipt or the box. The best way is to check before the return period expires.
Conclusion
In short, Walmart's return policy is quite flexible; there are many ways for you to return, such as in person, through the website, or by mail. The store is also not too strict about whether there is a box or no box, with or without a receipt.
Yet, the safest way is to check the goods thoroughly and quickly return them within 30 days to make everything go smoothly. Hopefully, this information will help you understand the steps and deadlines to return the goods to avoid losing money unjustly.
Related Walmart Source: