Sometimes, when browsing around Walmart, you may notice several people carrying blue tote bins and picking listed goods to ship to customers' homes. These employees are called Walmart personal shopper. Keep on reading to learn about this job at Walmart!
What Is Walmart personal shopper?
A Walmart personal shopper is someone who shops for others for a living. Customers place their orders online under the 'Pick-up Today' section and get notified once they assemble the ordered items. This way, customers don't have to walk through the aisle. Personal shoppers can shop for everything, from groceries to furniture.
How Much Walmart Charges For A Personal Shopper 
Employees at Walmart who shop for online orders earn an average of $12.29 per hour.  Pay varies depending on location and experience, including health insurance, dental insurance, a discount for employees, paid time off, a 401K, and vision insurance.
Working hour As A Walmart personal shopper
Walmart Personal shoppers can work 8-10 hours a day picking up online orders and delivering them to the curbside or preparing them for home deliveries.
However, Walmart personal shoppers can work full-time or part-time depending on availability. The number of hours worked per worker may vary.
In addition, Walmart personal shoppers are given 30 minutes to one-hour unpaid lunch breaks and two paid 15-minute breaks during each shift.
FAQs
What Does A Personal Shopper Do At Walmart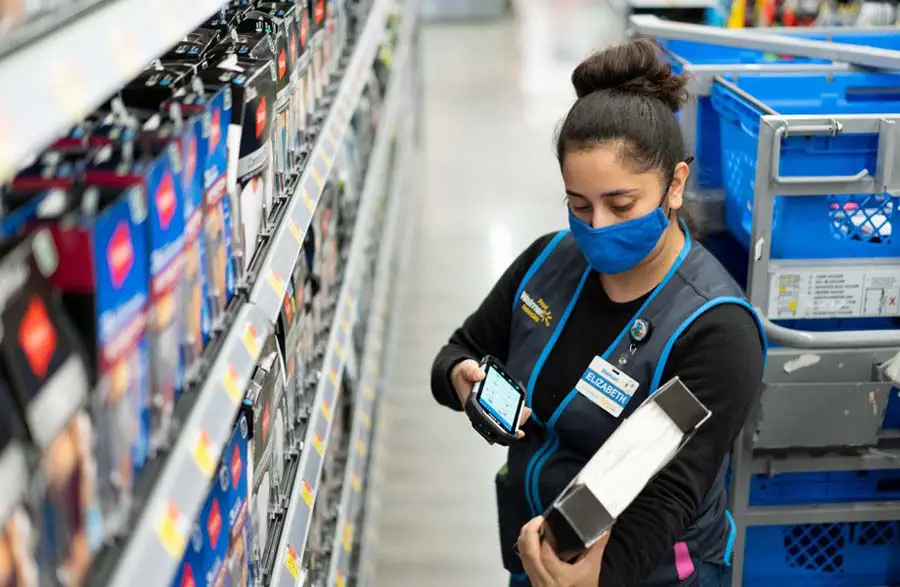 You may wonder: "What does a personal shopper do at Walmart?" As a Personal Shopper, you will be in charge of shopping online grocery orders for each customer while ensuring accuracy and quality, allowing us to gain customer trust and loyalty. You'll be doing the following:
Shopping in-store vs. fulfilling online grocery orders
Communicate effectively and provide the highest level of customer service
Respond to customer requirements
Other responsibilities as assigned
Personal Shopper Walmart Job Description
Personal shoppers Walmart job description execute the following jobs, obligations, and responsibilities:
Client criteria and demands are identified, and items that meet those requirements are located.
Working with consumers to understand their individual needs, long-term goals, budgets, and hobbies in order to select the right things for them.
Goals and targets for sales and new accounts are being met and exceeded.
Interacting with clients to learn/determine their needs, offering advice and understanding of the best things to buy, processing orders, and assisting with swaps or refunds
When a customer is displeased with the goods they received, assist them in making an exchange or replacing it with something more suited.
Knowing and comprehending product or merchandise information, as well as its characteristics and benefits
What Is the Minimum Age to Be a Walmart Personal Shopper?
A Walmart personal shopper can be as young as 16 years old because Walmart's company policy requires employees to be at least 16 years old.
Walmart Personal Shopper Requirements
If you want to work as a personal shopper for Walmart, you should be aware of the following major requirements:
Because personal shoppers must interact effectively with customers and brands, they must have excellent verbal and written communication skills.
Excellent interpersonal skills
Excellent time management skills allow a personal shopper to effectively manage their time to meet deadlines and have purchases ready for clients.
Excellent decision-making abilities
The ability to pay close attention to detail
Computer literacy is required because a personal shopper may be required to use cutting-edge devices and websites to showcase items to customers while also managing the administrative side of their job.
Good listening skills are required because they must pay attention to clients in order to understand their needs and product offerings.
Good customer service skills, as they must maintain a professional demeanor with each customer and provide the highest level of service.
Good organizational skills are required because a personal shopper must frequently manage shopping for multiple clients, which necessitates organization and the ability to track each item or product.
Preparing A CV for a Walmart Personal Shopper
Suppose you are writing a new resume/CV and have previously worked at Walmart as a personal shopper or are currently working in that role. In that case, you can improve the effectiveness of your resume/CV by emphasizing that work experience.
To demonstrate to the recruiter/employer that you have successfully performed the duties and responsibilities of a personal shopper, you must include a professional or work experience section in your resume/CV.
This information in your resume/CV can be very helpful in getting the recruiter/employer to grant you an interview, especially if the personal shopper work experience is critical to your success in the new job.
Is It Difficult To Work As A Walmart Personal Shopper?
According to them, the jobs are more stressful and physically demanding than the average retail sales associate job. Some employees have stated that they are overwhelmed by the volume of orders they receive on a daily basis. Walmart has more than 170,000 personal shoppers in its stores, which is more than double the number from the previous year.
Conclusion 
That is what you will be a part of as personal shopper. Walmart has been named one of the most popular stores that employ personal shoppers. Are you ready to be a part of a fast-paced work environment that is changing how people shop for groceries?
To learn more about Walmart you can also read our articles on: