Aldi serves in many countries. Besides the domestic market, the US has witnessed a rapid expansion in the number of locations in a decade. 
Despite the competition of giant supermarket systems, this company has never shown a weakness in the competition. It expressed an ambition to increase more and more Aldi store locations in the future.
About The Worldwide Aldi Grocery Chain 
Aldi is a joint brand of two discount supermarket chains owned by Karl Albrecht and Theo Albrecht. They took over their mother's business in 1964 and grew in the domestic market. In 1960, two brothers split the business: Aldi Süd in Mülheim and Aldi Nord in Essen.
In Germany, these two divisions maintain financial and legal separation. Aldi Nord's operations are concentrated in the west, north and east. It owns 35 regional companies and 2500 stores. Meanwhile, 32 retail companies and 1600 stores under Aldi Süd conquer the western and southern markets.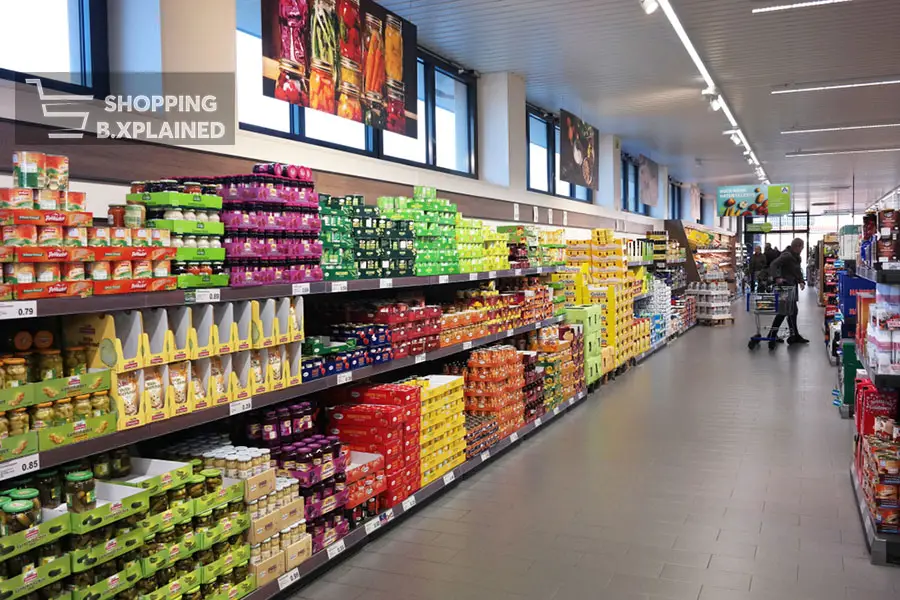 Both have conducted their global expansion strategies in specific directions. Nord's target countries include Denmark, France, Portugal, Spain and Poland. In comparison, Aldi Süd aims to profit from Ireland, Great Britain, Hungary, Australia, China, Italy, Austria, Switzerland, and Slovenia.
The US is the only area with both business grocery chains operating outside their native country. Aldi Süd keeps the same name for its chain, but Aldi Nord launches publicly under the Trader Joe's brand. The Aldi global network has now surpassed the milestone of 10000 locations.
How To Find Aldi Grocery Stores Near Me? 
With the wide global coverage, only the store locator stores a large database and supports looking up locations. Unfortunately, each country serves a different access address. For instance, visit Aldi Directory for US store listings.
What all locators have in common is the presence of useful information. They provide important notes for visits, including address, directions, service and payment at the selected store. 
Some also mention weekly special offers, discounts, etc. If you need a general catalog for all available staple items, visit the official website. Head to the Help Center for customer service.
Aldi In The US – What To Know
How Many Aldi Stores Are There In The US?
Since October 2022, this brand has built an extensive network of 2244 locations. It can be said that this brand is one of the fastest-growing retailers in the United States. 
The first grand opening took place in Iowa in 1976. To meet the vast shopping needs of millions of customers each month, the number of stores has doubled in the past decade.
Though the coverage has already reached more than half the size of the US area, it still has a long way to go. With a rapid expansion strategy, Aldi remains on track to become the third-largest grocery retailer in this thriving market by the end of this year.
Ten States With The Most Aldi Stores
This business has developed infrastructure in 39 states. Some regions recorded a significant number of locations due to immense purchasing power. Below is a detailed table about the Top 10 areas with the most abundant resources.
| | | | |
| --- | --- | --- | --- |
| Territory | Total number of Aldi local stores (percentage of total Aldi stores nationwide) | Local population | Estimated service capacity per store |
| Illinois | 210 (9%) | 12.67M | 60.34K |
| Floria | 203 (9%) | 21.48M | 105.80K |
| Ohio | 152 (7%) | 11.69M | 76.90K |
| Pennsylvania | 146 (6%) | 12.80M | 88.29K |
| Texas | 127 (6%) | 29.00M | 228.31K |
| New York | 122 (5%) | 19.45M | 159.46K |
| Michigan | 95 (4%) | 9.99M | 105.13K |
| California | 92 (4%) | 39.1M | 429.48K |
| North Carolina | 91 (4%)  | 10.49M | 115.25K |
| Missouri | 91 (4% | 6.14M | 68.19K |
States Without Aldi's Presence
Aldi is absent from the competitive grocery market in 17 US states and territories, including:
Alaska
Washington
Idaho
Colorado
Maine
Nevada
New Mexico
Oregon
U.S Virgin Island
Wyoming
Utah
Guam 
Montana
American Samoa
Hawaii
Puerto Rico
Northern Mariana Island
Why doesn't it redirect resources in crowded areas to empty ones? The answer lies in the inward business strategy. Development in new locations that have never been on the active map poses management and distribution network challenges.
Top Cities With The Most Locations
The champion and runner-up in the ranking of states have only one name in the top 10 cities with the most stores. Meanwhile, there are two cities on top for each state from Pennsylvania and Missouri. Surprise? Let's learn more.
| | | |
| --- | --- | --- |
| State | City | Number of locations |
| Illinois | Chicago | 33 |
| Missouri | Saint Louis | 16 |
| Texas | Houston | 15 |
| Minnesota | Minneapolis | 15 |
| Wisconsin | Milwaukee | 13 |
| Minnesota | Saint Paul | 13 |
| Floria | Orlando | 12 |
| Pennsylvania | Pittsburgh | 12 |
| Missouri | Kansas City | 11 |
| Pennsylvania | Philadelphia | 11 |
Upcoming Stores By 2023
In 2022, this company plans to launch 150 new locations. The Gulf Coast is a priority market in the current expansion strategy. 
For instance, the Lafayette store in Louisiana welcomed its first customers this past February. Then twenty new stores will also appear across the region by the end of the year.
Besides developing the store network, Aldi allocates its resources to convenient online shopping options. The Grocery Pickup service will be deployed at 1200-1500 curbside locations.
The German business intends to build a 564,000-square-foot distribution centre in Loxley to enhance the smooth delivery system. This architecture acts as the premise to support more than 100  expected grand openings in Alabama, Louisiana, Florida, Panhandle and Mississippi in 2023. 
FAQs
What Are Aldi Store Hours Of Opening And Closing? 
Most stores in the US and Germany open at 8 AM and close at 10 PM on weekdays. The schedule on Saturday remains unchanged, but Sunday does not. Shopping on the last day of the week usually only lasts from 10 AM to 4 PM.
However, the specific activity at each location may be slightly different. You should visit the store locator and check for the best results.
Which Aldi Stores In The US Serve Alcohol Sales?
The good news is that most locations serve alcohol. However, you must follow the rules to buy it directly at the store. For example, some regulations require that the purchaser be 21 years of age or older and present an ID or liquor license.
Note that some states or cities BANNING alcohol in grocery stores include:
New York
Pennsylvania
Massachusetts
New Jersey
Minnesota
Maryland
New Hampshire
North Dakota
Delaware
Rhode Islans
Does Aldi Delivery Goods To States Outside Its Activity Map?
Yes. The grocery delivery service of Aldi serves over 10000 ZIP codes. Click here to match your address.
Is Aldi Coming To Colorado?
Unfortunately, no. This business now focuses resources on expansion on the Gulf Coast.
Conclusion
Aldi locations cover almost the entire United States. Customers can look forward to its presence in the new state with detailed expansion plans. The rapid growth of this efficient grocery chain makes it a top choice among smart consumers alongside its commitment to quality and low prices.
See more: