As a regular shopper, you must be familiar with Lidl and Aldi, two popular self-serving retailers that provide a variety of goods, including everything from furnishings to food. But which is cheaper, Aldi or Lidl?
Although they operate on the same idea, these German retail stores can be contrasted using several criteria. You will discover their commonalities, distinctions, and which is superior in this tutorial.
About Lidl
Lidl was established in 1930 and had its main offices in Neckarsulm. However, it entered the grocery industry in 1977, emulating Aldi's corporate structure. The company is a part of The Schwarz Group, the fifth-largest retailer in the world.
This chain of bargain stores currently has approximately 11200 locations in the US and Europe. Also, Lidl offers a greater variety of products and actively promotes both national and international product brands.
About Ald
Albrecht Discounts mostly referred to as Aldi, is a grocery chain owned by Karl and Theo Albrecht. This chain grocery store first opened as a modest shop in 1913. Aldi Sud, with its headquarters in Mülheim a der Ruhr, and Aldi Nord, with its headquarters in Essen, split in 1960 due to irreconcilable disagreements in corporate operations and management.
Aldi Sud concentrated its operations in Anglophone nations and Austria, whilst Aldi Nord concentrated on regions of Europe and Northern Germany. At the moment, Aldi operates 11,235 locations worldwide.
Aldi Vs Lidl: Similarities
Although each of these supermarkets is distinctive in its own right, some obvious commonalities are worth highlighting.
Pricing Scheme
Both supermarkets operate as low-cost chains in the nations where they are located. Therefore, their pricing is reasonable when compared to those of other stores. These two are your best bet if you are trying to save money anywhere you can.
Also, certain products resemble well-known brands in appearance, and in many cases, they were placed directly next to them but offered for considerably less money. Aldi and Lidl both significantly rely on their private labels, which is one of the reasons why both retailers have been able to sell goods at such low rates.
Money-Back Policy
Refunds are permitted for both supermarkets' private label goods bought from their establishments. Let's say a customer decides not to keep an item they bought or isn't happy with it.
If so, customers may do so after producing the receipt as evidence of purchase in order to return the item and receive a refund. Due to this strategy, customers can shop with confidence at these two businesses, making the experience simpler and less stressful.
Bagging Rules
Similar grocery bags are available at Aldi and Lidl for patrons. Customers are asked to bring shopping bags to the stores so they can load their items.
A shopping bag can be bought at the stores when the customers are unable to bring their own. The two supermarkets enable shoppers to bag their own items while they are there. As a result, both have significantly decreased their staffing.
Display Packaging
Lidl and Aldi supermarkets stock things already packaged on their shelves to cut labor costs. This technique avoids handling unit packs by placing case products directly on display. 
By avoiding perforation, the two companies can swiftly and efficiently set up the boxes, significantly lowering labor expenses.
High-Quality Product Lines
Both firms provide premium lines where you can buy high-end goods, including cheese, meats, and pasta varieties of a higher caliber. Overall, this tactic will guarantee that buyers receive outstanding value for their money when purchasing high-quality goods.
It is important to keep in mind that other stores also employ this tactic, boosting the price of quality goods to make a name for themselves.
Lidl Vs Aldi: Main Differences
Despite these commonalities, stark distinctions clearly distinguish them and define their identities.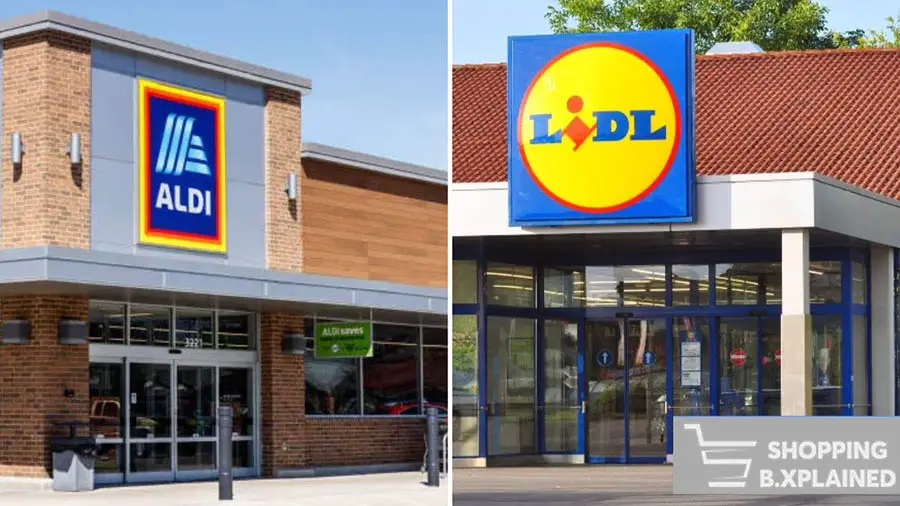 Space
The first difference you might notice between these two German grocery chains is the store size. Lidl stores are typically ranging from 14000 to 21000 square feet, which makes them noticeably bigger than Aldi stores which are typically about 10,000 square feet. Due to the additional room, the former is able to stock twice as many products as the latter can provide.
Also, many customers notice that some Lidl stores seem more organized compared to their competitors. There were several unfilled boxes, disorganized displays, and inventory gaps at the Aldi store. Still, this can be understandable since Aldi has fewer employees than Lidl.
Products
In terms of products, many consumers will rate Lidl higher than Aldi. The products made by Lidl's in-house bakery are then delivered to its consumers. Meanwhile, there isn't a bakery on staff at Aldi.
Additionally, Lidl offers a special counter where consumers may buy any quantity of dry fruits throughout the year. Aldi, on the other hand, only has seasonal stockpiles. Another difference is that Lidl frequently offers sushi to its consumers, whilst Aldi only infrequently buys frozen sushi.
Goods Suppliers
Aldi employs a British-based purchasing crew, so all purchases are made there. Lidl, however, uses a pan-European purchasing system. Nearly 77% of Aldi's items come from British vendors who have created unique packaging and designs for the UK market. Additionally, Lidl's packaging is multilingual, making it appropriate for the entire European market.
Quality
It's no secret that consumers believe Lidl offers higher-quality products than Aldi, particularly when it comes to private-label products. 
Customers specifically mentioned that Lidl's items appeared more recent than Aldi's. This might be because grocery items are always available, unlike at Aldi, which is frequently hit or miss.
Price
Although both supermarkets take pride in being low-cost retail companies, Aldi and Lidl price variations stand apparent. In general, market pressures have compelled supermarkets to concentrate on their pricing, resulting in these observable discrepancies. Customers generally rate Aldi's prices as being marginally less expensive than Lidl's.
Shopping Experience
Various parts of the customer experience vary. Because they are sitting, Aldi's checkout cashiers, for example, can scan things more quickly. 
Meanwhile, the cashier at Lidl works while standing, so consumers don't have to wait as long in line here. Lidl cashiers naturally grow tired more quickly, which could easily impair the quality of their services.
Aldi also has two conveyor belts set up so that consumers may easily bag their purchases while the clerk scans them. This allows the cashier to scan another customer's products in case the shopper is moving slowly.
Verdict: Aldi Vs Lidl Prices & Quality
When contrasting the two, you will find Aldi is the cheaper store. That said, Lidl provides more options with superior quality in their stores, such as bakery, dry fruits, etc., making the prices slightly higher than Aldi.
You can see the differences between the two stores better with this comparison table for the essential items.
| | | |
| --- | --- | --- |
| | LIDL | ALDI |
| Eggs | $3.29 per 18 eggsWell-stocked | $2.79 per dozenOrganic |
| Canned food | $0.47 – $1.09 depending on the type | $0.50 for the majority of items |
| Bakery products | $0.59-$2.29 depending on bread type. Wider selection | $0.55-$3 depending on bread type. Fewer selections |
| Dairy | $0.75-$2.89 depending on the type (milks, creamers, etc.) More diverse | $0.32 – $5.29 depending on the type (milks, yogurt, creamers, etc.)Less diverse |
| Meat | Many well-stocked options with a clear country of origin | Not so many choices, not reasonably priced |
| Salad | $2.99 for most organic salad kits | $2 -$3 for chopped, organic salad |
| Alcohol | Few options with empty shelves | Varied, well-stocked, and cheap (even under $3) |
| Vegetables | More diverse options with organic veggies | Second-rate quality with poor packaging. |
| Snacks | More options | Fewer options but still so many |
Frequently Asked Questions
Are Aldi And Lidl Related?
Aldi and Lidl are unrelated and independent businesses. These two supermarkets' respective owners aren't affiliated in any way either. They are rivals who employ a similar business strategy. Despite sharing similar business approaches, the ownership groups are totally different, making them competitors in the market.
Is Lidl Good Quality?
Yes. As mentioned before, Lidl provides you with many product options with decent quality at a low price. Foods that are organic, grass-fed, humanely raised, and non-GMO are among Lidl's specialties.
The supermarket also specifies the country of origin of a large portion of its selection, including red tomatoes, apples straight from the orchard, fish, and meat.
The Bottom Line
Customers are altering their grocery shopping habits as the living cost issue continues to hammer consumers hard. In this situation, purchasing your daily grocery from affordable stores is the go-to strategy.
Supermarkets like Lidl and Aldi are great places to get what you need. It's true that each store has both advantages and disadvantages. 
While Aldi is cheaper, Lidl offers better quality. Your decision regarding the greatest supermarket will entirely depend on your own preferences and geographic area.
See also: