Aldi is a popular German grocery chain. Wise consumers prefer it due to the quality of goods and household items at low prices. Shopping at this location occurs as in any other supermarket except for Aldi's shopping cart system. 
You must pay to use this service. Is this a compulsory charge for customer abuse? Scroll down for details.
How Does Aldi Cart Work?
Before you enter the store, it would be best to approach the cart rental at the entrance. A long line of chained carts often stays below the canopy. All you do is put an Aldi quarter into the built-in slot on the handle and unlock it.
Get the grocery cart back to its specified position when you are done shopping. Once you push it back into line, your 25-cent coin jumps out automatically. 
Cashiers sometimes place your goods in a new vehicle at the checkout area. Do not panic when you head to exit with a new cart. It always holds a quarter and returns as usual.
This process may take place in a shorter period. Though a long walk provides health benefits, you may want to save time with some cart hacks.
One of the most popular ones is approaching a newcomer and offering a quick deal in the parking lot. He gives you 25 cents and picks up your activated cart. This cart swap enables you to skip the way back to the cart corral. You can play the opposite character and go straight to the grocery store. 
Things get fast if you come across a pre-equipped shopping cart that is common at local stores. A group of loyal customers often pay in advance for this service. Feel free to use the cart quarter but keep it inside for the latter visitors.
Why Must You Pay For An Aldi Shopping Cart?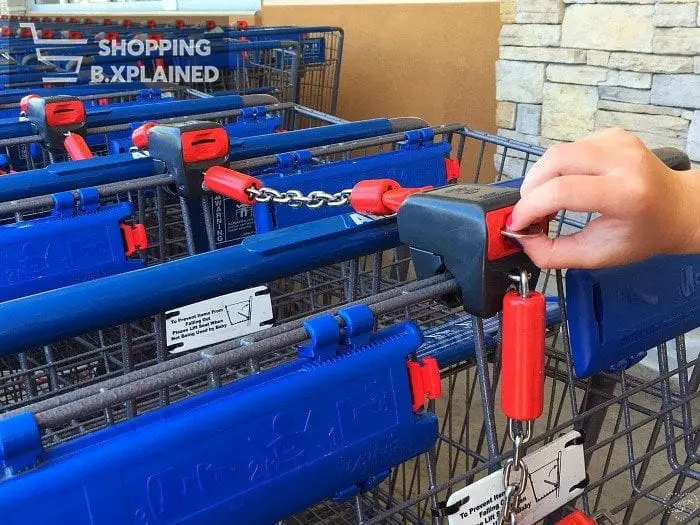 You should consider a quarter as a deposit instead of a payout. The small amount you spend saves customers money later.
While other supermarkets employ extra staff specifically responsible for cart gathering, customers do it themselves at Aldi. The executive team believes that this policy helps to cut operating costs. It is why Aldi can maintain high-quality products at economic prices, even during periods of inflation.
Another obvious benefit is the neat parking lot. Shoppers do not struggle with crowded lanes. Additionally, the Germans believe this business plan reflects a commendable cultural value in lifestyle – self-advocacy. 
Conclusion 
It is unnecessary to cancel a grocery shopping trip when you forget a quarter for an Aldi cart. Do not hesitate to ask the cashier for help. 
However, it is best to purchase a cart coin keychain to separate the deposit. This rule also works with your current wallet. Reserve a section for 25-cent coins and never use it by accident. Try to build one of these tips into a habit if you often visit Aldi.
See more: