Aldi always treats our bellies full. From zero-carb bread, keto fans welcomed a new option in the bakery section – keto bagels. The shelves became empty quickly in the first few weeks. The demand turned it into a staple product at these German grocery stores. How does Keto Bagels Aldi get so much popularity? Scroll down for details.
Keto Friendly Bagels Aldi At Quick Glance 
The L'oven brand is no stranger to US consumers, especially those who often shop at Aldi. It dominates over 2000 stores with a wide range of products. However, the Bagels Aldi only appeared in August 2021 through Aldi Special Find and was reintroduced in February of this year.
The chef behind these delicious cakes is Bimbo Bakeries. They operate various private-label goods to supply more than 60 bakeries and 11,000 outlets. The appealing recipes of this brand have attracted the partnership with many leading names in the industry, such as SaraLee, Stroehmann, and THOMAS'. The substantial growth of Bimbo makes it one of the largest bakery manufacturers in the United States.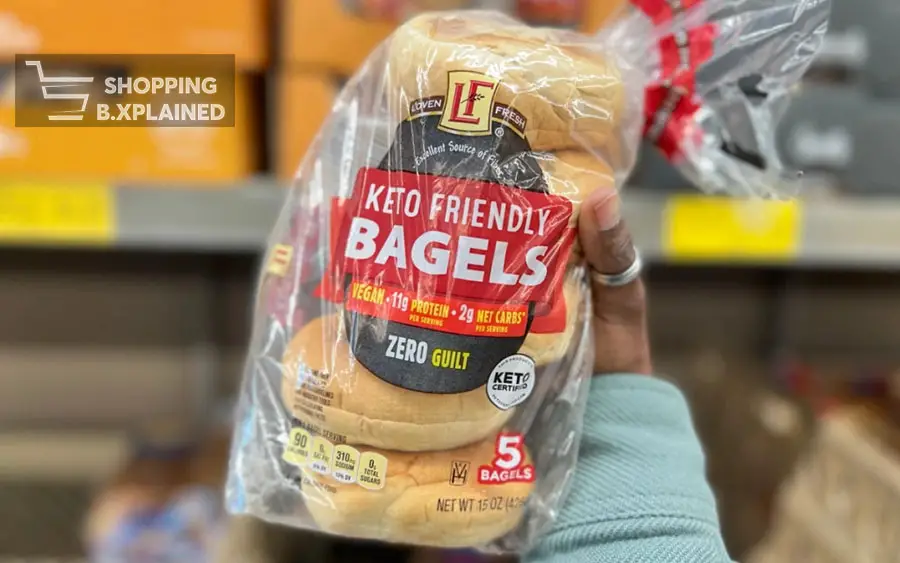 The cooperation between Bimbo and Aldi began in 2015. Fresh baked goods are available at most of the US chain stores. Besides the bakery's expert skill, Aldi's strict quality control is guaranteed to satisfy even the most demanding stomachs.
The Aldi keto-friendly bagel comes in six cakes in a pack. The average price starts at $2.39 but may vary slightly by region. You can come across various flavors, including plain, cinnamon raisin swirl, blueberry, multigrain, wholewheat, multigrain with cranberries and seasonal nuts, and everything.
Bagels Aldi Ingredients and Nutrition 
The bakery attaches a detailed list of the packaging of L'oven Keto Bagels. The key ingredients include modified wheat starch, water, oat fiber, wheat protein isolate, soybean oil, wheat gluten and wheat bran. Most of these components are of high purity. In simpler terms, most remove fats, lactose, and carbs and boost protein.
Additionally, less than 2% of substances include salt, yeast, inulin, vinegar, salt, and preservative compounds (containing calcium propionate and sorbic acid). You may also find some other ingredients in flavored options, such as garlic, cinnamon, nuts, blueberries, etc.
Without a doubt, Aldi Bagels are highly recommended for ketogenic. Serving size (one bagel) nourishes your body with 11g protein, 29g fiber, and 90 calories. Crabs are maintained at a low level of 32g in total and 2g net. Dieters also felt satisfied with little sugar and fat (2% and 3% for each). 
L'oven Fresh Keto Friendly Bagels Review – Is It Tasty?
It feels like a treasure hunt in search of a good-tasting keto bagel. You may not have much hope at first, but things will surely get better. Once an Aldi bagel comes out of the bag, your hand immediately feels its light and moist texture. It also seems to be a bit thicker than standard.
The first bite takes you to cloud nine. The crust is not as chewy as expected, but the inside is a masterpiece. You definitely have to try it with tuna and tomato sauce. This receipt is worth nine points out of ten. A minus? 
You should go straight to the toaster first and put it in. The crust becomes a little more crispy and chewy. Suppose you add butter and the flavor booms. The whole filling is soft and runny. You will not say anything but OMG with a mouth full.
A sweet version also goes well. Combine with shredded coconut, string beans, bananas, almond butter, or Mozzarella cheese. No matter what the additional ingredients are, this bagel nailed it!
After all, do these bagels deliver the original taste? Not quite 100%. On the plus point, it is delicious, healthy, and convenient for food preparation. 
Does The L'oven Fresh Keto Bagels Suffer From Shortage?
The answer is NO. Indeed, new batches often sell out in the blink of an eye. Hence, some customers assume their favorite was removed from the shelves of fresh bread. Unfortunately, this delectable treat is only available on Aldi Special Find throughout the year. 
Every time keto bagels appear as a part of the weekly circular, fans are eager to grab as much as possible. The sooner you go to the grocery store, the higher your chances of getting some. If you find it impossible to get one home, contact your local store manager for your high demand. 
Other Low-Carb Food Options At Aldi 
While waiting for a miracle to get you on the keto bagels, do not stop your crab diet. You can easily find low-carb alternatives in all locations across the United States.
One of its cousins is L'oven Fresh Keto-Friendly Multiseed Bread or Wheat. This option comes to exceed your expectation with zero carbs. It would help if you sometimes considered Fit & Active Low Carb Tortillas for stronger taste buds.
If you plan for the filling, try the Simply Nature 100% Grass-Fed 85% Lean Ground Beef or Fremont Fish Market Jumbo EZ Peel Raw Shrimp. Finish off your meal with Simply Nature Cauliflower Crackers. Of course, it does not sabotage your efforts to control your health and weight. This snack is low-fat content and gluten-free.
FAQs 
Are Aldi Bagels Really Keto?
YES, Aldi Bagel is keto-friendly. It converts to 2g of carbs per serving size. Even if you gobble up an entire pack, the carb intake still stays below the standard criteria for strict keto (less than 50g per day).
Can Keto Bread Kick You Out Of Ketosis?
NO. As long as you stick to the right food choices, you are safe. Not only bread but any option in a keto diet should also follow the principle: low in carbs and high in fiber. 
To stay on track, you should consume up to 8-10 grams of total carbs per serving. Standard levels for fiber run in the range of 3-5 grams. Always pay attention to ingredients for the best results.
What Kind Of Bread Is Keto Friendly?
A Keto diet does not mean a restriction of the allowed ingredients. You can switch between the alternatives for a delicious and healthy meal. Some of these are based on creativity in cooking. Here is a grocery list for your reference. 
Sandwich: Ezekiel bread, oopsie bread, eggplant, baked portobello mushrooms
Tortilla: lettuce leaves, cabbage, steamed collard greens
Bread: bread: cauliflower pizza crust, almond flour pancakes
Conclusion 
Low-carb Bagels Aldi are delicious and nutritious. Best of all, you can buy it at a more economical price than other low-carb options in the supermarket. The variety of flavors deserves a plus. Most of the customers give good reviews for all the available options. Put it in your shopping list and go to the nearest Aldi store to buy. Hopefully, the shelves serve one left for you.
See more: