Cars having troubles are unavoidable after a certain time of use. One of the most popular problems comes from the brake rotor. It's a crucial part of any vehicle and is frequently used. Every time the driver pushes down the pedal, the brake pads erode. Over time, along with dust spots, heat, and worn-out status, the brake doesn't work well. Turning or resurfacing the rotor is an ideal solution for this circumstance.
Therefore, this post provides readers with places to get rotors turned near me and other necessary information to maintain the vehicles in good condition.
When Should You Turn Brake Rotors?
Before needing to be changed, the brake rotor can be turned several times. Turning rotors is the process of machining or lathe-ing the brake rotor to remove pads' redundant material, minimize grinding and warping, and eventually lengthen the brake's lifespan.
It's recommended that people should have the rotors turned when they change the brakes. The rotor may get deformed due to frequent braking use, hot spots, and debris. Turning guarantees, the rotors are clear of debris and don't become warped. As a result, less heat is generated, bringing more smooth braking. It helps the brake survive as long as possible before we must replace it.
Owners should have their cars turned if the rotor surfaces become wrapped or rough. Knowing when to take rotor resurfacing near me is crucial because it's more economical and keeps the cars road-safe. Drivers can detect the problem by feelings of shaking, unstable, or strange sounds when pressing the pedals.
Where To Get Rotors Turned Near Me?
The list below is not all-inclusive, but the ones that are popular and accessible to many people. 
1. Firestone Complete Auto Care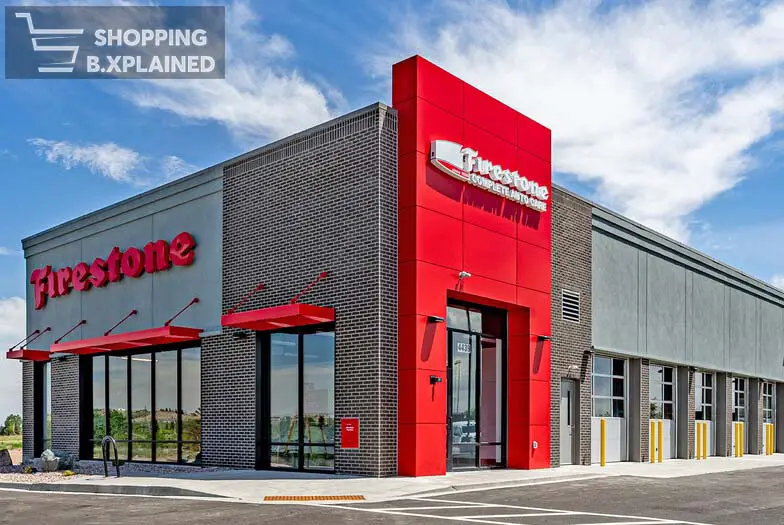 Coming in the first position is a company-owned store chain. Firestone Complete Auto Care has more than 2,000 locations in the nation. They offer various services for tires and vehicles. Of course, they can resurface the rotors.
The price for this service at Firestone Complete Auto Care is around $70 to $90. Typically, it takes one to two hours to get the rotors done here.
Notice: Firestone Complete Auto Care has a certain thickness requirement, so they will not turn those that are too thin to ensure safety for users. We'll need to replace new ones.
2. Goodyear Auto Service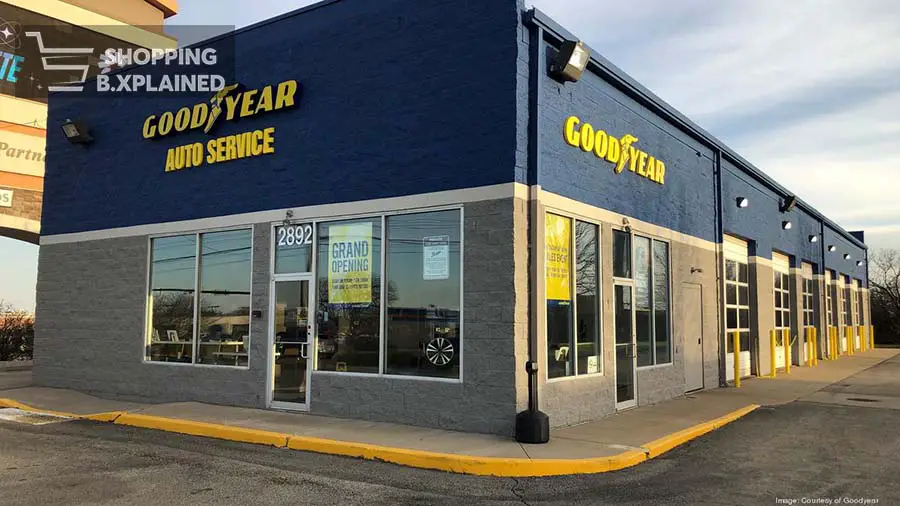 Another good option for turning rotors near me is Goodyear. This brand has over 1,000 centers. Goodyear is also known as one of the leaders in tire retreading and related auto services, such as oil changing, tire replacing, etc. Moreover, Goodyear Auto Service supplies multiple types of products and corresponding repair services.
Turning four rotors at Goodyear Auto Service costs around $200 without offering new pads. It's said that we need an hour for the turning service.
Notice:
As the previous big business, Goodyear also says no to the rotors, which do not meet the standard of thickness.
Remember to contact the nearby addresses to check the service availability, as some Goodyear Auto Service shops do not have turning services.
3. Midas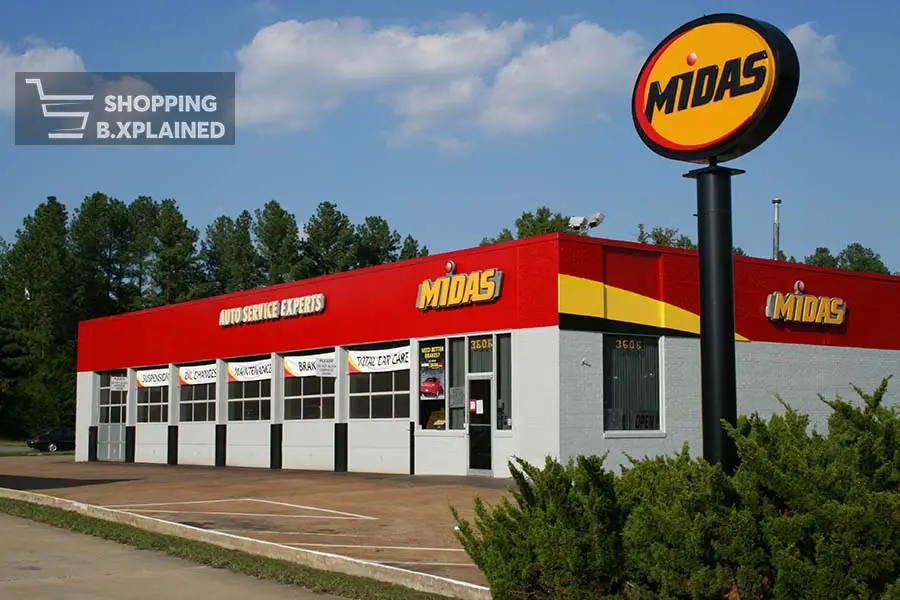 This is a prominent nominee on this list. Midas is a chain of auto care centers headquartered in Florida. The brand has both company-owned and franchised stores. In addition, thanks to its reputation since being established in 1956, Midas has expanded and operated in 17 other countries. The number of all franchised, company-owned, and licensed stores named Midas goes up to more than 2,000.
This name offers multiple repair services, including steering, brake, exhaust, maintenance, tires, suspension, etc.
The total cost for resurfacing the rotor here is from $70 to $100. We may spend one or two hours getting the turned rotors.
Notice:
It's recommended to book the service online to have a better experience.
Midas staff also complies with minimum wideness requirements. So they may replace the new rotors if the old ones are too worn. 
4. Merlin Complete Auto Care
For those who are living in Illinois, Georgia, and Wisconsin, the auto car Merlin is an appropriate choice. This name was founded in 1975. Merlin offers many services, including maintenance, mechanical inspections, car component replacements, etc.
Generally, the service time is similar to other shops, about one hour. Some Merlin stores charge the fee of labor per hour, maybe $100 – $135. Therefore, if we detach the rotors before having labor do it, we can reduce the service cost. In this case, we need to pay about $50 – $70 for the turning.
Notice: Merlin technicians aren't allowed to resurface the rotors which are not thick enough.
5. O'Reilly Auto Parts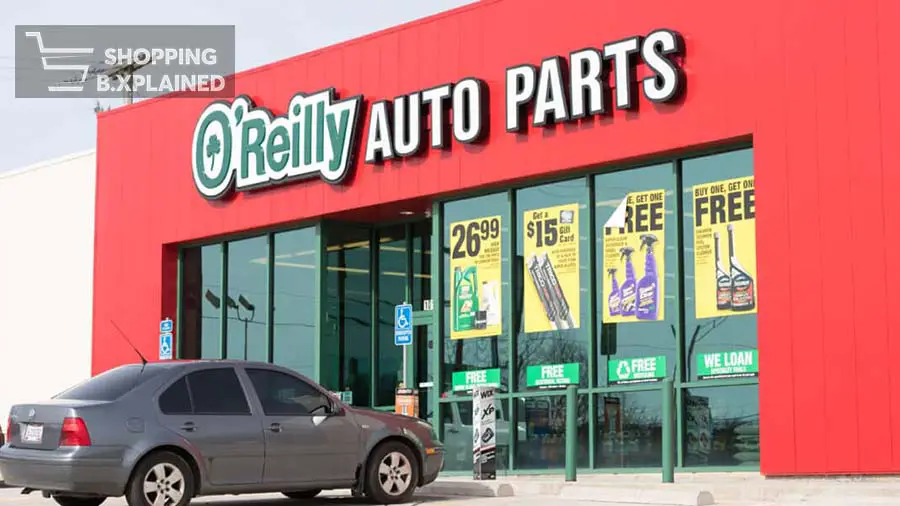 O'Reilly is a good name for the question of who turns rotors. This auto repair chain consists of more than 5,600 outlets around the US and Mexico. They offer tools, equipment, and accessories for cars. Additionally, the business employs skilled technicians to offer repair services. They can replace, resurface, or turn the rotor. Besides, customers can ask them to supply tools for doing it at home.
The price for this service is quite reasonable. Each rotor may be turned at O'Reilly for $10 to $50. It may take approximately an hour to resurface it here.
Notice: As this chain has standards and regulations, most stores will not turn rotors that don't meet their thickness requirement. They'll offer us to replace a new one.
6. NTB (National Tire and Battery)
National Tire and Battery has operated for 25 years with over 400 locations. NTB works in 16 states and 280 cities across the country, including Texas, North Carolina, Ohio, Virginia, Maryland, Louisiana, Pennsylvania, etc.
National Tire and Battery locations provide various services, including oil changes, wheel alignment, tire rotation, air conditioning, battery, brakes, etc. The strengths of NTB are time, compensation guarantee, and accessibility. Most NTB locations open full days within a week.
Turning four rotors within an hour at NTB may cost $70 to $100. 
Notice:
7. Monro Auto Service And Tire Center
It's hard to skip the Monro when finding a place for turning brake rotors. Monro Auto Service and Tire Center is a well-known American auto repair business. Founded in the 1950s, Monro concentrates on maintenance service, repair, and tire retail. It has over 1,200 centers across 30 states.
If we come here to turn the rotor, we'll pay $20 per one. The repair time is around an hour or less.
Notice:
Like other names, Monro centers will not resurface rotors that do not meet the width requirements according to the manufacturing manual.
There are seasonal or special coupons and promotions on repair services. Let's check it out on their official website.
8. Precision Tune Auto Care
This brand has worked for nearly 45 years, taking care of many models, including Hybrids, SUVs, and MiniVans. Despite its humble operation scale with 275 centers in six countries, Precision Tune offers various vehicle care solutions. For example, factory scheduled maintenance, engine diagnostics, air conditioning, emission problems, brake system, tire balancing, aftermarket accessories, etc.
The good news is that Precision Tune employs only those with certificates. However, the cost of turning rotors isn't fixed. It depends on certain conditions. The service time may take less than 2 hours.
Notice:
We should contact the nearby Precision Tune locations for pricing details.
9. Meineke Car Care Center
Meineke is a good choice when looking for turning rotors because of its years of reputation. This car care chain has operated for 50 years since 1971. Today, it has more than 900 franchise-based stores. Meineke provides full car services, from oil changes, exhaust systems, tire replacement, brake repair, etc.
When coming here to turn all four rotors, it may take around an hour and cost $40. It sounds pretty ideal compared to other names.
Notice: Meineke also takes thickness into consideration. Store technicians will ask us to replace the new rotors if they are too worn.
10. Pep Boys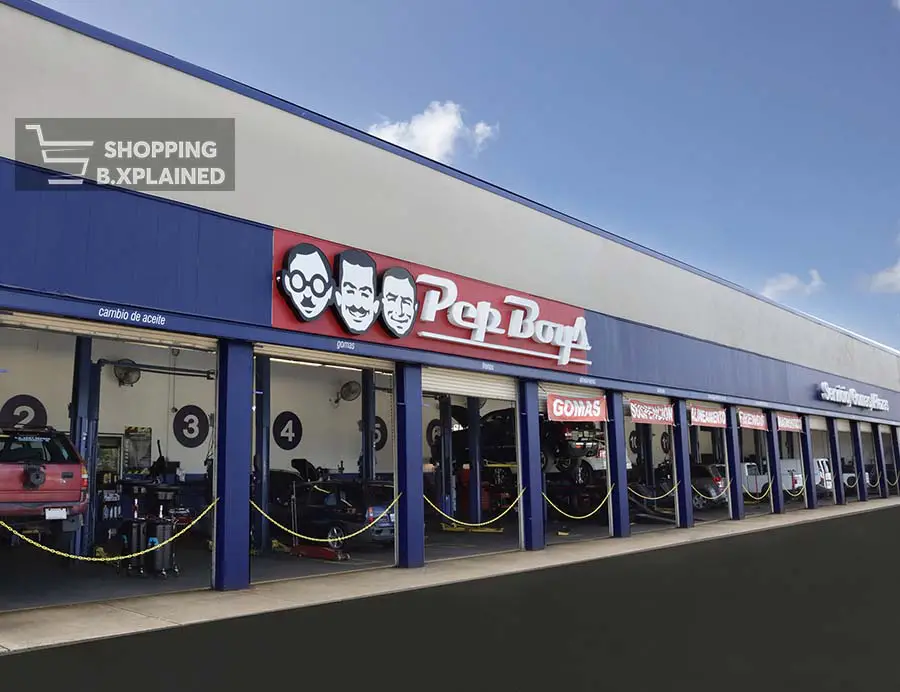 One of the most long-lasting brand names for auto aftermarket service. Pep Boys, previously called Pep Auto Supply, was established in 1921 in Pennsylvania. Today, this chain remains headquartered in Philadelphia. The company has a total of more than 16,000 employees with nearly 1000 centers.
Pep Boys provides full repair and maintenance services for many vehicles, such as SUVs, trucks, fleets, etc., across the US. Moreover, they have a Mobile Crew that works on routine maintenance at selected locations.
Pep Boys shops charge from $100 to $120 for four units for turning brake rotors, . However, if we remove the brake disc, the technician fee will be reduced. We'll pay around $50. Normally, Pep Boys take less than 2 hours to complete.
Notice: 
Not all Pep Boys shops have the turning rotor service. So we should call to check before arriving.
They will not accept the resurfacing need if the rotors are too thin.
11. Honest-1 Auto Care
Honest-1 was established in 2004. This is the sole national network of eco-friendly repair shops. Minnesota is home to most of its auto shops. The centers have spread across about sixteen states. Rotor turning is one of the many automobile services and repairs that Honest-1 Auto Care offers.
Other outstanding services are: 
Warranty of three years
Most automobile models are eligible for same-day auto repair
Free 24-hour roadside assistance, etc.
At $350, we'll get new pads replaced and four rotors turned. Honest-1 skilled technicians will need around one hour to finish the tasks.
Notice: As with most other shops, Honest-1 needs to make sure rotors are thick before removing dirt and resurfacing.
12. Christian Brothers Automotive
Christian Brothers Automotive (CBA) was established in 1982. Its motto is to provide services that are honest, fair, and of high caliber. CBA has expanded gradually, having more than 200 stores nationwide. For more customer accessibility, it intends to open 20 additional locations.
CBA offers a resurface rotor service along with new brake pads at the price of $180. The price is a little bit higher than other shops. However, CBA does offer a countrywide warranty for their work. The time needed to get resurfaced rotors is around one or two hours at CBA.
13. Independent Auto Mechanic Near Me
Apart from the options mentioned above, we can completely pull over to a private auto repair shop. It could be a shop in our neighborhood, on the street, or near a gas station. 
One of the best things about choosing these stores is the affordable prices. Moreover, regardless of the certificate, most workers in private ones are experienced. Also, they won't force us to change new pads compared to some bigger repair chains.
Usually, private repair shops also provide a lot of good services. For instance, engine fault identification, oil change, CO2 refill pump, brake repair, tire replacement, powder coating, etc.
In case of an emergency, the rotor needs to be fixed immediately to ensure safe driving. We should pull over to any repair shop nearby. Independent repair shops in big urban areas are usually open 24/7.
Frequently Asked Questions
Is It Cheaper To Resurface Or Replace Rotors?
In most cases, turning brake rotors is cheaper as we only need to pay the repair cost.
On the other hand, there are multiple rotor models on the market with different prices. Therefore, some say that replacing a new one is cheaper if they choose low-price items. In this case, we must pay the whole new product and repair fee.
Is It Possible To Turn Thin Rotors?
No. Remember that too-thin rotors cannot be turned for safety reasons. When they're worn and become thin over the minimum requirement, the rotors accumulate heat and distort, which causes vibration, weird sounds, shaking pedals, etc. The metal material left is not enough to handle pad wear and heat dissipation.
Moreover, most repair shops won't resurface the too-worn rotors. When coming to the shops, most mechanics will let us know if our rotors need to be turned or replaced.
If they are below the manufacturer's advised limit of thickness, let's have the rotors replaced to avoid undesirable accidents. 
How Long To Turn Or Resurface Rotors?
It usually takes around two hours to resurface rotors near me. There are four main steps below
Remove the wheels
Detach the calipers and get the rotors
Turn or resurface them by the lathe
Reassemble the parts
How Long Does The Brake Rotor Work?
The brake rotor is considered one of the most long-lived components in our vehicles. Usually, its lifespan can last from 40,000 to 70,000 miles. There is a big gap here because of many factors, such as weight, driving manner, road conditions, brake quality, etc.
For example, when carrying heavy goods, more pressure will be required to stop a car. The brake needs to work harder and wear out more. Thus, it will play a significant role if we frequently transport large objects in our car. Of course, the brake rotors' quality affects how long they last.
Moreover, driving habits have an impact on how long our brake rotors last. Let's imagine that we usually accelerate quickly and then brake forcefully. The brakes will bear larger pressure from our feet and against the rotors. The outcome is to wear out sooner.
Being a careful driver and using strategies such as gradually accelerating or slowing down will extend the life of rotors. It's recommended to let the car slow down naturally before pressing the brakes or picking up the pace. 
Conclusion
In conclusion, there are multiple accessible places to get rotors turned near me. We can count on big automotive care names such as Firestone Complete Auto Care, Midas, Goodyear Auto Service, O'Reilly Auto Parts, etc. These brands have standardized repair processes and detailed prices, helping us to understand and decide easily.
Private auto repair stores are also reasonable, thanks to their affordable prices, especially for those with knowledge of cars. We also can communicate with skilled and experienced mechanics to get our most desirable outcome.
You might also like these articles: