So you have officially turned 18 and want to celebrate this milestone with a trip? Brilliant idea! Before planning for the journey, though, there is only one problem: Which hotels allow 18 years old to check in? 
This article will walk you through all the hotels you can book at 18, as well as what you need to book a room if you are under 21. Let's get started! 
Why Do Hotels Have A Minimum Age Policy? 
Before you even consider which hotels allow 18 years old to check in, you may be wondering why the minimum age requirement exists. 
In fact, there's no official age restriction for booking a room. Each hotel in the US sets its own policies to protect the business. Checking in is equivalent to signing a contract, and minors (those under the age of 18) lack the capacity to make a legally enforceable contract. That puts a hotel at risk of losing money when a minor leaves without paying the bills. 
Also, if something unpleasant happens to underage guests, hotels may be held liable. They owe a "duty of care" to customers, which is even more serious when it's an unaccompanied minor. 
Not to mention, there are minibars in most hotel rooms. By setting up an age restriction, they can avoid being responsible for underage drinkers. 
That's why the minimum age policy is necessary. It varies from one hotel to another and even among different properties within one hotel chain. We would recommend calling the place you are planning to book to ask about their check-in requirements.
Can You Book A Hotel Room When You Are 18? 
The short answer is yes. 
The standard age for reserving a room is 21, so not every hotel will accept your booking. Still, there are hostels, national hotel chains, and Airbnb hosts that welcome 18-year-old guests to check-in. 
With that in mind, you don't have to cancel your trip out of fear that there aren't any hotels that rent to 18 year olds. 
Which Hotels Allow 18-Year-Olds To Check In? 
1. Best Western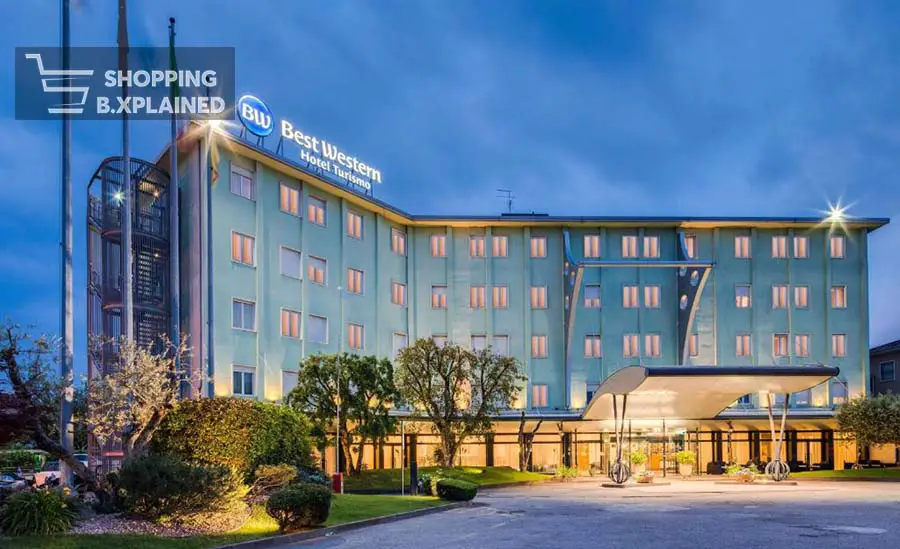 Based in Phoenix, Arizona, Best Western Hotels & Resorts has more than 4,200 locations in over 100 countries. There is no standard age requirement, and each hotel is free to set its own policy. 
As a result, some of them allow 18-year-old customers to check in, while others only accept bookings from those who are 19 and above. Best Western Center Inn (Virginia Beach, VA) and Best Western Coral Hills (St. George, UT) are among the locations you can choose from. It's best to check with the hotel you are going to stay at before you arrive.
The hotel chain also offers various promotions, such as a 15%-30% discount when you book early and a $20 gift card for each additional night. 
2. Drury Inn & Suites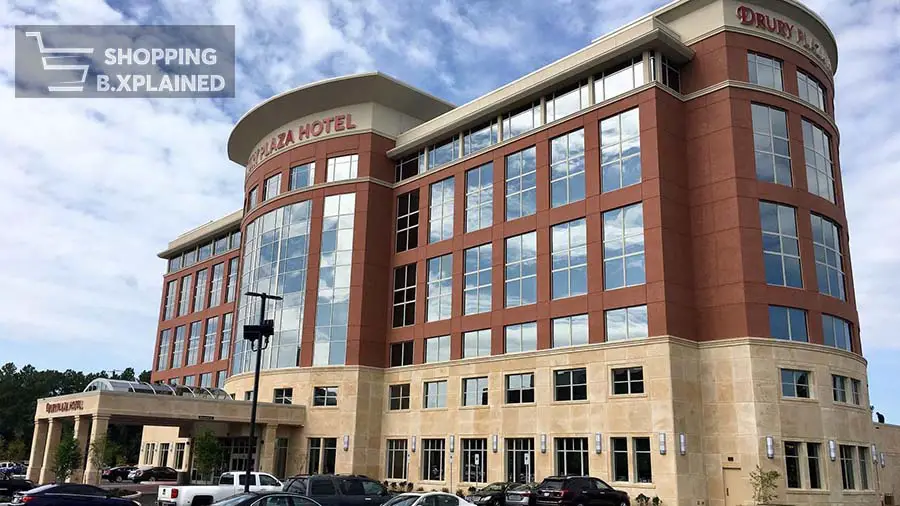 Drury Inn & Suites, a family-owned hotel chain based in St. Louis, Missouri, runs over 150 hotel properties across the US. 
We have confirmed with their customer service that there is no standard age requirement across all locations. Many of them allow 18-year-olds to check in, such as: 
Drury Inn & Suites San Antonio Riverwalk (San Antonio, TX) 
Drury Inn & Suites Terre Haute (Terre Haute, IN) 
Drury Plaza Hotel St. Louis (St. Louis, MO)
Drury Plaza Hotel In Santa Fe (Santa Fe, NM)
Drury Inn & Suites Indianapolis Northeast (Indianapolis, IN) 
Before checking in, make sure you call the specific location where you are planning to visit. 
3. Four Seasons 
Four Seasons Hotel & Resort is an international hotel brand headquartered in Toronto, Canada. With over 100 branches worldwide, Four Seasons is famous for its consistency, excellent customer service, fancy design, and top-notch spa facilities. 
The minimum age policy varies from one property to another. Four Seasons Atlanta, Dallas, Fort Lauderdale, and St. Louis are among those that accept bookings from 18-year-olds. You can check out their website to find other locations, or call a specific host for inquiries before you book. Online reservations are available. 
4. Hilton Hotels 
Having been in the hospitality game for more than a century, Hilton Hotels & Resorts currently operates more than 580 properties stretching over 94 countries. Conrad, Hilton Garden Inn, Hampton Inn, Tru, Canopy, Homewood Suites, Doubletree, and Embassy Suites are just some of the most well-known brands under the Hilton Hotels umbrella. 
According to Hilton's customer service, guests from 18 years old and up can make their reservations. However, just like most hotel chains, the minimum age restriction varies among each location. 
Some of the locations you can check in at are Hilton Garden Inn Charlotte Airport (Charlotte, NC) and Hilton Garden Inn Valley Forge/Oaks (Phoenixville, PA). You may look for others and make reservations on their website. Additionally, American Express gift cards are accepted as a form of payment. 
5. Hyatt Hotels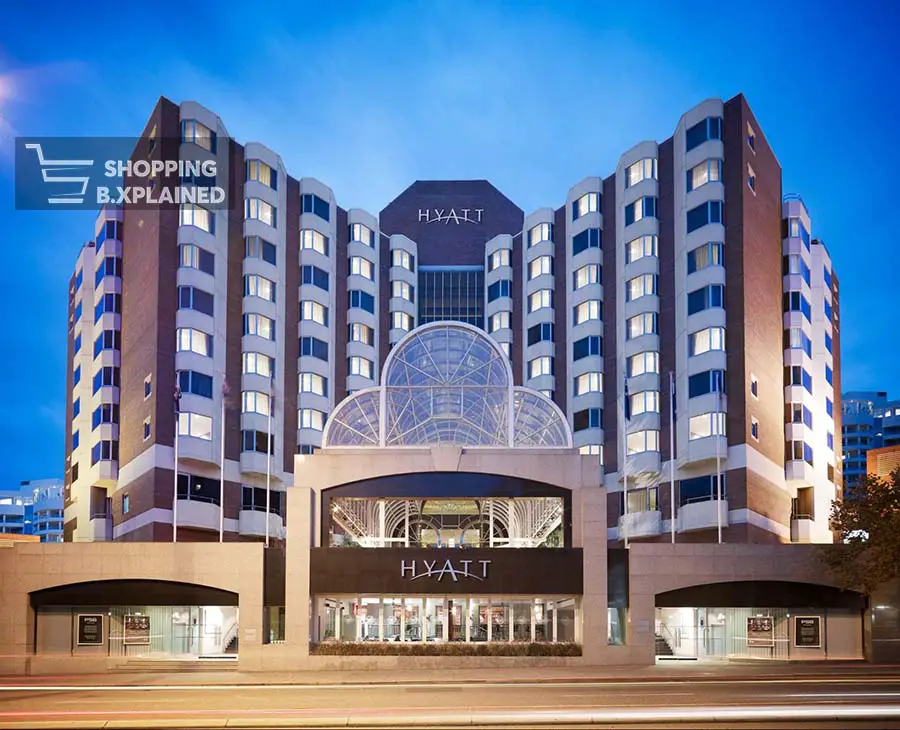 Being one of the most well-respected multinational hospitality companies, Hyatt runs more than 1,000 luxury hotels, vacation properties, and resorts. They take pride in ensuring that their customers enjoy themselves during their stay.
You can find its locations in 68 countries across 6 continents. Some of the most notable brands under Hyatt's name include Miraval, Park Hyatt, Grand Hyatt, Hyatt Ziva, Hyatt Residence Club, and Hyatt House. 
As shown on their website, the minimum check-in age at Hyatt Hotels is 21 years old. However, each location has its own requirements. In the US, you can still find places that accept reservations from 18 year olds. Check with the specific hotel you are planning to stay at via phone numbers or consumeraffair@hyatt.com. 
6. Intercontinental Hotel Groups 
Thanks to its 75 years of history and world-class service, InterContinental Hotels & Resorts has always been a honeypot for travelers. This British multinational hospitality company owns 6,000 hotels around the world. 
Some of the most notable locations in the US are InterContinental Boston, InterContinental Washington D.C. – The Wharf, InterContinental New York Barclay, and InterContinental Los Angeles Downtown. 
On their website and on TripAdvisor, the famous hotel chain states that the minimum age to make reservations at one of their properties is 18 years old. Still, you're better off calling the specific hotel to verify and confirm any age restriction. 
7. La Quinta Inn & Suites
Located in Irving, Texas, La Quinta Inns & Suites is a chain of limited-service hotels. It runs more than 910 hotel properties with around 90,000 guest rooms in America, Canada, Honduras, and Mexico. 
Although La Quinta's official website doesn't clarify the minimum age requirements for checking in, some locations will permit customers to check in at 18. 
Examples are La Quinta South Padre Island Beach (South Padre Island, TX), La Quinta Las Vegas Airport South (Las Vegas, NV), and La Quinta Weatherford (Weatherford, TX). This depends on each location, so you should contact the host directly to be sure. 
8. Marriott 
By far the world's largest hotel chain, Marriott operates more than 7,600 hotels with 1.4 million rooms in 131 countries. 
Marriott Hotels, Ritz Carlton, Renaissance, Courtyard, and Springhill Suites are just some of its brands. Each of them has its own perks; for instance, guests can enjoy free notary service at the Ritz Carlton and Renaissance. 
Marriott is among the hotels that let you check in at 18 because most Marriott All-Inclusive Resorts allow 18-year-olds to make reservations.
9. Millennium Hotel & Resorts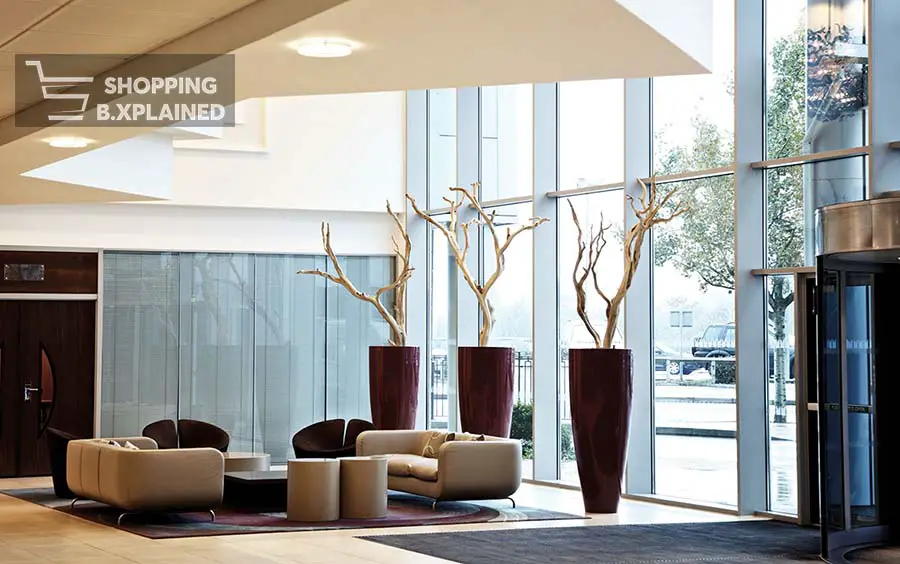 Singapore is home to Millennium Hotels & Resorts, which is a global hospitality management and real estate group with more than 125 hotel facilities worldwide. It manages several reputable brands, such as Copthorne, Lengs, and Millennium. 
As the customer service of Millennium Hotels & Resorts has confirmed, there is no age restriction across all of its locations. Each hotel and brand has a different policy. Some hotels accommodate 18 years old, while others have a minimum age policy of 21.
10. Motel 6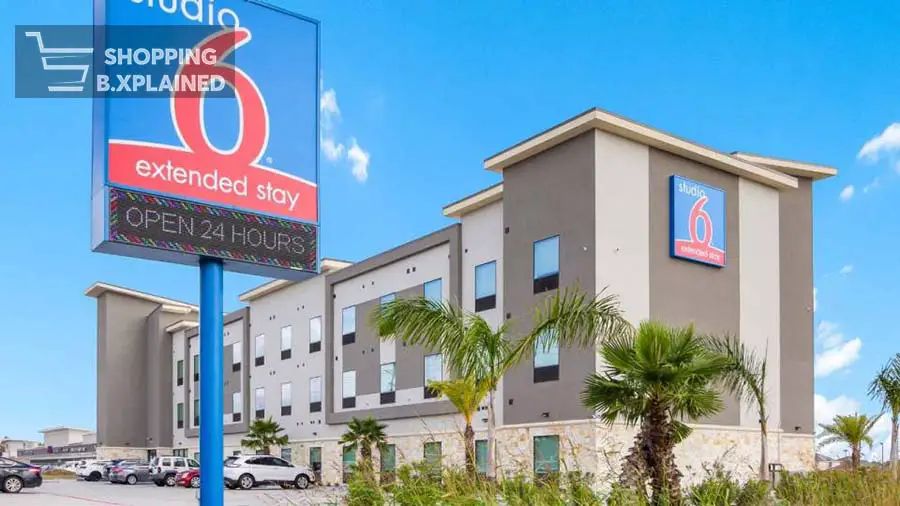 Motel 6 is a privately owned hospitality company, managing 1,430 budget hotels across the United States and Canada. It provides free morning coffee, local phone calls, free wifi, and expanded cable TV. In some locations, customers can have free access to swimming pools and laundry facilities. Additionally, it's an accredited lodging provider of the American Kennel Club. 
Most Motel 6 locations accept bookings from 18-year-olds, but some of them require a valid military ID. 
11. Radisson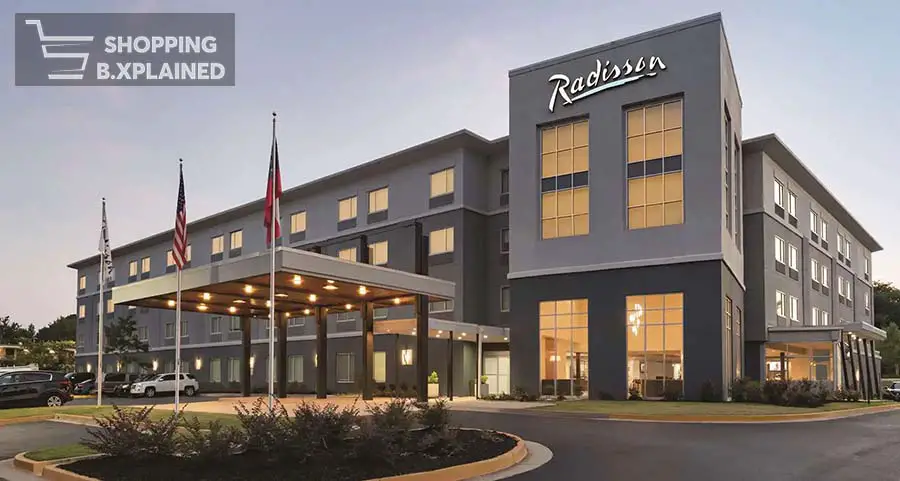 This global hotel management company owns over 1,500 hotel facilities with more than 240,000 rooms over the globe. Its notable brands include Radisson Red, Radisson Blu, Park Plaza, Radisson Collection, and Park Inn by Radisson. 
Complimentary breakfast, free access to fitness workout facilities, up to 10% discounts for members, and Radisson rewards cards are the perks you can take advantage of. 
While most Radisson locations accept customers aged 21 and above, some of them will let you check in at 18. Radisson advises prospective guests to call the hotel directly or contact via their website to verify the age requirement. 
12. Red Roof Inn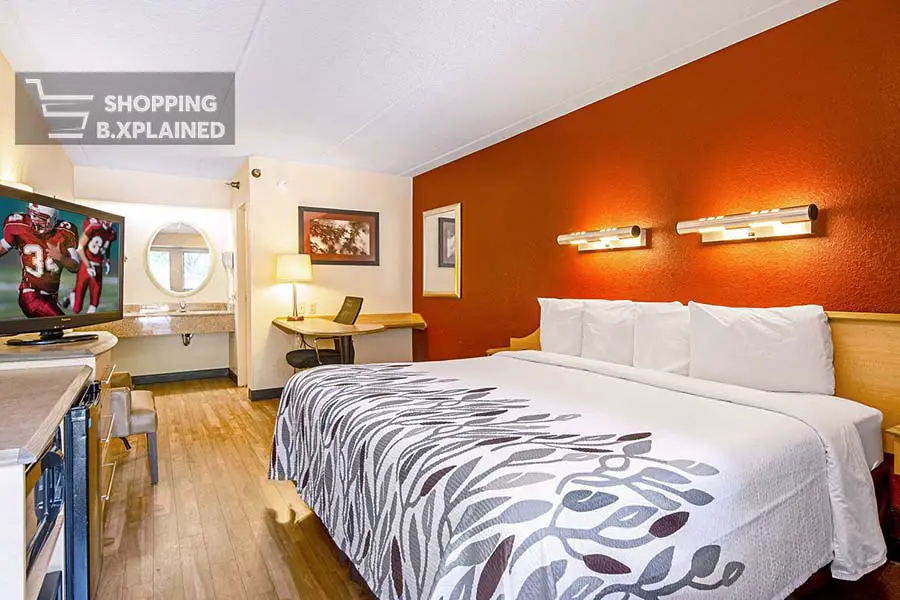 For those who are looking for hotels that rent to 18 year olds, another budget choice is the Red Roof Inn. This economy hotel chain runs more than 650 properties in the Eastern, Southern, and Midwest U.S. Free pet service, discounts for the government & military, and discounts for early booking are among the perks for customers. 
There is no set minimum age requirement across all the locations, except that you must be at least 18 to apply for a rewards card. Different properties have different policies, but most locations will accept bookings from 18 year olds. 
13. Starwood Hotels 
Before Marriott took over, Starwood Hotels dominated with more than 1,200 hotels and around 370,000 guest rooms spread out across 100 countries. Some of the most recognizable brands are Aloft, Sheraton, and St. Regis. 
Some of the competitive edges are free Internet access, exclusive member discounts, payment at checkout, free night reward, fax, and photocopy service, etc. 
While the minimum age required to check in is not clarified, most Starwood locations in the US accommodate 18 year olds with valid IDs and major credit cards. 
14. Studio 9 Inn & Suites
Located in Decatur, Studio 9 Inn & Suites is a budget-friendly motel. It offers air conditioning, a flat-screen TV, and a refrigerator in the room. Even better, guests will find it easy to stay connected during their trips with free unlimited internet access. 
As stated on TripAdvisor, you should be at least 18 years old to make a reservation at Studio 9 Inn & Suites. Keep in mind that all guests are required to show a photo identification and credit card upon checking in. 
15. The Westin Birmingham (USA)
If you are planning a trip to the Magic City yet don't know which hotels allow 18 years old to check in, The Westin Birmingham is the best choice. Nestled near the city's downtown district, it's only a short walk away from Birmingham's top-rated attractions. You can get to the Sixteenth Street Baptist Church and the Birmingham Zoo in no time. 
In addition, this pet-friendly hotel offers free access to the fitness centers and terrace swimming pool. 
On TripAdvisor, their customer service confirms that the minimum age to reserve a room is 18 years old. We suggest making an online reservation, especially in the peak season. 
16. Woodspring Suites Huntsville/ Madison 
Just a few minutes away from Huntsville downtown, Woodspring Suites is an economical hotel that accepts bookings from 18 years old. With free internet access, free parking, and on-site laundry facilities, young customers can relax, stay, and save. Aside from common amenities, every room features a fully-equipped kitchen.
Thanks to the location, Woodspring Suites makes a wonderful starting point to explore Huntsville. You can walk to the American Space & Rocket Center, where the biggest space programs are on exhibit. Plus, there are many restaurants, supermarkets, and movie theaters around – everything you can ask for from a youth getaway.
17. Wyndham Worldwide
Wyndham Worldwide Hotels & Resorts operates 9,280 hotel facilities around the world and has its headquarters in New Jersey. There are 20 brands under its name, including Travelodge, Hawthorn, Ramada, Super 8, Microtel, Baymont, and Knights Inn. 
The reward card, which allows cardholders to earn up to 6 free nights, is one of the top perks. Aside from that, members can enjoy special discounts. 
There is no specific age requirement across all Wyndham Worldwide properties. Some accept bookings from 18 year olds, while others require customers to be at least 21 years old to stay unaccompanied. Before making a reservation, call the front desk number or check their official website for more information. 
18. Youth Hostels
Hostels are great places to lounge without breaking the bank, making them an ideal choice for young travelers on a budget. There are more than 350 hostels in America that promote shared social experiences. Some of them, such as the HI NYC Hostel or the Generator Miami, are just as stylish and luxurious as boutique hotels. 
Another point in youth hostels' favor is that they accept bookings from customers as young as 16 years old. If you are under 18, though, you may need to show proof of parental consent before checking in. 
What Are Some Hotels That Let You Check In Under 21? 
While most people believe that the hotels and chains below accept 18 years old guests, unfortunately, they don't. Indeed, you don't have to be 21 to make reservations at these hotels, but they require customers to be at least 19 to rent a room. 
Choice Hotels 
As stated on their FAQs page, to reserve a room at Choice Hotels, the guest must be at least 19 years old. Some locations even enforce a 21-year-old threshold. If there is any guest in the room that's minor, at least one of the customers who have made the booking together must be from 21 years old. 
Choice Hotels' brands include Cambria, Sleep Inn, Comfort Inns, Ascend, Quality Inn, EconoLodge, and MainStay Suites. Contact the hotel directly if you want to confirm the age policy.
Fairmont Hotels 
Fairmont is one of the hotels that let you check in under 21: All of their locations accept bookings from customers aged 19 and above.
They run 76 luxury hotel properties globally, most of them located in the US and Canada. The top-notch properties are The Savory, Banff Springs, Fairmont Nile City, and Copley Plaza. 
How To Book A Hotel When You Are Under 21? 
Now that you know which hotels allow 18 year olds to check in and which ones don't, there is one caveat: Even when you meet the age requirement, the hotelier or manager of the property still has the right to refuse bookings from customers under 21 if they determine that there is a risk of harm to their business. 
With that in mind, to improve your odds of reserving a room, here is a list of things you should prepare beforehand: 
Photo ID 
Every hotel will ask for photo identification, such as a driver's license or passport, before letting you check in. Even if you are an adult, it's still applicable. Without an ID, they might refuse to accommodate you. 
While not all hotels will verify your age, many of them will check and turn away any customers who are not complying with the policy. The minimum age requirement is even more serious for hotels in big chains, so play it safe and choose one that accepts 18 year olds. Going around wishing that the hotel wouldn't check your age is risky. 
Credit Card 
Did you know that most hotels prefer customers with credit cards because they can easily charge bills and additional fees? That way, the risk of non-payment will disappear! Furthermore, charging a guest for damage and incidentals is much simpler if they pay with a credit card. 
Hence, a major credit card, even when it's your parent's, will guarantee your booking. As long as you have one in hand, you can rent a room at almost any hotel. 
A Written Permission From An Adult
Though their websites state that they accept bookings from 18 year olds, some hotels still ask for a letter of consent from your parents or guardians before you check in. Don't forget to prepare this document before going on a trip. 
Some lodgings even allow minors to rent a room once they have written authorization from a parent. ​​If this is permitted, it will be stated in the hotel website's policy section. Others might ask the adults to fill in a liability form to guarantee their children's expenses and responsibilities. 
Can You Make A Reservation On Airbnb If You Are Under 21? 
Yes. 
In recent years, Airbnb has been taking the world by storm. It allows you to stay in someone else's home for a small fee. The secret to this platform's popularity is affordability and its adventurous nature. 
Understanding that more teenagers and young adults are eager to explore the world, Airbnb accepts bookings from customers under 21. More precisely, according to its terms of service, everyone who is 18 and older can create an account and book a stay for themselves. 
In case you can't choose among the hotels that rent to 18 year olds above, you can take advantage of this and reserve a room on Airbnb. 
The best thing about finding a stay on this platform is that there are countless unique options to choose from. Furthermore, you can feel the comforts of home, with better amenities like a fully-equipped kitchen, more child or pet-friendly options, and the rooms can be safer than hotels. 
Frequently Asked Questions
Can You Use A Military ID To Check In To A Hotel?
Yes, in some cases.
A point of controversy regarding the 21-year-old age requirement is military members. The fact that someone who's old enough to serve their country and risk their life but not old enough to simply book a hotel room seems absurd. 
Thus, in some hotels, military members under the age of 21 may be able to get around the age restriction, especially if they are in their uniform or can provide a valid military ID. 
Many people out there wouldn't want to show disrespect to military personnel, so you can give it a shot and ask the front desk if they can make an exception to the age restriction based on your military status.
What About An Out-Of-State ID? 
Chances are your possibility to check in might actually improve if you are under 21 and can provide an out-of-state ID. 
Hotels are extremely cautious when it comes to out-of-state ID since it raises more concerns about identity theft. However, if you have a valid ID and pay with a credit card, they might be more willing to accommodate you, provided that you are on a business trip. 
Why is that, you might ask? Well, hotel managers are aware of the inconvenience they can cause to young business travelers, so they will try their best to assist you. Meanwhile, if you are a local, the front desk may think that you are just some kid looking for a place to party. 
This kind of exception is more common in business hotels. Keep in mind that it all comes down to your ability to convey maturity while checking in.
Can You Book A Room Under The Names Of Your Parents? 
Yes, but we don't advise doing so.
Some youngsters attempt to work around the minimum age policy by letting their parents reserve a room and adding the child to the booking. The child will then check in at the hotel and tell the front desk that their parents "will arrive soon" or some other type of excuse. 
Well, this can work if you make a reservation using an online travel agency, but we don't recommend this method. Presumably, it might succeed because most OTAs have a minimum age policy of their own. If the 18-year-old can provide proof of booking, perhaps a hotel would overlook his or her age while checking the ID. 
Again, this approach is not welcomed since you will be in big trouble once it doesn't work out. Once you decide to go this route, though, make sure you have a major credit card in your name and an ID. If you don't have both of those, you will risk spending a night without accommodation. 
Can You Negotiate A Prepayment And A Deposit To Stay When 18? 
A safer choice is to speak directly with the hotel management. If you are 18, but the hotel only accepts bookings from 21, present yourself as a responsible adult and explain your circumstances. 
As a negotiating point, show your willingness to pay in advance and a deposit to cover your expenses, as well as any additional costs that may arise during your stay. You will be surprised that the hotel manager may allow some flexibility with the age restriction. 
The Bottom Line
Now that you know which hotels allow 18-year-olds to check in, traveling will be much more convenient than ever before! 
Before serious adulthood kicks in and takes you away with mortgages, marriage, or children, now's the chance to explore. Just imagine: It's unlimited freedom and ultimate flexibility to travel on your own uninterrupted agenda. Embark on adventures while you can, and share wonderful stories later.
See Also: