Walmart is non-debatable the world's largest and most prominent retail corporation, along with this blue-building trademark with countless rows and columns of groceries.
How Much Is Walmart Worth In 2023?
As estimated, Walmart's net worth in 2023 has reached $407.22 billion, with a whooping over $611.3 billion regarding yearly average revenue. The annual profits worldwide range from $15 to $23 billion.
Update: On April 28, 2023, Walmart's market cap reached $407.22B.
Besides a total asset of $407.22 billion, the company's net income year is $11.3 billion by delivering and dispatching groceries and daily-use products at comparatively low prices.
It now grows with many subsidiaries like Sam's Club, Bodega Aurrerá, Walmart Canada, etc.
Walmart Revenue
| Year | (Millions of US $) |
| --- | --- |
| 2023 (April 28) | $407,220 |
| 2022 | $576,754 |
| 2021 | $559,151 |
| 2020 | $523,964 |
| 2019 | $514,405 |
| 2018 | $500,343 |
| 2017 | $485,873 |
| 2016 | $482,130 |
| 2015 | $485,651 |
| 2014 | $476,294 |
Source: https://caknowledge.com/walmart-net-worth/
Walmart Net Income
| Year | (Millions of US $) |
| --- | --- |
| 2022 | $13,673 |
| 2021 | $13,510 |
| 2020 | $14,881 |
| 2019 | $6,670 |
| 2018 | $9,862 |
| 2017 | $13,643 |
| 2016 | $14,694 |
| 2015 | $16,363 |
| 2014 | $16,022 |
| 2013 | $16,999 |
Source: https://caknowledge.com/walmart-net-worth/
Why Is Walmart So Valuable?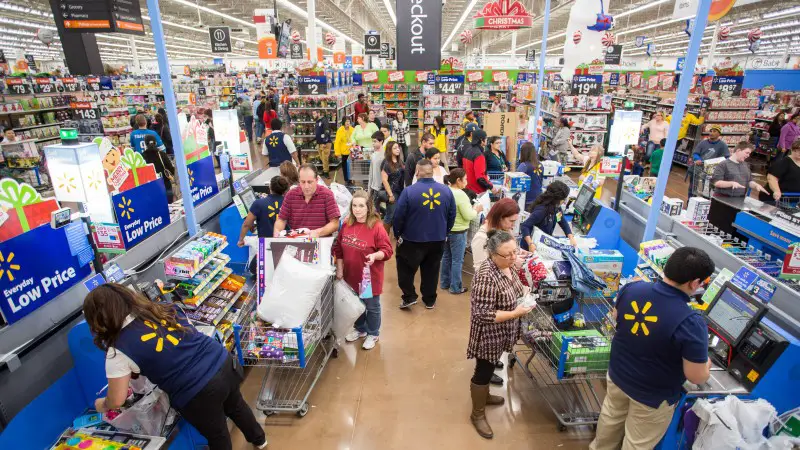 Walmart is recognizable with a tremendous global footprint. It stands out among its competitors owing to its growth prospects. It has also perfected its business model over time by seeking new chances for extra income. 
Besides its core grocery dispatch, the versatile company also owns other divisions and services. Once walking into the stores, customers get multiple choices, including tools, car mats, DVDs, TV, clothing, and household equipment, to name a few. 
The corporation also invades financial corners with debit card Money Card and money-transferring service Walmart-2-Walmart. What's more, the management model modifies to meet the new requirements. 
Stock, Accomplishments, And Revenue
People don't just set their eyes on Walmart's value. Other figures are also interesting on the whole.
Stock
Stock buybacks and dividends are core ways to help return money to investors. 
They also imply an epic flush of cash and rapport with investors. By far, Walmart has tended to elevate its yearly dividend to $2.24 per share. The repurchase is pushed ahead simultaneously, navigating the share price accordingly. 
In 2021, the founder had sold 28.6 million shares of Walmart stock, with roughly $4 billion to control their stake.
In the past, investors felt shy away from investing in this business due to slow growth and potential risks. Nowadays, Walmart strives for the best and grows amazingly.
Achievements
First off, it has taken the world by storm with its top position on the global revenue list. 
Besides, the enterprise operates efficiently with roughly 2.2 million staff and employees. Not to mention, Walmart has done charity and delivered countless economical products in 10,500 franchises in 26 countries. 
Its net worth also reflects Walmart's prestige in the business section.
Revenue
After founding Walmart International Division (1993), the chain gained a mass of revenue. As of 2022, it stirs up big sales on Thanksgiving days and takes back an income of $1.43 billion. As confident as it is, the corporation heads to combat the big name's presence, Amazon. For the fiscal year 2023, it expects a single-digit growth and a 3% increase in consolidated net sales.
Pros and Cons Of Investing In Walmart's Stock?
Everyone knows that it is one of the world's most valuable companies. Notwithstanding, it goes with visible benefits and drawbacks. 
Pros
Pop Up As An Innovation Powerhouse
Walmart is known for its well-applicable innovation. It successfully spearheaded its chain of eCommerce within months. Also, thanks to its consumer-friendly and advanced technology, the whole chain secures the flying-color result in business.
Trailblazing With Wise Reinvestment Strategy
Not just elevating its profits, it also culminates in realizing reinvestment strategies with many outstanding and evident attainments.
Stability And Fame Can Not Be Disregarded
The so-called promising and reliable company churns out profits most years. Its potential daily volume astounds many investors out there.  
Cons
Economic Crisis Could Harm US Consumer Spending
Once consumption patterns vary, Walmart's US client spending may slow down due to political turmoil and inflation. As a result, its income will somewhat go down. 
It Is Not A Rising Stock
The company's growth is not a growth stock. Investors can not gain double-digit returns from this business in a short time. 
The Minimum Wage Rise Can Erode Income
The corporation's revenue may get hurt once the US goes for a high-wage economy. At that time, it's hard to secure stable margins with higher minimum wages due to public and government pressure.
The Bottom Line
Now you've embraced the all-rounded answer regarding the Walmart value in 2023. $407.22 billion is the industry-leading net worth of this multinational retail corporation.
Without much introduction, the brand has perfected its business model over the years with top-notch value. And investors are becoming increasingly interested in shares of Walmart stock.
Walmart Favorite Resources: