Wendy's and McDonald's are two fast-food chains with a high market share in the US. The menus of these two restaurants are also almost the same. Making them a competitor in the fast-food industry in the US and some other countries.
The article Wendy's vs McDonald's 2023 will compare some of the similarities of these big companies and answer a few related questions. Keep on reading for more exciting information!
McDonald's Vs. Wendy's In 2023
In 2023, both of these companies will be the top fast-food chains in the US, with almost no different menus. McDonald's is famous for its delicious crispy fries, wide selection menu, and many places for customers to visit and enjoy a delicious quick meal.
On the other hand, Wendy's is at the top again for great burgers, fresh ingredients, and impeccable customer service.
Do not skip this article if you are specifically curious about the battle between these two fast-food chains, Wendy's vs McDonald's 2023
Who Is Better In Cooking?
Burgers
Comparing Wendy's or McDonald's ingredients for hamburgers is quite similar. For example, a beef burger includes buns, beef patties, American cheese, lettuce, tomato, and ketchup. The most obvious difference is that Wendy's buns are larger than McDonald's. Next, the sourness in McDonald's burger is cucumber pickle, while Wendy's one is red onion pickle. Thanks to it, it made an impression on customers' tastes and its beat rival.
Regarding the freshness, you will realize that McDonald's Big and Quarter-Pounder can not match their competitors in this either. Wendy's burgers always have a fresh taste, from meat and buns to vegetables.
Nugget
McDonald's uses chicken pieces instead of ground chicken like Wendy's in the nuggets. Its taste is also fatty and less salty than competitors' dishes.
Whether the taste of food is good or not will depend on each person's taste. Still, it is impossible not to admit that McDonald's nuggets are an "unbeatable monument".
Fries
McDonald's will add a little beef flavour
when frying potatoes to create a delicious taste for this dish. The potato pieces are just the right size so that the outside is crispy and the inside is soft and fluffy when fried.
Meanwhile, Wendy's fries have a slightly saltier flavour because of sea salt. Although this method has brought out the typical flavour of French fries, it still can not beat its competitor in this dish.
Whose Meal Is Healthier?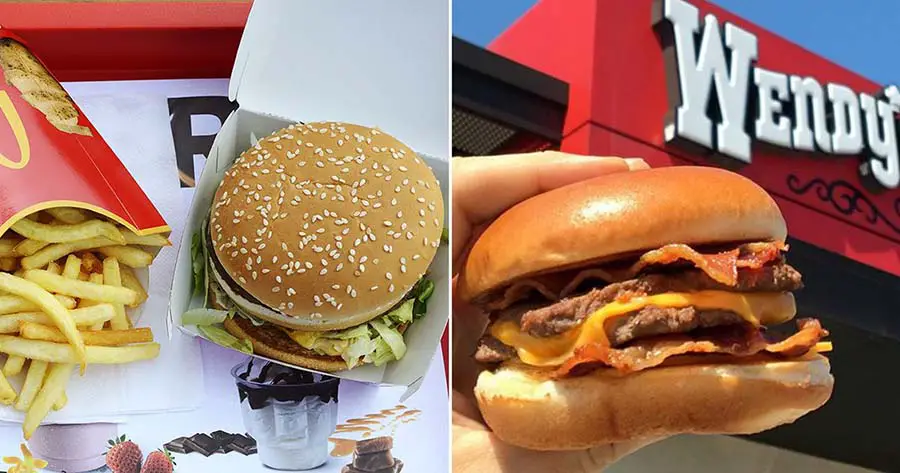 Surely you also understand what fast food is and its effects on health. However, you may be wondering: "Is Wendy's healthier than McDonald's?"
First, you can compare the calories per serving these two chain stores offer. The table below shows some typical dishes and their respective calorie counts:
| | | |
| --- | --- | --- |
| | McDonald's | Wendy's |
| Hamburger | 250 | 270 |
| Chicken Sandwiches | 470 | 400 |
| Nuggets (4 pieces) | 180 | 170 |
| French Fries | 220 | 260 |
| Medium Sprite | 200 | 350 |
Based on the table above, you can see the calorie content of McDonald's dishes is usually less than. Regarding McDonald's vs Wendy's nutrition, the dishes at this company also contain less cholesterol and salt, while the amount of vitamins and minerals is slightly higher.
Moreover, McDonald's menu also offers more healthy dishes and pre-fried dishes. You can choose them as an accompaniment or a side meal for extra energy and nutrients.
Looking at the results, McDonald's probably beat its rival to be healthier. But anyway, fast food is not good for your health, you should limit enjoying them.
Who Is Good At Customer Service?
McDonald's has always made quick customer service a standard in its stores. Since its inception, this standard has helped the fast-food chain thrive and attract more customers to choose it over other fast-food chains. However, their employees are often unfriendly and do not seem interested in their jobs.
Contrastingly, Wendy's, although the service time does not seem to be as fast as their competitor, they still have the upper hand thanks to the cheerful and friendly staff. The reviews also indicate that customers are more satisfied with this chain of stores. Therefore, in terms of customer service is Wendy's better than McDonald's.
FAQs
Who Has The Better Breakfast?
As mentioned in the breakfast, McDonald's will win. This fast-food chain offers a varied breakfast menu at much lower prices than the competition. The dishes that customers love here are McGriddles, fruit, pancakes, biscuits, McMuffins, and coffee.
By contrast, Wendy's breakfast menu has only been established recently; as a result, the dishes are still not many. They serve dishes like flaky croissants, biscuits, classic burgers, and some basic side dishes.
Which Fast-food Chain Is Cheaper?
Comparing prices between Wendy's vs McDonald's, McDonald's menu items are usually much cheaper, including breakfast menus and hamburgers. 
In addition, this fast-food chain conf regularly offers coupons to customers through their mail and apps. This promotion plan has brought their prices down much more and has become the favorite choice of many people.
Related McDonald's Source: