Like any other hardware retailer in the US, Lowe's always wants to provide their customers with the best service in and out of stores. That's why Lowe's introduces Pro Desk to assist their clients in having a better experience shopping in stores. 
If you wonder how this service works and how it can benefit you as a customer, stay tuned to this post to find out
What Is The Lowe's Pro Desk?
The Lowe's Pro Desk is a service made exclusively for Lowe stores' Pro Members. According to a report, the sales from this category take up to 25-30% of total sales in this retailer.
You can easily find Lowe's Pro Desk in any Lowe's store. It allows business people, contractors, companies, and pros to come and easily access products in large quantities, along with information they would need while purchasing at Lowe's.
The main difference between Lowe's Pro Desk and the customer service booth or the regular checkout is that the Pro Desk area can only be accessed and used by Lowe's Pro Members. Regular members have to use the two other services for assistance.
The exclusive benefits for Lowe's Pro members can also be found on the websites. In Lowe's Pro Benefits section, customers are able to sign up or sign in to an account, download the mobile app and continue using it the same way as at the in-store Pro Desk.
Lowe's Pro Desk In 2023
The Lowe's Pro Desk is a membership-exclusive service that further assists professional and business-related buying. A Lowe's Pro Account is needed to access Lowe's Pro Desk.
Lowe's Pro Desk offers to help you purchase in large quantities with a reduced price, financial solutions to get your items, and applying for this retailer's credit cards. 
To know more about this Lowe's service, including how to get a Pro Account, how it works, how it benefits you, and what discount you can receive, keep on scrolling with us to find out!
How Does This Desk Work?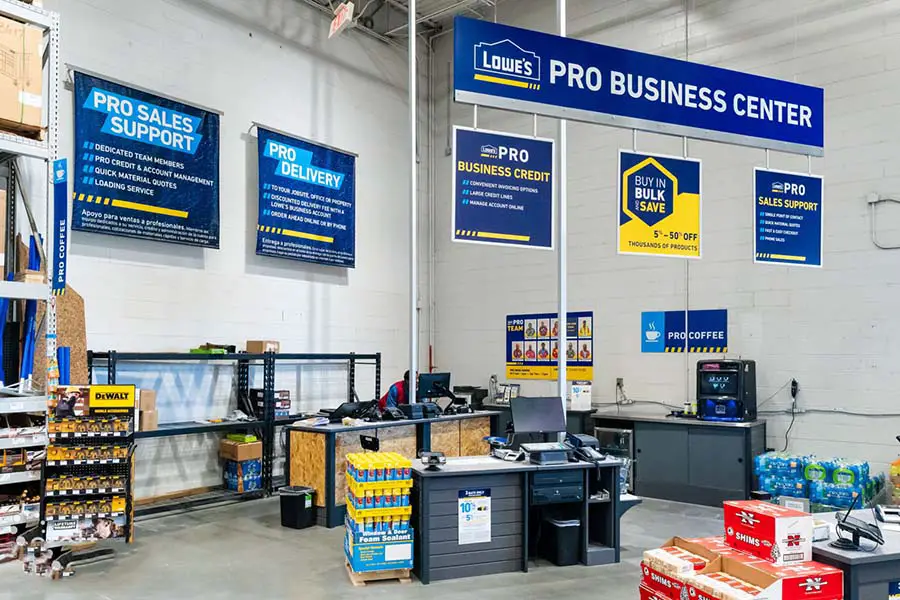 Lowe's Pro Desk can be seen as the "premium" customer service section. Unlike regular customer service or checkout, it serves the Pro Members only, where they help every customer.
Compared to regular staff, Lowe's Pro employees are trained more strictly, in a more professional environment, so that they can provide information and assist in a higher matter, including:
Help you control your account, get your purchase updated, and look at your buying history. 
Assist you in ordering or buying items wholesale and collecting those in bulk orders.
Offer exclusively beneficial features, including an enhanced organization or 24-month buying tracking. 
When signing up for a Lowe's Pro Account, you can get exclusive promotions, even if you use the Lowe's Pro Desk to shop in stores.
If you ask, "Can anyone sign up for Lowe's for pros?" then the answer is yes.
All you need to do to access all of the amazing customer benefits and discounts of Lowe's is by signing up for a Lowe's Pro Account. You will then be served by the Lowe's Pro Desk for all of your concerns while shopping.
How Do Customers Make Use Of This Pro Desk? 
You can first be recognized as a member of the Lowe's Pro Program by stepping into and using the Pro Desk's service. Signing up is easy; you can register online on Lowe's website or offline by visiting your nearest Lowe's store. 
Visit Lowe's for Pros website, then select between a business/government account to sign up only. 
If you need regular updates from this retailer, register for an email alerts system to receive discount vouchers and the latest news. Or, you can easily sign up at the in-store table and ask to become a member. 
The registration process requires you to state your business, financial and personal info. 
What Are The Benefits?
After successfully becoming a Pro Member, you will receive advantages while shopping and ordering products. 
It can also assist you in purchasing the products you want that might not be on-hand or qualifying your tax-exempt purchases. They even have charging stations to save battery-run-out phones, free tires, and windscreen cleaning!
Lowe's pro desk hours are special. Some Lowe's Pro Desks in specific locations offer extended working times, and parking for customers coming in a hurry or coming late.
If you have last-minute job modifications or want more help in controlling your purchase amount, Lowe's Pro Desk can help you with all of that.
A ProZone also includes tools and accessories to make, select and buy. 
What Are The Discounts?
A Lowe's Pro Member can receive a 5-50% discount on professional purchases and bulk orders for more than 2000 items. The exact discount percentage can be known exactly when you show your Lowe's Pro Member purchasing history and activity. 
And one more thing, Lowe's Pro Program allows its members to access a wider range of products than normal shoppers because of their exclusive and professional status. 
Conclusion
And that's everything you need to know to answer. We hope you have gained all the information you need when talking about this special service of one of the biggest retailers in the US.
Will you register for Lowe's Pro Program? Let us know, and we will see you soon in the next informative article!
For more information about Lowe's, you can read our articles on: