From time to time, choosing the color of your room can be overwhelming! There are so many paint colors available such as Lowe's Vs Home Depot Paint, that sometimes it feels more like a candy shop than a coloring section. 
We're sure you all know the experience of wondering if it will clash with the previous wall decoration. There's nothing more upsetting than hurrying to finish a room only to find out you made the wrong choice regarding its paint shade.
Lowe's Vs Home Depot Paint: A Full Comparison
Types And Prices Review
We need to break down each store's inventory separately by brand and price to get started. Lowe's carries these major brands:
Valspar
Ultra – $32.98/gallon
Stops Rust – $10.98/1-quart can
Showcase – $36.98 / gallon
Sherwin Williams
Rust-Oleum
Signature – $39.98 / gallon
Ovation Plus – $29.98 / gallon
Metallic Accents – $53.21 /-quart jar
Infinity – $50.98 / gallon
Reserve – $39.98 / gallon
Home – $42.02 per 2-step kit
Giani
Ceiling – $35.98 / gallon
Cabinet- $39.95/kit
Beyond   – Countertops and Cabinet 
Satin – $29.95/pt.
Brick Transformations – $39.95/kit
Flat – $102.95/gal, $41.21/qt
4000 – $15.98 / gallon
2000 – $19.98 / gallon
As you'll notice, Home Depot Vs Lowe's painting is dedicated to carrying high-quality brands exclusive for various projects. You can look at these styles at the table below:
Premium Plus – $33.98 / gallon
Ultra – $36.98 / gallon
Timeless 
Behr
PPG
Premium 
Essentials 
Glidden
Marquee – $45.98 / gallon
Ceiling – $25.99 / gallon
Diamond – $25.98 / gallon
In addition, Home Depot has a fantastic array of Rust-Oleum spray dye for an amazing price. They range in sizes up to $6.39 and come with a choice of three different colors – yellow, white, or silver. 
With each can costing around only $5, you get quite a lot of coverage with your investment! The cans are also easy to use, preventing you from having to waste time washing brushes or rollers that may not be easy to clean after your designated painting time is over.
Exterior Review
Lowe's company has around a dozen different types of exterior coloring. Here are the most popular ones:
Stone  
Marine (for boats)
Concrete  
Porch & Floor  
Garage Floor  
Metal  
Barn & Fence  
Exterior House  
Brick  
Exterior   & Primer In One
Industrial Brushing Enamel
Garage Door  
Home Depot offers a fantastic selection of five-gallon exterior pigments in every conceivable shade and finish: 
Roof  
Masonry  
Brick  
Garage Floor  
Patio  
Front Door  
Deck  
A gallon of paint in a Valspar brand will cost you roughly $40. However, if that same gallon of the product were purchased as a Behr Paint Lowe's or Home Depot, it would cost you about $32.
Paint Matching Services Review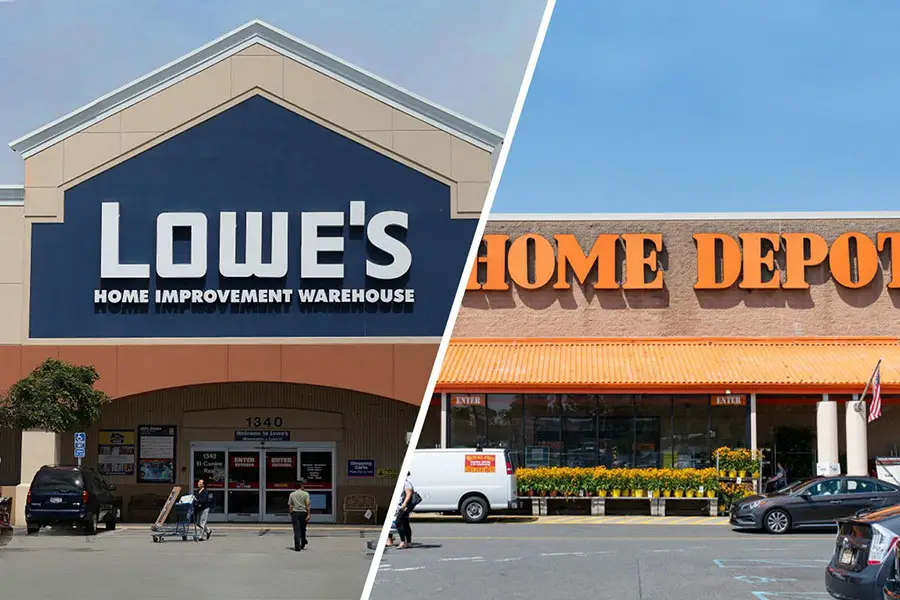 Paint matching occurs when you present a store with the color you want to match. They take the color chip of your original and place it on a computer scanner that calculates how close in color they are. 
Even Home Depot will accept chips in plastic bags as long as they can place them under one of their high-powered scanners. You should only need one inch worth of the same material. 
However, we suggest providing more than needed (two to six inches) because any slight difference in thickness or another factor could affect an exact match. We recommend bringing in your tinted samples during the week when it isn't rush hour at certain shops. 
In addition, many stores have online tools for customers to use for color matching if they cannot make it into the business during non-busy hours physically.
When you're looking to smear your house or business, it's always helpful to know a trustworthy contractor or store where you can get color matched! Lowe's or Home Depot for paint will match the colors you need as well as the samples.
Quality Review
One of the most popular home improvement paint brands, Sherwin Williams, is featured on numerous best interior lists from various companies and publications. 
At Country Living, they gave Sherwin Williams Signature Premium plus Ultra semi-gloss oil-based coloring a five out of five for quality and coverage. 
However, users who purchased it were less than satisfied with its durability and chipping problems, bringing the rating down to three stars. Behr Marquee received an overall rating of four stars at the store site – but only just over one star on Amazon. 
Similar sentiments can be seen in reviews for PPG products that both feature very high ratings at their respective sites yet middling rankings at Amazon.
When painting, you usually use the Behr brand, but in this case, we tried out Sherwin Williams' Infinity. We found that when pulling the tape off this brand of color, the color peeled off too – unlike Behr's, which left no residue behind on our baseboards. 
It's worth it to go with Marquee compared to other products. Its one-coat coverage leaves you impressed because, on average, there are usually three coats required for a fully complete look! 
Overall, it gives a professional finished product every time and makes your living spaces look fantastic. One way to save money, though, would be to take tradespeople courses so you can do more of your painting at your house yourself just like my husband and I did!
Conclusion
We hope you enjoyed our post on the difference in paint and prices between Lowe's Vs Home Depot Paint. Now that you are armed with the information above, we hope that you can find that perfect shade of color for your house, office, or other types of property. 
Please feel free to check out our other blog posts for more information about home improvement.
Related articles: