Lowe's has developed from a small North Carolina hardware store to one of the world's leading home improvement retailers. With over 2200 locations, finding your way through Lowe's can be difficult if you are unfamiliar with the aisle names.
Lowe's regulars may be curious about several of the store's acronyms, such as RW, LW, and others. Keep scrolling to learn more about What Is Aisle RW At Lowe's?
What Is Aisle RW At Lowe's 
The Lowe's aisle RW is an abbreviation for the Right Wall. So basically, if the direction leads you to RW at Lowe's, you can find the items on the Right Wall of the building.
Lowe's aisle initialisms frequently refer to their location in the store to assist customers in finding their way around. That is why many aisle initialisms appear around Lowe's, including Aisle RW.
A Simplified Guide to Lowe's Aisles
Lowe's Aisle LW
Lowe's Aisle LW stands for Left Wall. Lowe's W significations for "Wall" will include the letters preceding them that indicate the direction of the wall. The Lowe's aisle RW is the Right Wall. Lowe's aisle BW means 'Back Wall'. FW is usually known as the front wall, so somewhere along the shelves on the front wall of the building. 
Lowe's Aisle GC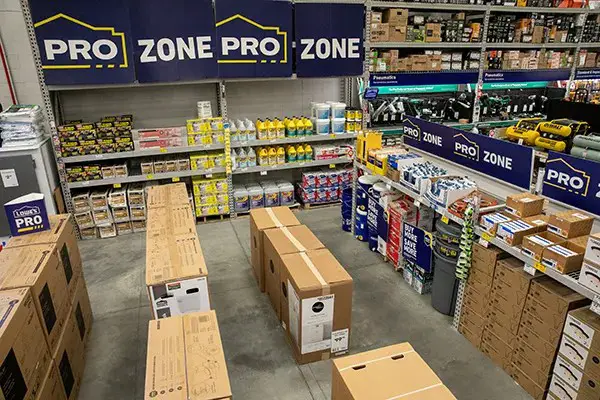 You might come across some items labeled "GC04" or "GCSW." These labels are placed in the Garden Center of the store. They are, however, still distinct areas.
If you're looking for something that starts with "GC" and then a number, it means it's in the outdoor aisles of the Garden Center. Mulch, stones, other soils, and large bag items are commonly found here.
If the "GCSW" format is used instead of a number in the location, it indicates that the goods are placed on the sidewall against the Garden Center. 
Lowe's Aisle With Multiple Numbers
Some Lowe's products may be located in various aisles throughout the store. If multiple numbers are associated with the item's location, it means the item is stocked in all aisles.  Alternatively, the item could be on an aisle end cap, implying that the two aisle numbers share it at Lowe's.
For example, Aisle 14-15 – 15 Bay A13, this specific item can be seen in aisles 14 and 15. If a number appears again, it typically indicates it is in the same aisle in another bay, or it is presented on one of the end-caps facing the main walkway in the shop.
Lowe's In-Store Navigation App
Customers might utilize the Product Locator feature to search for products and be through a detailed store map to determine their locations when using Lowe's Android and iOS mobile apps or the mobile-optimized website at any Lowe's location.
With Lowe's redesigned mobile app, you can now find every product in every store. The app also includes a built-in scanner that can produce an in-store map, filter search results for in-store use and link with MyLowe's loyalty program. …
Conclusion 
If you're too stubborn to ask for help or find it difficult to ask for help due to social anxieties, and you're going to Lowe's soon, this guide is for you.
Lowe's even has online or app-based store maps that show where specific products are located, assuming the item in question is available in-store. In case you want to see the item in person before making a purchase. Getting a feel for the product and understanding its size and appearance will usually help guide a purchase.
Related Lowe's source: