Hobby Lobby has long been a location to frequent for craft lovers, full of materials of all types for them to collect. The retail company has over 900 stores in almost all the states of the USA, but many of them seem to be under threat of closing with the controversies found in Hobby Lobby's history a few years ago. People started boycotting and avoiding the brand, raising questions about its future operation. So Is Hobby Lobby Closing Stores in 2023?
Summary Of Hobby Lobby's Operation
David Green opened the first Hobby Lobby store in 1972 in Oklahoma. From that starting point, seven more locations were soon established across the state at the end of 1982 before the brand's influence exploded and reached over 900 stores.
The main focus of Hobby Lobby is arts and crafts. But with all the modifications in its specialty across the length of time, it grows the business, other niches like kitchenware or furniture are added in later years. Right now, you might come across the following items while touring each location.
Materials for arts and crafts
Wedding supplies
Picture frames
Ornamental items
Cookware
Party supplies
As a faithful Christian, David Green carried certain values into the run of his business, which are upheld even at this point. One that is most clearly observed is Hobby Lobby's non-working Sunday, giving the employees more time for worship and their loved ones. 
It's also worth praising that its policies have been created based on ethics. The hourly wages of their full-time worker is over $18 (recorded in 2022), much higher than the minimum wage of most retail employees (around $14)
Is Hobby Lobby Closing Stores In 2023?
Hobby Lobby faced quite a backlash a couple of years ago due to some of their questionable practices, but that severity didn't get to the point where a wide-scale closure was in order. The shutting down period back in 2020 came from the raging pandemic and the stay-at-home orders issued. This applied to many retail chains, not Hobby Lobby alone.
The brand tried to maintain business through the crisis. But they made a mistake by assuming the situation wasn't serious enough, triggering a negative reaction from the public. They were spotted to prolong the opening days in Colorado until the officers were contacted.
So, is Hobby Lobby closed?
Not exactly, even though with the pause in work, all the workers at their locations were put on mandatory leave without pay. The rewarding aspects of being employed by Hobby Lobby (vacation and other time-off benefits) are suspended. 
However, they were still provided with access to dental and other relevant health insurance, which would last until the stores' reopening day. This only a furlough, and the other benefits would return by the time business was back on track. 
This stagnation period was finally over in June 2020, when Hobby Lobby made an official statement about a nationwide reoperation. 
Hobby Lobby's Current Financial Status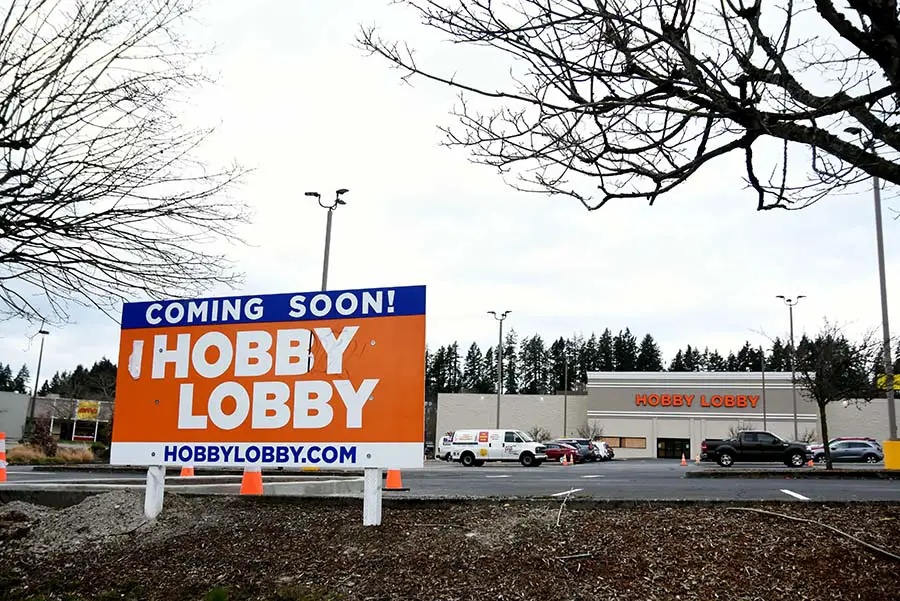 The financial reports of Hobby Lobby weren't made public, but observation of its activity status shows business growth. The store count increase is most noticeable, seeing as it went from no more than 840 locations in 2019 to over 900 locations at this point. 
Also, Hobby Lobby didn't resort to cutting wages. The hourly rate has reached $18.5 in 2022 and perhaps will continue rising in the future.
Its domestic-only shipping policies have more to say about their current financial situation. Aside from the states of the USA, it doesn't deliver elsewhere, which means the brand feels it's making plenty in this market limited to the nation. 
Will Hobby Lobby Be Closing Permanently In The Future?
The straight answer is, no. It isn't likely for the company to face a long-lasting closure unless another crisis similar to the Covid-29 comes to pass. After the first branch reopening in April 2020 (what they sell was deemed essentials by the laws) in Waterville and Bangor, its business gradually came surging back, even though only a certain number of employees and customers could be presented in the store at a time during the few weeks from the reoperation.
From May to July 2020, the stay-at-home orders were lifted little by little, and slowly but surely, Hobby Lobby made its comeback. Social distancing was mandatory throughout the pandemic, and the numerous protocol criteria must be met, but they didn't have a big impact on its service to customers. 
Hobby Lobby has now resumed opening from 9 a.m to 8 p.m nationally, with Sunday being the day off as per their regular policies. They agree to take measures against the potential risk of the virus spreading and would follow the government protocols regarding mask wearing or social distancing to create a sanitary shopping environment. The continuation of their business has faced no issues whatsoever, and the possibility of a complete shutdown is rather low. 
Conclusion
As of now, there is zero sign suggesting that it'll go out of business any time soon. In fact, the rise in wages and the stable position it has in the market pretty much point out that such worries are unnecessary, and the places will persist in being your shopping options.
Related Articles: