This must be one of the most controversial questions since then about the giant chain of restaurants. The rumor about Chick-Fil-A's closure has been widely spread in the past few years. 
Yet, the company is still surviving until 2023! So what is the case? Will the rumor become the truth? Explore the whole story in the following post.
Is Chick-fil-A Closing in 2023?
The answer is still a mystery. Yet, there is no evidence of the company running out of its business. The head of Chick-fil-A has not yet raised his voice or provided any official announcement about its intention for permanent closure in 2022. 
At the moment, this chain of restaurants has temporarily closed outlets to support the renovations for some particular locations. Some spots are also usually closed every Sunday and reopened next Monday.
Killeen Chick-fil-A is a prime example. The location will likely be closed for 13 weeks for renovating purposes. Thus, despite the rumor about the permanent closure of some outlets, the chain of restaurants is still healthy and thriving.
It remains one of the most prominent fast-food franchises in the US, boasting a net worth of up to $15 billion.
What Can Lead To Chick-fil-A Closing Down A Restaurant?
Here are some possible reasons for the franchise to close down some of its restaurants:
Renovation
The restaurant's renovation and remodeling often take place to enhance its image and eye-catching layout further. The process can last for weeks and even months.
Chick-fil-A's Strategic Reinvestment Team always focuses on one of its tasks as identifying any restaurants needing reinvestments. After that, the identified ones will be closed temporarily for renovation. 
Health Concern
Chick-fil-A restaurants will be closed due to health concerns when dining in restaurants is not safe for customers.
Will Chick-fil-A Close In Texas?
Since then, Chick-fil-A has been closing its location in Texas due to health-related concerns in 2020. During this period, the company still continued to provide customers with door-to-door services. Curbside, third-party delivery services, drive-thru, and takeout are employed to activate the sales process.
Is Chick-fil-A Closing In Charlotte?
Is Chick-fil-A closing permanently? It is a pity that the famous restaurant in Gastonia Franklin Square is set for permanent closure on June 15th, 2022. This event will, unfortunately, lead to job losses of up to 117 employees. 
According to the interim manager, these workers will not be guaranteed to work with chick-fil-A Inc in the future. Yet, a new restaurant will open on Gastonia's Cox Road in the summer.
Source: https://www.wbtv.com/2022/04/21/chick-fil-a-closing-store-charlotte-region-leaving-over-110-people-out-work/
Why Is Chick-Fil-A Closing In Killen?
Chick-Fil-A restaurant in Killeen will be closed down for more than three months for renovating purposes. Yet, this temporary closure will not affect the operating performance of the two remaining locations in the area. They are Harker Heights and Copperas Cove. Killen Chick-fil-A big fans can outsource their favorite sandwiches in these two locations for 13 weeks.
The franchise in 1400 E.Central Texas Expressway will be unavailable for ordering for around three months as well. 
Source: https://kdhnews.com/business/chick-fil-a-killeen-to-close-for-3-months/article_8f45ef6a-9a75-11ec-a8d1-cf3c85005fd7.html
Will Chick-fil-A Remove Any Menu Items?
The company plans to eliminate some categories and items in the menu due to the efforts to enhance the current one. However, there will surely be not many changes to its menu.
The changes can adversely disappoint loyal customers and reduce sales. Some innovations in the menu include the exclusion of bagels and decaf coffee. Two beverages were removed from the breakfast menu in 2021.
This exclusion allows room for other limited-time-only and seasonal items like Grilled Spicy Deluxe and Chicken Tortilla Soup. To soothe loyal customers' and bagel lovers' anger, the company tried to navigate them to a new menu without the bagel. 
Those items made with bagels will also be available in buttermilk biscuits and English muffins.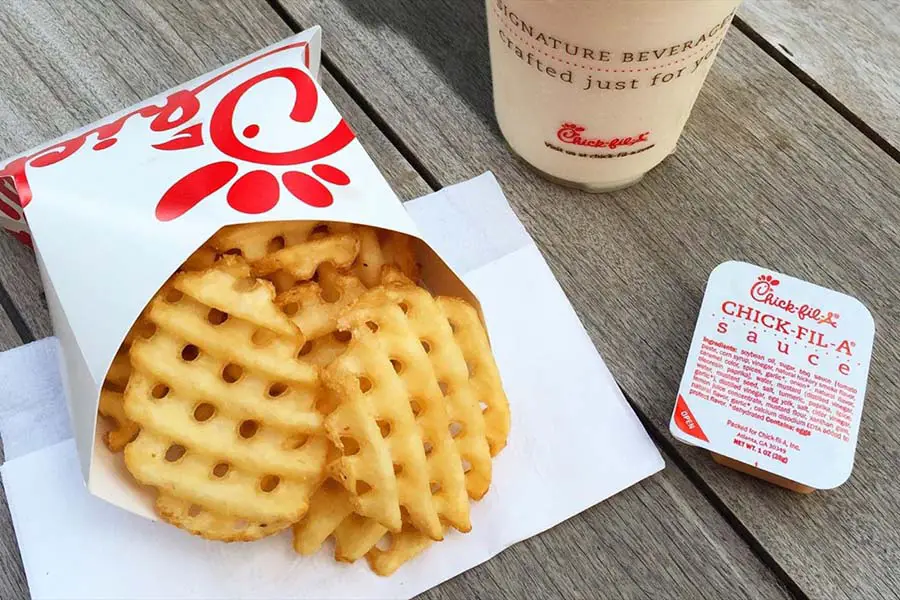 Why Is Chick-fil-A Closed On Sunday?
The company's closure on Sundays has much more meaning than the rumor about a permanent shutdown. Truett Cathy, the chain's founder, is a Christian.
Thus, he decided to keep Sundays as a closing day to attend meaningful church services and honor his religion. He also wants his employees to have time off for rest and family and reflect on what happened during the past week. 
It is worth noting that this activity doesn't boost sales. The report shows that Chick-fil-A witnesses a loss of over $1 billion in sales each year.
Unlike other fast-food restaurants, it is astonishing to find that this one also closes for other specific holidays. You cannot order a crispy and tasty chicken sandwich on Christmas Day, Thanksgiving, and Easter Sunday.
Besides those days, the chain is always busy serving waffle fries and chicken minis to its crazy fans.
How Does Chick-fil-A's Sunday Closing Strategy Pay Off?
This unique strategy undoubtedly offers franchisees and employees a whale of a time to rest and break from the daily grind. Thanks to it, they can build up new energy for the next week in the workplace.
Is there any better than having employees back to work with a refreshed and rejuvenated attitude? This special tradition boosts sales by pushing customers to purchase more on these other days.
Conclusion
During its whole operating period, Chick-fil-A has closed various locations temporarily and permanently.
The main purposes are renovations, low sales, and a staff shortage. There is evidence supporting the company's thriving status in the future.
You might also like: