As we know, Walmart is one of the most popular multinational companies in the United States. There are over 4,700 Walmart superstores spread over American states, providing multiple services, including pharmacy, banking, and car repairs.
How much money does Walmart make in a day? In general, Walmart daily revenue is approximately $1.6 billion, and this number is over $49 billion in a month. To find detailed information about Walmart's earnings, let's scroll down!
How Much Money Does Walmart Make In A Day?
Walmart daily sales generate an estimated $1,641,095,890 every day, with the total profit accounting for more than $400 million.
How can these numbers be achieved? Every day, Walmart stores globally welcome more than 36 million customers to go shopping. Additionally, three main business segments that bring out this giant revenue include Walmart US, Walmart International, and Sam's Club US.
In Walmart Corp.'s annual report, the company breaks down the contribution of each segment to its sales. It also includes income from individual services, such as eCommerce and streaming, which are essentially tied to its top service directory.
How Much Does Walmart Make Per Store In A Day?
Walmart has approximately 10,593 retail units globally at the time of this article. While the financials vary from store to store, here is an idea of what a single store pulls in for revenue and net income.
Walmart opens over 10,500 retail stores across the world. While financials differ from location to location, there is an average number that a single location can achieve in a day. In total, Walmart average sales per store are approximately $1,500,000, while the net income is about $37,000,000 per day.
How Much Is Walmart Net Income Per Day?
Because net income excludes the company's expenditures and expenses, it is a better picture of what Walmart truly earns per day. Walmart's net income in 2021 was $13,510,000,000, while this figure is about $37,000,000 per day if we divide it by 365 days.
Does Walmart Make More Money Than Its Competitors Per Year?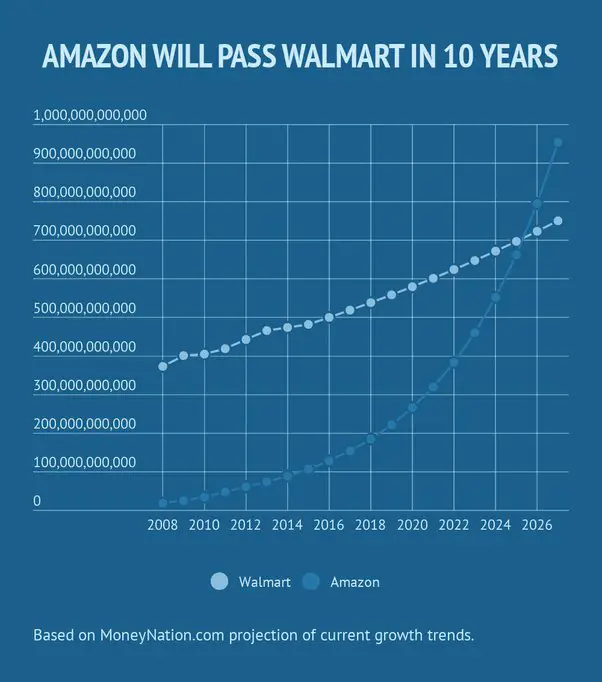 Walmart is the largest retailer in the United States, so its yearly revenue is undoubtedly greater than Target, Home Depot, and Walgreens. However, Walmart is always competing with Amazon. While Walmart benefits from its locations, Amazon dominates online marketplaces.
Amazon has a market capitalization of $1.7 trillion, making it 5 times more valuable than Walmart. But Walmart made a revenue of $534 billion last year due to its 25 percent gross margin, and Amazon made $322 billion in profit with 40 percent.
Frequently Asked Questions 
How Much Money Does Walmart Make In A Year?
Walmart earned a huge figure of $599 billion in 2020, which is 2.5 percent more than the overall statistics in 2019. Walmart's ability to extend across American states allows retailers to reach larger audiences. With the addition of 10 new shops in 2021, the company is likely to boost its annual revenue.
How Much Does Walmart Make In Each Second?
It's reported that Walmart generated sales of nearly $560 billion in only one budgetary year. So, in total, Walmart makes a staggering total revenue of $17,721 each second!
Furthermore, Walmart made a profit of roughly $4,300 every second due to its net profit margin of 25%. Walmart experienced a consistent increase in the number of consumers willing to pay a higher price in 2020, resulting in a 22% increase in ATV (average transaction value).
How Much Does Walmart Earn Each Minute?
If you want to know, by the beginning of 2022, Walmart Corp. has earned an average amount of approximately $1,140,000 each minute, which is an unbelievable figure!
The Waltons, the first establishing family, now earn much more than $65,000 every minute, making them one of the most prosperous families in the United States.
How Much Does Walmart Earn Every Hour?
It's noted that Walmart's earnings are also outstanding for every hour,  which is up to $69,000,000!
Walmart's success is mostly due to its ability to provide high-quality products at low prices, as well as effective shipment and convenient services. Further, Walmart concentrates more on developing its eCommerce platforms to increase product sales and improve the customer buying experience.
How Much Does Walmart Earn From Ecommerce Sales?
Walmart has implemented several strategic developments for its online website. The official website is totally separate from superstores because of its marketplace characters.
Walmart's sales were $407.7 billion at the end of 2020, more than 6.5 percent from the preceding year. Meanwhile, eCommerce revenues in the United States increased by 69 percent.
Moreover, 3rd-party merchants that followed Walmart's platform sold their items under Walmart's name coming with a 6 to 20 percent referral fee when Walmart launched its Marketplace. Therefore, Walmart's stock range grew, so as the total revenue.
If you would like to know more Walmart, you can also read our related articles on Does Walmart Own Dollar General, Is There Walmart In New York City and Why Is Walmart Closing Stores Suddenly.
Conclusion
How much money does Walmart make in a day? We're sure that this article has provided you with the fullest information to find the answer. In conclusion, Walmart made a total of $1,641,095,890, a huge number that every of its rivals desires to achieve. 
Besides, the revenue of Walmart's eCommerce sales is also revealed so that you can have the most detailed information about Walmart's income.