In the US, not many stores accept split payments with different methods. However, they provide customers with various payment methods such as cash, gift/credit/debit card, etc.
Amazon customers also wonder whether: "Can you split payments on Amazon?". If you are one of them, do not hesitate to read this article to the end
Can You Split Payments On Amazon in 2023?
The answer is YES.
As of 2023, Amazon accepts split payments with only gift cards. This token can be used simultaneously with any method, like a credit or debit card. However, the checkout divides between multiple cards are not applicable. 
The article provides further information about splitting payments, paying with multiple cards on Amazon, and answering a few related questions. Stay reading for more details.
How To Split Payment On Amazon For Gift Cards
Step 1
Firstly, you must own at least one gift card in your account, and your chosen products may use it to pay. You should note that some gift tokens are only for a particular item or group of items, such as electronics, home repair, interiors, clothing, shoes, jewelry, etc. The others may apply to all items. Therefore, you should check the information before buying them.
Step 2
Secondly, you need to choose the item you want to buy and add it to the cart. Then you proceed to the checkout process; follow the below guidance:
Click on the shopping cart icon on the right corner to review what you have selected to buy.
Click the yellow button "Proceed to checkout" to move to the checkout.
Select "Add a gift card, promotion code, or voucher" and enter the code. It is a 14-character alphanumeric line on the back of the card. Then, you press "Apply". If you have already entered the gift card, then select "Use your $X gift card balance."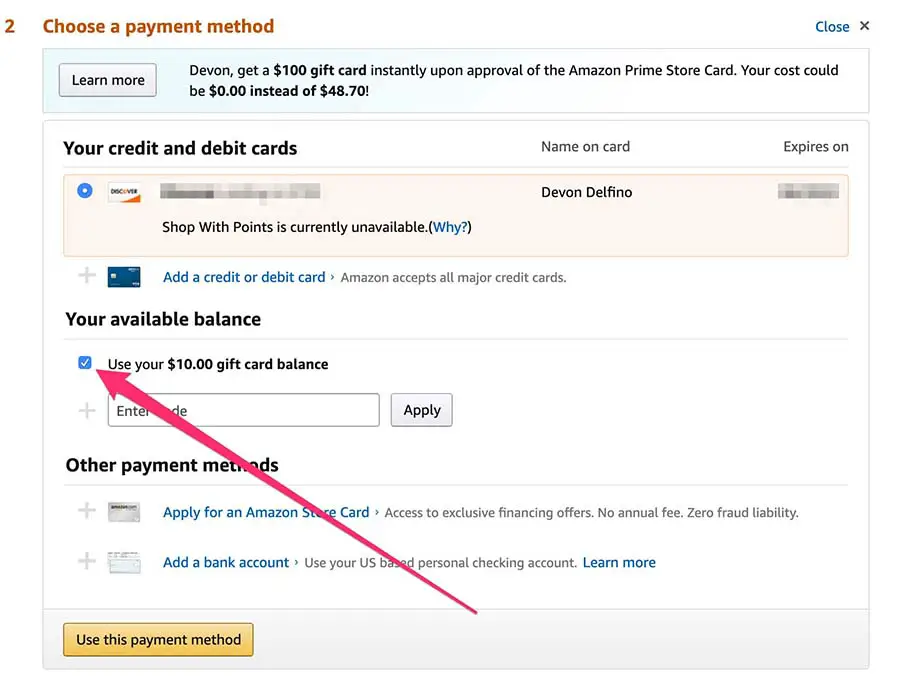 Select the method you prioritize using in the payment.
Press the "Change" button and reselect if you want to change it.
Then click the yellow button "Use this payment method" to move to the online invoice section.
Select "Place your order" to proceed with ordering and finish the checkout section.
Why Doesn't Amazon Allow Split Payments With Credit/ Debit Cards?
This e-commerce company realized that a customer's identity might be more difficult to verify if their payment forms use multiple cards. Due to the increasing possibility of fraud, they do not allow customers to pay for their credit and/or debit card in the same purchase.
On the other hand, the card service providers this e-commerce company is affiliated with also have limitations in their regulations. In particular, customers dividing transactions through cards can avoid reaching their maximum spending limit. 
This action is prohibited to prevent criminals from taking advantage of loopholes of systems. Instead, they accept dividing transactions involving gift tokens or prepaid ones because they cannot be overdrafted.
FAQ's
Can You Add An Amazon Gift Card To Your Account?
Yes, you can redeem a gift token to your account before or during checkout. However, you must first own it by purchasing at the Amazon.com store or website.
To add a gift card before checkout:
Select "Redeem a Gift Card" at the top of the company's website
Enter the code and click "Apply to your account."
You tick "Use your $X gift card balance" at the checkout to use it.
To add it during checkout:
At the checkout section, click "Add a gift card, promotion code, or voucher" to add a gift
Enter the code and press "Apply" to add the token to your account
Then you proceed with the purchasing order as usual
It is more convenient to use a gift certificate and other methods simultaneously. Besides, you also need to pay attention to the usage conditions to choose the right one suitable for the product you have purchased.
Which Payment Forms Does Amazon Allow?
Customers can use various methods, including debit and credit cards. You can also add a new one at the checkout step or the Amazon Wallet section. Some methods you can refer to are:
Amazon Store/Security/Rewards Visa Signature/Gift Card
Visa
Diner's Club (US billing addresses only)
China UnionPay (Credit Card only)
JCB ((Japan Credit Bureau)
NYCE (New York Currency Exchange)
Etc.
In the United States, this retailer company also accepts Flexible spending accounts (FSA) and Health Sciences Authority (HSA) for FSA or HSA-eligible orders.
In addition, in some US states, SNAP EBT (Supplemental Nutrition Assistance Program – Electronic Benefits Transfer) is also accepted as a payment method.
Which Online Stores That Allow Split Payment?
In addition to this company, some other retail chains also allow their customers to split payments, although the format often varies. A few examples are:
Walmart: accepts gift certificates with debit/credit cards or Walmart Pay one with any other payment method.
Starbuck: accepts gift certificates with debit/credit cards
Most stores or websites do not accept bill sharing between debit and credit cards because of the strict requirements of the card issuers. Moreover, the transaction between these multiple cards is quite troublesome, and they do not want to waste time verifying the transaction's legitimacy. Therefore, you need to be prepared with cash or a card to help pay off at once.
Conclusion
You may split payments between a gift card and a credit/debit card at Amazon, and add your gift card flexibly before or during the checkout step. 
To avoid signs of financial fraud, most stores and card providers do not accept customers to split transactions between credit and debit cards.
Furthermore, most US online- and in-stores do not agree to the dividing transaction, except in a few cases like Walmart and Starbucks. Therefore, you should prepare a payment method to pay off an order.
Source:
https://www.amazon.com/gp/help/customer/display.html?nodeId=GFBWMNXEPYVJAY9A
Related Amazon Source: