Do you know what the Amazon slogan and tagline in 2023 imply? As trivial as it sounds, the brand's slogan is just as popular. The high-interacted website usually comes to mind for both sellers and buyers when thinking of a platform to advertise and purchase products.
What Is A Slogan Or Tagline?
A slogan, or a tagline, is a phrase or motto used in various contexts to represent a brand or company to persuade a specific target group or members of the common public.
There are three factors making up a brand: the name, logo, and slogan. That said, a slogan can make or break a business. Along with the logo, a slogan aids in forming a potent connection between the brand and consumers. The easier it is to remember a slogan, the more exposure a brand gets.
What Are Amazon Slogan and Tagline in 2023?
Did you know that Amazon actually has more than one tagline? That's right! Each of them refers to different targets.
Work Hard, Have Fun, Make History
'Work hard, have fun, make history' is the official tagline of Amazon in 2023. The slogan refers to Amazon's dedication to innovation and service enhancement. As can be seen, Amazon tagline 2023 is separated by three ideologies.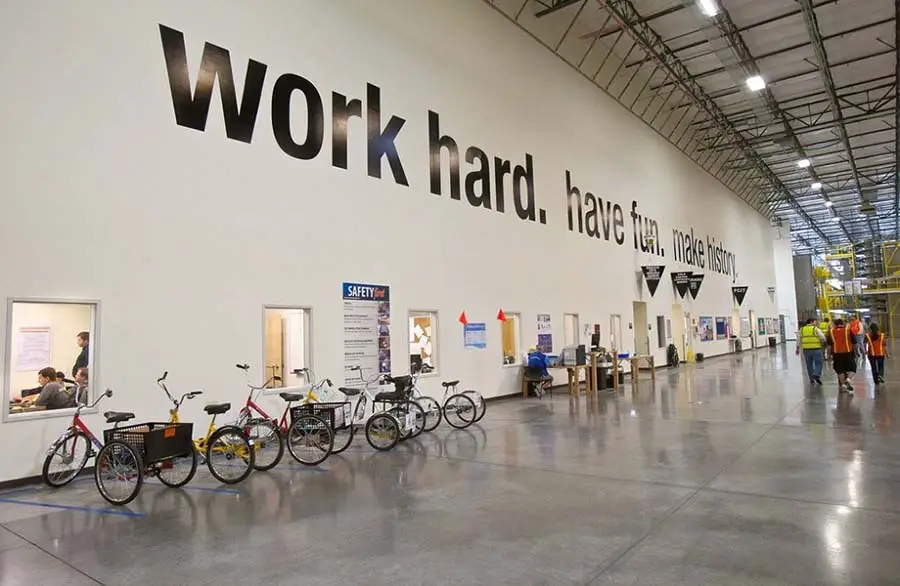 Work Hard
The owner of Amazon – Jeff Bezos, believes that working hard and giving it your best is the fastest way to success. The CEO has gained a reputation for being a hard worker and tough taskmaster.
In the letter he wrote to his shareholders in 1997, Bezos mentioned that being an Amazon employee was not as easy as it might have seemed.
Have Fun
There is a saying that goes You gotta do what you love to love what you do, and I believe it much applies to this ideology – to have fun. The key to having fun at work is creativity and innovation.
Bezos makes room for mistakes, as long as they lead to something positive. You know what they say, learn from your mistakes and be better. To have fun is to think beyond the boundaries with a powerful imagination. 
Make History
As of March 2022, Jeff Bezos is the second richest person in the world, with a net worth of $177 billion. Amazon proudly contributes to Bezos' success, being the most successful retailer company in the U.S.A. Despite such accomplishments, the business still strives to develop bigger by the day.
From A To Z
You can see a smile formed right under Amazon's logo; it represents the range of products and services available on the platform. The smile also symbolizes consumers' happiness when they find what they need within just a few clicks.
Earth's Biggest Bookstore
Did you know Amazon was first founded as a bookstore in 1994?
As soon as Bezos launched the brand, their first momentum was 'Earth's biggest bookstore,' which was on par with the products they had to offer – from books you can find at every bookstore to the rarest books imaginable from all over the world.
What Can We Learn From Amazon's Slogan?
You may think slogans are just a bunch of random words put together to make an imprint, but they are, in fact, a lot more than just that. We take the Amazon slogan as an example. It has all the right elements in place, helping to set the brand apart from its competitors.
Simplicity: It is important that a slogan creates an impression without giving away too much. It must give a taste of the brand or product, and Amazon slogan 2023 has succeeded in touching upon the company's mission, vision, and values.
Timelessness: The most common mistake brands make when coming up with a slogan is following the latest trends and fads. When thinking of words and phrases, these ones are likely to stay relevant regardless of the time. 
Memorability: Amazon tagline and logo are easy to remember; they can easily be retained in the brain. They grasp attention right away and pose a connection between the brand and consumers. 
Conclusion
The current Amazon slogan and tagline allude to Amazon's extraordinary expansion and dedication to brand building. Of course, you cannot forget the skilled workforce that enables creativity and innovation, as well as the company's effort to customer service and sustainability.
You might also like these articles: