Nowadays, Starbucks has become a living symbol; the coffee shop is no longer a coffee shop but one of the most popular culture brands. In 2023, their coffee culture will become a thousand-dollar coffee culture.
If you're wondering about their slogan, then this blog is for you. Here we will find the answer to "What is Starbucks slogan", how it helps them develop in the future, and how they have used their motto as a foundation for their business decisions.
What Is Starbucks Slogan In 2023?
It's true that the company does not have its slogan. However, they have a very clear catchphrase, also known as their mission statement – an unofficial slogan: "To inspire and nurture the human spirit – one person, one cup, and one neighborhood at a time."
Clearly, this brand isn't the only coffee shop around. Still, in an industry with many options available, they are very clearly the leader in terms of providing customers with the best experience possible.
Their competitors don't have anything close to their target market because they don't provide the same experience as this company, which offers so much more about what it serves. 
They provide customers with a meaningful experience, not merely sticking to serving just coffee!
How Can A Slogan Help Starbucks Develop?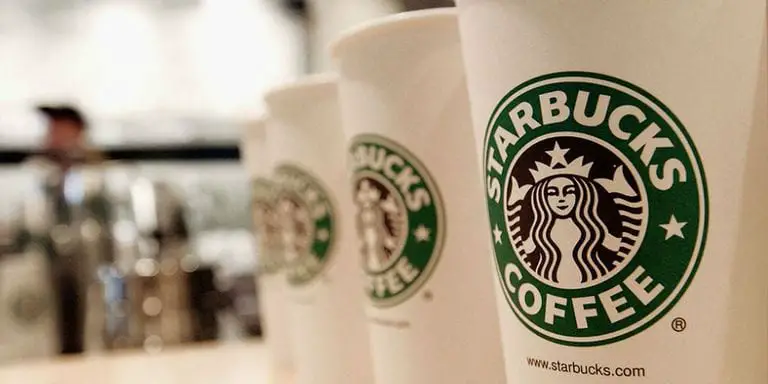 Starbucks slogan – a simple yet powerful statement that helped make the company what it is today. It is simple, easy to remember, and fun to say! 
Just hearing those words evokes memories of our time spent with friends after being inspired by high-quality products available at nearly every corner – from their delicious pastries to their iconic coffee cup.
They always follow their motto from the very first day through the implementation and dedication to ensuring the social responsibility, sustainability, and ethical treatment of the people involved, from traditional farming to the final product.
Moreover, the company also offers many donations toward local charities and local events and endeavors that help contribute towards economic growth.
And that's why this brand has been one of the largest, fastest-growing coffee houses in the world until now.
What Is A Starbucks Mission Statement?
The company has always been a mission-driven organization that believes in inspiring and nurturing the human spirit. They aim to offer a place where customers can feel welcomed, inspired, and encouraged by providing outstanding service.
When you walk into a store, it allows you to access the tools that empower you to progress in all areas of your life – from work, academics, and creativity. When you see the brand, it makes you feel refreshed with possibilities!
Does Starbucks Have Some Popular Taglines? 
Many people are concerned about the company taglines that appear on every special occasion, such as Christmas, New Year, Valentine's Day, etc. 
While it's true that they don't have an official motto, the company has had success with its marketing in the form of individual "taglines".
They do focus on certain seasonal themes as well as major holidays. Overall we can conclude that their taglines are highly effective in providing marketing opportunities encouraging customers to buy their products. 
They haven't been slow to introduce new taglines every year and rely on them for brand building.
What Values Does Starbucks Create?
They have maintained a list of core values for years. Some of the core values are quality-driven, and some are humanitarian. All are in terms of the most important things to them: the products, customers, and employees.
The company focuses on the health of its customers by providing high-quality products. Its success lies in the way it has been offering a third place between home and work for many people.
At this coffee house, all the employees are encouraged to initiate, develop and increase the overall performance through their own personal, good practices. It will finally lead to better performance for the company.
You may also like these articles: McDonald's Slogan, Amazon Slogan and Tagline and Why Is Starbucks Closed.
Final Thoughts
With a straightforward marketing strategy, the company becomes the "third place" for their customers, after the home and the workplace, and where people connect with others.We hope you've enjoyed our article about the Starbucks motto and how their catchphrase has helped them develop over the years. If you're interested in any topics like this, please be sure to check out our other blogs on the website for more information.