McDonald's slogan 2023 is still the most popular "I'm Lovin' It", which has been used since 2003 when McDonald's set out its image and boosted its lower sales. 
This slogan is McDonald's all-time longest-running, whereas the company also used other well-known slogans like "We Love to See You Smile".
We understand that you're now intrigued by the story of McDonald's slogan, so let's keep reading!
McDonald's Slogans 2023
McDonald's Slogan History
McDonald's changed their slogan to "I'm Lovin' It" in 2003; however, the search for a new slogan started in 2001 when the company was attempting to refresh its brand awareness.
McDonald's held a global competition in 2001, requiring advertising companies to assist them in creating a new phrase that would appeal to customers and serve as a worldwide slogan.
By submitting the creation "I'm Lovin' It" with five notes they developed for the soundtrack, Heye & Partner, a German advertising agency, won this competition.
Furthermore, McDonald's used the tune created by Butch Stewart, a well-known slogan composer, and hired him to produce the catchy melody. Then, McDonald's engaged Pharrell Williams to make a pop song with this phrase.
McDonald's Slogans and Tagline Through The Years
McDonald's has owned various slogans and taglines throughout the years. Some of them became iconic, while others received negative feedback. The taglines below are some remarkable examples:
Let's Eat Out (1960's)
The Closest Thing to Home (1966)
You Deserve a Break Today (1971)
Two all-beef patties, special sauce, lettuce, cheese, pickles, onions, on a sesame seed bun (1974)
We Do It All For You (1975)
Nobody Makes Your Day Like McDonald's Can (1980)
It's a Good Time for the Great Taste of McDonald's (1984)
My Mcdonald's (1997)
We Love to See You Smile (2000)
It's What I Eat and What I Do (2005)
What We're Made Of (2008)
McDonald's Slogan 2023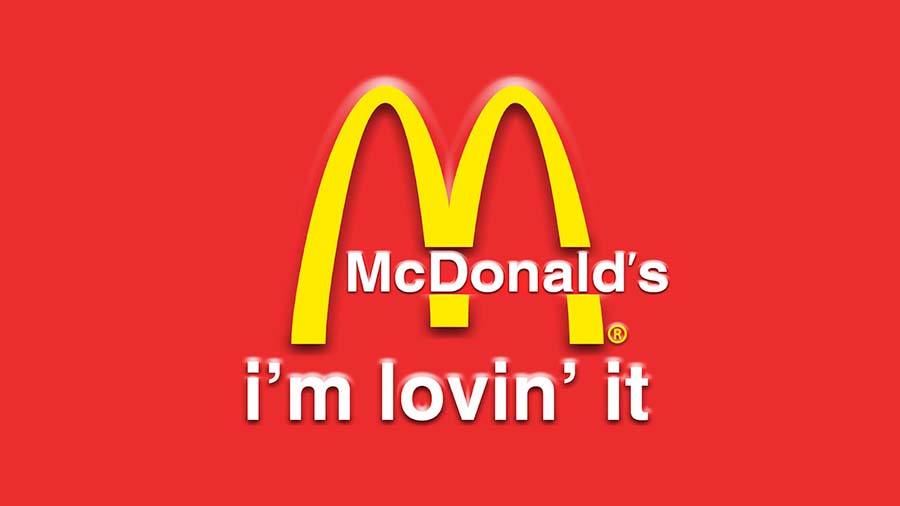 What is McDonald's slogan for 2023? "I'm Lovin' It" is McDonald's current tagline, which has been in use since 2003, making it the longest-running McDonald's slogan.
It's still unknown that the current phrase will be changed in future, as it has become one of the most famous slogans worldwide and was intended to be a global tagline. The motto appears on nearly every McDonald's product and packet, indicating that it continues to be used for a long time.
Is McDonald's Slogan Trademarked?
"I'm Lovin' It," as well as multiple McDonald's taglines, slogans, and menu items, have been trademarked by McDonald's, including:
The Simpler the Better
Get Moving With Ronald McDonald
You Deserve a Break Today
We Believe
Serving a Quality Meal Every Time
Maccas
Two all-beef patties, special sauce, lettuce, cheese, pickles, onions, on a sesame seed bun.
Here We Grow Again
Golden Arches
McDonald's also holds a number of other trademarks, including the food item's names like the Big Mac, Double Quarter-Pounder, and Quarter-Pounder.
Even though McDonald's has a wide variety of trademarks, the corporation still has to go to court for the recognized trademarks throughout the years.
Furthermore, because of the large number of trademarks McDonald's has requested for long periods, this company has been accused of trademark bullying.
When Did McDonald's Slogan Change?
After being approved for the trademark of "I'm Lovin' It," McDonald's slogan was formally changed to "I'm Lovin' It" in 2003. It is the longest phrase that McDonald's has used, and it has become McDonald's all-time tagline.
On the other hand, McDonald's has altered its motto several times over the years in order to attract more consumers, increase its sales, appear more healthy, and hook into younger customers.
What Was McDonald's First Slogan?
"Look for the Golden Arches," which initially debuted in 1960 as an educational and useful tagline, was McDonald's first recorded slogan.
Furthermore, after the Golden Arches trademark was registered, this tagline was intended to express brightness,  cleanliness, and clarity so that you can identify a McDonald's restaurant quickly.
What Is McDonald's Slogan All About?
"I'm Lovin' It" is an effective slogan because the "it" may be seen as a reference to McDonald's significant food. When consumers hear this term, they automatically think of a Big Mac, fries, and specific combos, which have made McDonald's reputation.
Conclusion 
This article has brought you a lot of interesting information about McDonald's slogan 2023, its previous taglines, and the history of one of the most famous slogans in the world. 
McDonald's has had numerous memorable slogans over the years, with "I'm Lovin' It" now recognized as the longest-running McDonald's tagline of all time.
Last but not least, "You Deserve a Break Today" and "We Love to See You Smile"are still two of McDonald's most well-known phrases after all these years.