If you love shopping online, then there must be at least one time you shop at Amazon – one of the biggest retailers online. However, even if you are an Amazon regular shopper, there are still quite new definitions, such as "promotional balance".
What Is Amazon Promotional Balance In 2023?
Amazon promotional balance can be defined as the accumulated balance of your existing gift card and credits in 2023. This amount can be found in your Amazon account.
Whenever you shop at Amazon, the promotional balance in your Amazon pocket is legit to be applied to almost every purchase at this retailer. However, there are restrictions in certain cases. Also, this special promotional amount can be combined with either debit or credit cards.
That is the basic information about what Amazon's promotional balance is. Keep on reading to find out how you can redeem it, how it can benefit your shopping at Amazon, and more!
Do You Have To Pay Back Amazon Promotional Balance?
The great news is that you don't have to pay back your Amazon promotional balance. Since it benefits Amazon users, all you need to do is collect the gift cards, vouchers, and coupons and put them into your Amazon promotional balance. 
The more benefits you use, the more exhausted your wallet is, but you don't have to pay back the promotional amount. That is such an advantage of being an Amazon buyer.
How To Check Promotional Balance On Amazon?
It's easy to locate this balance, as it locates in your Amazon wallet's payment. All you have to do is log in to your Amazon account and check your purchases to find that balance. 
In your Amazon pocket, there are a variety of stored-payment procedures, including debit, credit cards, or even your checking accounts in some cases. You can find the section specialized for balances and rewards under the regular paying method.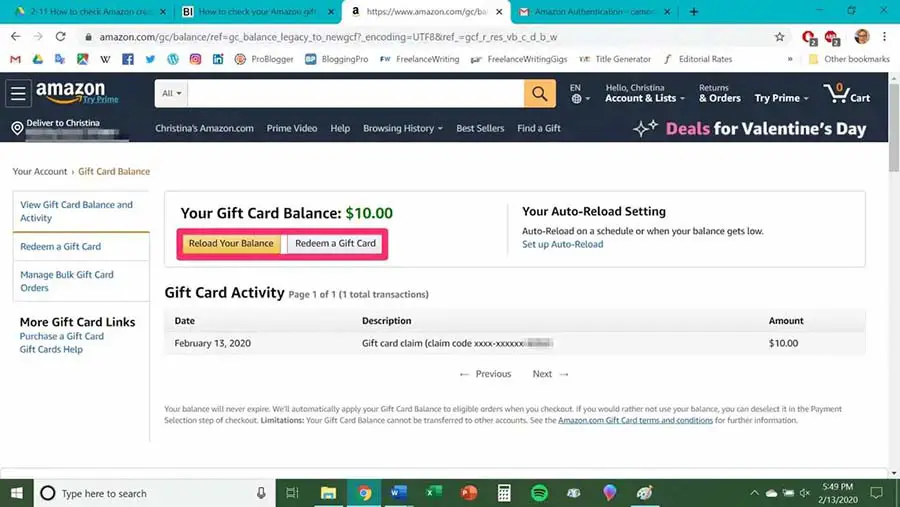 In this section, all of your in-use Amazon promotional balances will come up. They are promo codes, discount codes, vouchers, credits, gift cards, etc. As these promotional balances exist directly in the e-wallet, they can be added and implied on any purchase on the website to save some money. 
In case when you are short of money that makes you unable to pay the whole balance, the system will charge your preferred payment method instead, which can be a different debit or credit card. 
And the best thing is that your Amazon promotional balance can easily be updated and modified when you add another gift card or promo code. Feel free to save money and buy great products on Amazon at the same time! How great is that!
How To Redeem A Gift Card From This Retailer?
Redeeming an Amazon gift card is effortless with just one step: adding it to your promotional balance.
Visit your Amazon page, choose the "gift card" section, and follow the instructions to receive your benefits. You will need one claim code to finish the process, as it can be found on the card's back or in the email. 
Once the submission is completed, Amazon makes an update to the balance. And that's when you can begin to shop freely!
Worrying that you will overspend? Amazon allows you to have a look at how much promotional balance you have left. And remember, the gift card balance will be applied to the incoming legit Amazon spending. 
Many of you want to save the gift card for later, and that is possible as well, if you remember not to tick the box of using the gift card when finishing. 
So, if you forget to put the gift card in the promotional balance, what will you do? The answer is adding the code while checking out. 
Visit the "Review your order" section, and type in the code at the "Gift Cards and Promotional Codes" boxes. Check your total again to see if the coupon works, and complete and purchase. 
What Are The Products You Can Buy With This Balance?
In case your balance is issued by an Amazon specialist or a market merchant, it is valid to use only if you take it for certain products stated beforehand. 
If the promo is legit, you will see your order's total price discount. Otherwise, there will be notifications telling you that the gift card doesn't work. 
The great thing about this benefit is that you can use it to buy most of the products. Paying for Amazon Prime, Fresh will also be eligible by using the promotional balance. 
The only restriction is that they cannot be used to help you get whole foods or audiobooks.
Conclusion
And that's pretty much everything you need to know about Amazon's promotional balance meaning. It can be tricky to understand fully, but you will understand how the promotional balance works as you use the gift cards or coupons in your Amazon wallet.
Thank you for reading this article, and we will see you soon in the next Amazon-related article!
If you would like to know more about Amazon, you can also read our related articles on: