Renting a carpet cleaner machine will help you more conveniently and save time when cleaning the carpets in your home. To meet this need of customers, Walmart has provided carpet cleaner rental service with reasonable prices and various models for users.
You need to go to the nearest Walmart store and make some simple operations to rent a carpet cleaner within 24 or 48 hours. This article will provide you with information about renting a carpet washing machine. Let's check it.
Walmart Carpet Cleaner Rental FAQs:
Does Walmart Offer Carpet Cleaner Rental? 
The answer is entirely possible. In most Walmart stores, you can find dedicated Rug Doctor self-service kiosks. Here, you can rent carpet cleaner machines at a reasonable rental rate for a certain period. You can rent a maximum of 48 hours for $39.99. There is another price for you to consider for a shorter time than 24 hours for $29.99. The above cost is only the rental of the carpet washing machine, not including additional accessories and carpet cleaning solutions.
Where Can I Rent A Carpet Cleaner From Walmart?
There is a dedicated rental location section on the Walmart rug doctor rental console. Thanks to that, customers can look up information about renting carpet cleaner machines at this retailer.
You can find out if you can rent a carpet cleaner at your local Walmart. Or the store closest to you for rent if your local store doesn't offer this service.
How To Get A Walmart Carpet Cleaner Rental?
You first need to go to the Rug Doctor kiosk located next to the service counter at the front of the store.
Then you will directly control the kiosk's touch screen. You need to select the type of machine you want to rent with the price attached and include your name and contact address.
After completing the above requirements, you need to choose the payment method you want. Once you have made the payment, the kiosk will automatically open and allow you to pick up the machine you want to rent.
How To Return A Carpet Cleaner To Walmart?
Returning carpet cleaners at this chain is the same as renting them. You need to go to any Walmart rug doctor rental at the store and perform the operations on the touch surface.
You need to enter the information about the carpet washing machine you have rented along with your personal information. Then the kiosk will open, and you need to put the rented machine in it.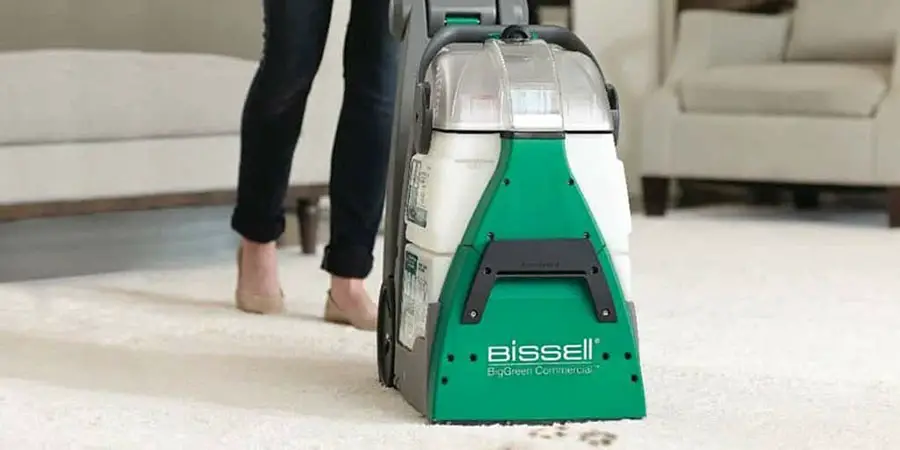 What Carpet Cleaner Models Does Walmart Offer For Rent?
The number of machines and the types of machines available at Walmart will not be fixed at any time. And not all Walmart will be the same at any stores. However, most models you can rent are Pro Portable, Wide Track, PRO Deep, Mighty Pro or X3.
Besides identifying rental machines and the nearest Walmart location, Rug Doctor also allows customers to look up information about the new or old condition of the models at this retailer. Moreover, it also helps users find information more simply when looking up each specific carpet cleaner machine.
Do Walmart Carpet Cleaner Rentals Have Late Fees?
According to Walmart carpet cleaner regulations, you must return the carpet cleaner for the amount terms you paid within 24 hours or 48 hours.
If you are late in returning, these stores will charge you for the late payment. The cost will be equivalent to a day's rental, although only a delay of a few hours.
Is It Possible To Rent Or Buy Cleaning Solutions At Walmart?
To clean carpet cleaners you rent at Walmart, you need cleaning solutions to operate them. These cleaning solutions are also available at these shops, where you can find them; they cost around $10 to $25.
Before buying a cleaning solution for the machine, you need to determine the stain and your cleaning purpose. There will be solutions specifically for pet stains, and there are also types for comprehensive cleaning. Thus, determining the purpose will bring you the highest efficiency.
Is It Possible To Rent Extra Accessories?
In addition to renting a carpet washing machine and a dedicated cleaning solution, you can rent other accessories to bring the highest efficiency. For example, you can rent upholstery to help you keep your furniture clean or rent a drying fan to help your carpet dry faster.
Is Buying a Carpet Cleaner Better Than Renting One?
Choosing between rental or buying a carpet cleaner for yourself is a decision that depends on your intended use. Carpet cleaners can cost you from $399.05 to $649.99, and this is something to consider if you don't need to clean your carpet regularly.
However, you can buy them for high-frequency use or business. It is more beneficial to you than renting a carpet cleaner.
Is It Possible To Rent Steam Cleaners From Walmart?
Walmart only sells steam cleaners at most stores. But currently, there are no steam cleaner or tools.
Depending on the model, you can go to this retailer to buy them at $30 to $200.
Conclusion
With the information in this article, we hope to help answer some of your questions about this issue. You can rent a carpet cleaner at any of your local Walmart stores with simple procedures. And note the time to return them to avoid paying extra late fees.
Besides that, you can also rent some accessories to help your carpet cleaning most effectively.
You may also like these articles: Dollar General Carpet Cleaner Rental, Do You Have To Show Your Receipt At Walmart and Does Walmart Take WIC