Have you ever wanted to give a Starbucks gift card as a present but didn't know how? Well, save your time by sending it through text message.
But the matter is how to send Starbucks gift card via text. Please read our detailed guide below to know more if you are struggling. Let's get started!
Frequently Asked Questions About Sending Starbucks Gift Card Through Text
Is It Possible To Text A Starbucks Gift Card?
Yes, without a doubt. You may send a gift card via text message, email, or online using the Starbucks mobile app and website. If the receiver has an iPhone, they will receive an instant gift voucher in their chat app; otherwise, it will display a URL link to the gift card online in the browser window of Android users!
Aside from that, you should be aware of a slew of issues, such as how it functions, how to text a Starbucks gift card, and how to utilize eGift Cards.
How To Send Starbucks Gift Card Via Text?
Starbucks is always highly praised for its convenience and amazing experience of coffee, food in a friendly and welcoming setting. Yet, not all the time do your friends come up and enjoy this moment; that's why you can share by sending them eGift Cards for their favorite item.
It is especially more effortless to do this than buying physical cards. Of course, their usage is the same, allowing for buying food, drinks, or merchandise directly and online. With an iPhone, you can text to send a Starbucks eGift to your family members, best friends, or colleagues without any effort.
Sign up for a free Starbucks Rewards account today. After logging in, you may go to the eGifts page. This is where you'll find gift cards with attractive photos and texts.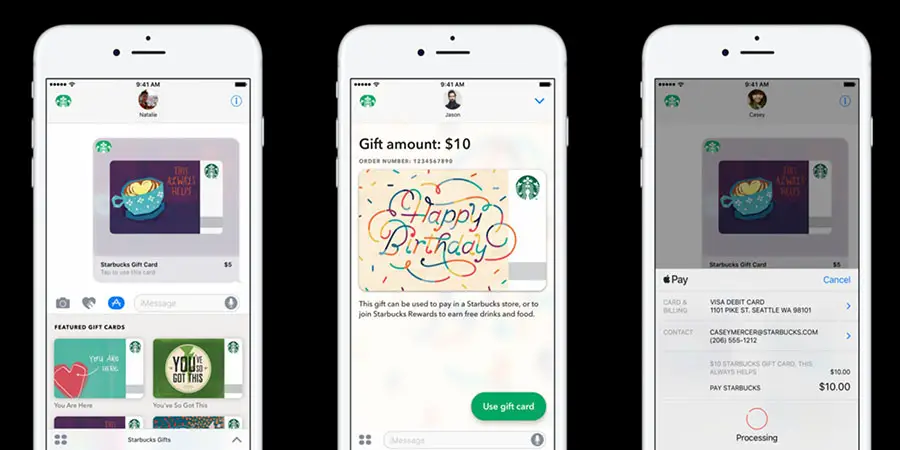 Several concepts are available for you to pick up, including special days like anniversaries, birthdays, Christmas, or different seasons. 
After you've chosen your cards, you'll need to decide on the value of your Starbucks Card. You can either add a custom amount if it is more convenient for you or just start with $10 for this experiment!
Remember to provide contact information for both persons involved, as well as a private message if necessary. Then it's time to check out and pay with the Starbucks card to complete the transaction.
The gift card will be sent immediately with all the images and messages you have chosen. After your friend receives and views it, you will also get a notification email.
Is It Possible To Send An eGift To An Android User Using iMessage?
Yes, Starbuck makes an effort to help you share its eGift cards with your friends, colleagues, and family members. Sending gifts will never be a breeze like that, whether you are an iPhone or Android user. 
However, Android users might get a link in the text message instead of seeing your gift card directly.
Is It Possible To Send A Starbucks Gift Card Through Email?
Yes, without a doubt. If necessary, you can send a Starbucks gift card via email. But keep in mind that there is an issue. If the recipient's device is iOS 10 or newer, they will only receive an eGift voucher in their text messages. If not, all you receive is a URL link.
Is It Possible To Send A Gift Card Through The Starbucks App?
Yes, once again. As previously indicated, sending an eGift card works with the Starbucks mobile app. The step-by-step instructions can be found on the brand's Youtube account in the form of an online video instruction.
Is It Possible To Add Money To A Starbucks Gift Card?
If you have not sent the gift card yet, it is possible. On the contrary, you cannot put money on it. The ideal solution is to send another eGift card to the recipient, and you can freely add any amount of at least $10. 
But when your friends have registered your card to their Starbucks account, it is easier to put money on this gift card. 
What Can I Use A Starbucks Gift Card For?
Starbucks eGift cards are more versatile than you can imagine. It works as a physical gift card that you can utilize to buy Starbucks drinks, food, or merchandise. Plus, online payment or at stores are all acceptable.
Conclusion
Above is what we have figured out about texting an eGift card. What are you waiting for without sharing your memorable experience with your friends? Good luck!
Related gift cards source: