Target is one of the largest department stores and one of the top ten retail store chains in the United States. It is a one-stop shop for all your basic needs, such as groceries, housewares, beauty products, toys, clothing, electronics, etc.
It also frequently provides various discounts and sales, loyalty programs, and other customer benefits throughout the year.
Does Target Have Military & Veteran Discounts 2023?
Yes. As of 2023, Target will offer military and veteran discounts from November 1 to November 11 during Veteran's Day every year.
Under the discount policy, eligible clients gain a 10% discount at the checkout, Target shops, and target.com.
Moreover, valid identification is required to apply for the discount, and some products are not included in the offer.
This program is active for all military active-duty personnel, veterans, reserve personnel, retirees, National Guard, Coast Guards members, and their dependents.
Target does military and veterans discounts as an appreciative gesture towards the service members. In 2021, Target did this discount between October 31 and November 13.
How Can You Get Military and Veteran Discounts?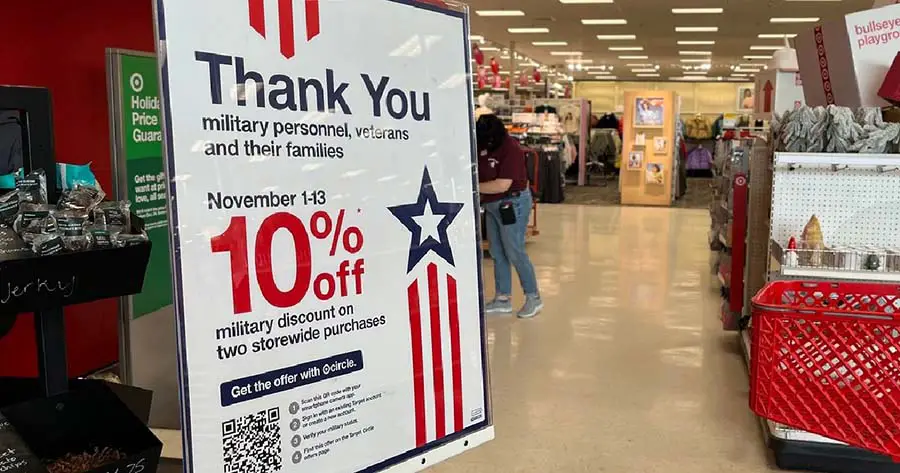 For shopping online, eligible customers must have a Target account to avail themselves of the military discounts. Through signing up for the account, military personnel and veterans become members of Target Circle.
After registering at the Target Circle Reward portal at target.com, you can receive the 10% discount offer and can easily shop at Target. 
Though the discount offers are valid from November 1 to November 11, shoppers are not expected to wait till November 1 to confirm their eligibility; as soon as you are registered, you will be given a special 10% Target Circle voucher.
However, when purchasing in-store and using the coupon, the cashier will ask clients to show their military ID when checking out for the purpose of verification, so remember to bring it.
What Products Are Excluded From Target's Military & Veteran Discounts?
Target military and veteran discounts are not available on all products in the store or on target.com. The discount policy has some exceptions. Items that are not included are listed below:
Alcohol 
Cameras and lenses 
DSLR cameras and lenses are also excluded from Target's military and veteran discounts. LG OLED TVs and GoPro cameras are also not available at a discounted price.
Some companies' branded products are not eligible for Target's military discount. Branded products from Elf on the Shelf, Sonos, Bose, Traeger, and Weber are not discounted by 10%.
Specific company products 
Target's military and veteran discounts exclude products and services from Xbox One, WellieWishers, Google, Tylenol, LEBO, and PlayStation 4.
Prepaid Cards and Gift Cards are also not available at a 10% discount. Mobile contracts and Nintendo hardware and software do not come under Target's veteran discount policy.
FAQS:
Who Can Have Target's Military & Veteran Discounts?
Target Military Discount provides a flat 10% discount to all United States Armed Forces (active and retired) and their families and dependants. These branches include the United States Army, U.S. Air Force, Marines, U.S. Navy, and Coast Guard.
This discount will be available in honor of Veteran's Day (online and in-store).
If you want to register as a veteran or military with Target, you are asked for proof of service or a valid military ID.
Can You Use Target's Military & Veteran Discounts Online?
Yes, both Target stores and target.com give military and Target veterans day discounts. Target Circle members can take advantage of the 10% off offer by shopping at target.com. 
The offer is activated at an identical time for online shoppers. Not all products at target.com are available at the 10% off discount price. Some items are not eligible for discounts. 
Pay close attention to the list of the above products, or by visiting target.com, you will be able to distinguish between discounted and non-discounted products.
What Other Ways At Target Can Military and Veteran Personnel Save Money?
Military and veteran guests can add dependents to their durable guest profiles to qualify for all upcoming bonuses to vouch for military customers and members of their families all year long. 
Furthermore, special deals are held many times per year, and registered customers receive direct messages about these special discounts and coupons. 
Target Circle also provides savings, investments, and other purchasing benefits to all service customers by entering your phone number at the checkout or scanning the barcode of the Target App.
If you frequently shop at Bullseye, sign up for the Target Circle Loyalty Program to earn incredible rewards on every order. The membership is free to join and comes with a slew of valuable perks and deals. 
You might also take advantage of Target's loyalty program, which provides 1% cash back savings that can be redeemed later in-store or web, hundreds of weekly exclusive discounts or rewards, and unique offers.
Is there a Target Military Discount Promo Code? 
No, but all online orders over $35 will be shipped for free, without the requirement for a Target free shipping code.
Besides,  when you visit target.com; you can gain a lot of Target military discount promo codes such as Target promo code Electronics 2023, Target App promo code 2023, Target Printable Coupons 2023, etc.
Conclusion
By registering at Target.com to prove your military status, you can take advantage of these discounts and bonus offers. 
It is best to confirm a discount before purchasing because certain items are excluded from this discount. Notably, the offer is valid for both in-store and online Target purchases.
You may also like these articles: