Teachers today have taken on responsibilities that have more far-reaching impacts on all areas of a social life than ever before. Yet, not everyone can understand the such a silent dedication of educators.
Hence, in the upcoming National Teacher Day atmosphere, McDonald's – one of the leading fast-food chains- will again offer McDonald's Teacher Deal 2023 to express their gratitude to educators.
McDonald's Teacher Deal 2023?
McDonald's is among the food franchises that always strive to provide a great experience for consumers.
With the motto of honoring individuals who have contributed to building a better community, this restaurant has carried out meaningful campaigns such as providing free meals or supporting financial assistance to disaster areas.
Prominent among them is the campaign "Thank You" appreciation meals in 2020 when the COVID-19 pandemic was raging. Within two weeks, McDonald's gave away 12 million free meals to health workers.
Most impressively, based on the original idea, the restaurant has applied it to teachers and school staff who have also made great contributions to the residential community.
McDonald's Teacher Deal 2023 allows educators to receive special offers all year round.
On special occasions such as National Teacher Day (May 3) or World Teachers' Day (October 5), the restaurant will offer desirable promotions throughout the week. Specifically, educators can receive free breakfast at McDonald's stores.
Besides, the store will give out free coffee every Tuesday in September to encourage teachers to keep trying.
With success in garnering social interest using the hashtag #ThankYouMeal on its social platforms in 2021, the store is expected to offer equally attractive promotions this year.
Do Educators Receive The McDonald's Teacher Deal 2023?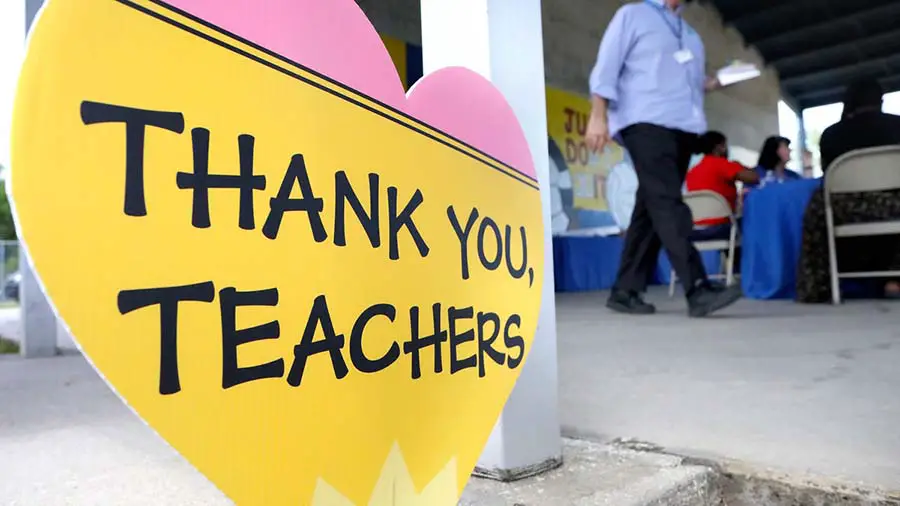 The answer is yes. Following the achievement in spreading gratitude to educators in 2021, McDonald's will continue to offer great discounts for these people.
Yet, you need to pay attention to special times to receive incentives from this store. McDonald's will only offer exclusive promotions for Teacher Appreciation week in May or October.
Unfortunately, these McDonald's Teacher Appreciation offers are not programs applied nationwide. Thus, educators need to track information about stores that implement this preferential program. As a result, they can enjoy the offered benefits to the fullest.
Also, the teachers cannot apply such specials simultaneously with other promotions. In this case, please consult with the staff to avoid missing out on opportunities to save money.
Frequently Asked Questions (FAQs)
How Do Teachers Have Free Breakfast At McDonald's?
McDonald's Teacher Offer allows educators to receive a free breakfast each day from October 10 to October 15.
All you need is to visit the listed stores, show the staff your valid work ID, get the freebie, and enjoy it.
Breakfast will be placed in a Happy Meal box that includes a sandwich, the hash browns, and an accompanying drink.
You can choose your sandwich filling from Egg McMuffin, Sausage Biscuit, or Bacon, Egg & Cheese Biscuit. As for drinks, you can have a medium-sized soft drink or a McCafé coffee.
Note that each person will only be able to use this offer once a day until 10:30 am. Hence, take advantage of the event time to experience delicious food from McDonald's for free.
Are There Other Ways Teachers Can Get McDonald's Special Offers?
Of course, there are. Here are some ways to save money and get discounts from the store.
Use the McDonald's App
All McDonald's offers are saved in the promotions section on the app. Thus, you should regularly check to stay updated about the latest promotions.
To use the discount, you need to go to the restaurant. Then, select the promotion and give it to the staff before ordering.
Drop-In During Happy Hour
The Happy Hour program takes place at certain times throughout the week. Here, some dishes on the menu will be deeply discounted, possibly up to 50%.
Please consult the information at the stores and join this program to have a cheap yet nutritious meal.
Complete the Receipt Survey
After the payment process, you will receive a bill from the staff. By entering the survey code on the bill and completing the survey, you can get a chance to enter contests at McDonald's to win attractive prizes.
Sign Up For McDonald's Newsletter
After signing up, you can quickly receive the latest information about restaurants' products. Besides, you may gain many opportunities to get exclusive offers from the participating franchises.
Can General Customers Receive Special Incentives Like Teachers?
You don't have to be upset if you can't get the McDonald's Educator Discount just because you're a general customer.
The store always has special offers for customers on holidays like Black Friday or Halloween. Also, you can get free shipping or gift vouchers when you register your membership card.
Final Thoughts
We firmly believe that McDonald's Teacher Deal 2023 will surely not let you down. As a teacher dedicated to society, you deserve free meals and special offers at the food venues.
Please regularly check the official McDonald's website to update information about this special program quickly. Hope you will have a pleasant experience at the restaurant. Thanks for reading!
If you would like to know more about McDonald's, you can also read our related articles on