Even when you are familiar with mailing, it would be hard for you to know the answer to "how many stamps on a Manilla envelope". The number of stamps is determined by two main factors, including the size and weight of the package. 
If you are in a hurry to send your package, let's find out the answer briefly.
How Many Types Of Manila Envelopes?
If you have a 9-to-5 job in the office, you may often go across these envelopes without knowing their official name.
Manila envelopes usually have a plain tan-colored coat used to transfer letters, invoices, contracts, and many other vital documents. They make your packages look professional and keep them safe. 
Manila envelopes vary in size, including:
5 x 7 manila envelopes
6 x 9 manila envelopes
9 x 12 manila envelopes
10 x 13 manila envelopes
Among them, 10×13 size is not common in daily use, and 9×12 size is considered the standard one.
Thanks to their different sizes, manila envelopes have various usages, from sending flat and thin objects such as letters to thick items such as magazines. The durable material makes them reusable and favorable in the official environment. 
They are also diverse in their design. You can choose a metal clasps envelope or a button and string envelope to fit your demand.
How Many Stamps For A Manila Envelope Need?
A manila envelope needs a different quantity of stamps based on its size and weight. Since August 2019, a manila envelope with a small size (including 5×7 and 6×9) and weighing less than 1 ounce needs 1 Forever Stamp. However, the larger one (9×12 in size) classified as the flat mailing is required two Forever stamps at least.
If you need it to be more specific, keep scrolling to read.
Can I Mail A Manila Envelope With One Stamp?
Yes, if your package meets the standard letter mail and it does not exceed 1 ounce. Only smaller manila envelopes (5×7 and 6×9) are accepted with 1 stamp at USPS. You need to use two stamps for your package weight of more than 1 ounce, even when it is a small envelope.
You have to carefully check your package's weight to use the right stamps and fasten your mail process. If the weight exceeds the maximum weight for each type of mail, the sorting machine will bring them back to classify, which costs money and time.
How Many Stamps For A 5×7 Manila Envelope?
This type of manila envelope is mainly for mailing letters and invitations. It is also the smallest size in USPS's standard mail which meets the requirement to use the Fist-Class mail service.
If the package is less than 1 ounce, it needs 1 stamp and costs $0.58 only.
If it is over 1 ounce, you need to pay for extra postage, which is equivalent to $0.20 for each additional ounce. However, the maximum acceptable weight is 3.5 ounces. 
If it exceeds 3.5 ounces, your package belongs to the large envelope group (also known as the large/flat mailing). To get the information about the flat mailing, keep scrolling down.
How Many Stamps For A 6×9 Manila Envelope?
A 6×9 manila envelope is also considered a small size and standard-sized letter by USPS. Hence, you can use USPS's Fist-Class mail service for your package.
As a 5×7 manila envelope, you need 1 Forever Stamp, provided that it weighs less than 1 ounce.
If its weight is from 1.1 ounces to 2 ounces, an additional ounce stamp is required at $0.20.
If its weight is from 2.1 ounces to 3.0 ounces, you need two more stamps to cover the weight.
Your package will be charged as a flat mailing if it is more than 3.5 ounces. You can check the number of stamps or the postage of a flat mailing in the next parts of this article.
How Many Stamps For A 9×12 Manila Envelope?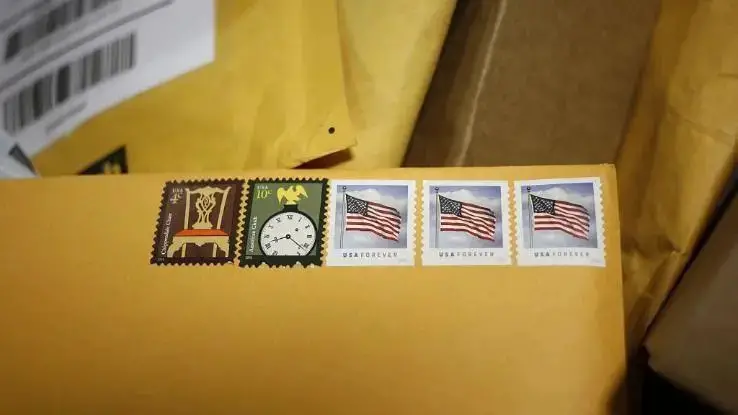 According to USPS, a 9×12 manila envelope belongs to the large/flat mailing type, requiring more stamps than the two sizes above.
In 2023, you will need two stamps for a 1-ounce package for a 9×12 manila envelope and add one more stamp for each additional ounce.
FAQS
How Much Postage For A Manila Envelope?
Manila envelope postage depends on the number of stamps and their category. Also, there are some surcharges you need to know before sending your mail.
What Is The Postage For A Small Manila Envelope?
5×7 and 6×9 manila envelopes are small-sized ones that share the same amount of stamps. Here is the price for their mailing services according to USPS.
| | | |
| --- | --- | --- |
| Weight | Number of stamps | Price |
| < 1 ounce | 1 | $0.58 |
| 1.1 ounces – 2.0 ounces | 2 | $0.78 |
| 2.1 ounces – 3.0 ounces | 3 | $0.98 |
What Is The Postage For A Large Manila Envelope?
Since Jan 30th, 2020, the flat mailing has a limit of 13 ounces. The price starts at $1.16 and $0.2 additional for each next ounce. The maximum cost you need to pay for a large manila envelope is $3.56, as the following table:
| | | |
| --- | --- | --- |
| Weight | Number of stamps | Price |
| < 1 ounce | 2 | $1.16 |
| 1.1 ounces – 2.0 ounces | 2 | $1.36 |
| 2.1 ounces – 3.0 ounces | 3 | $1.56 |
| 3.1 ounces – 4.0 ounces | 4 | $1.76 |
| … | … | … |
| 12.1 ounces – 13 ounces | 13 | $3.56 |
Additional Postages You Must Know
Should you choose the envelopes without clasps or rigid items, you need to pay a surcharge of 30 cents. It happens because USPS needs to hand-sorted this type of manila envelope. You may know this surcharge under the name "a non-machinable surcharge".
At the same time, a special non-machinable stamp costing 88 cents is required for this type of manila envelope.
If you would like to know more USPS, you can also read our related articles on USPS largest flat rate envelope, How To Track A Package Without A Tracking Number USPS and What Does Available For Pickup Mean USPS.