One of the must-have cookies in your dessert is Tipiak french macarons Costco. Those who are confused about planning your afternoon tea had better consider Macaron Costco. It would be remiss if your afternoon tea had no delicate, crispy, soft cookies like this one.
Various cookie flavors will satisfy every diner, even the hardest ones. Keep reading this to find out what it offers eaters such pleasure.
Does Costco Have Macarons?
Yes, Costco has macarons. For some people who do not know, Costco sells this french cookie through a brand called Tipiak. Customers can purchase macarons online with Tipiak suppliers or at a Costco Warehouse, as Costco does not sell the cookies online. 
There are various flavors depending on the season and editions. Each spring, they will release a new version of macarons, such as the Limited Edition Spring 2022 box. 
The 2022 version offers consumers six flavors: 
Blueberry 
Raspberry
Peaches & Cream
Pistachio
Lemon & Yuzu
Intense Chocolate. 
There used to be flavored like lime, blood orange, passionfruit, and white chocolate.
Costco Macarons Ingredients and Nutrition
The French macarons are not for vegans because they contain egg whites. The cookies also have almond flour, but you don't need to worry about health effects. They are naturally gluten-free macarons and do not have a lot of many calories and fat.
Ingredients 
The recipe is typical of the French tradition, usually containing almond powder, eggs white, and butter. However, the ingredients can differ according to the various flavors of Macarons. 
The common ingredients list: 
Icing sugar (powdered sugar)
Raspberry filling (raspberry sugar, puree, lemon juice, pectin)
Raspberry puree
Sugars
Red beet
Carrageenan
Raspberry natural flavor
Powdered almond (almond flour)
Skim milk powder
Xanthan gum.
In the Tipiak 36 french macarons 2022, the Blueberry Macaron will have a natural blueberry flavor. While the Raspberry Macaron contains raspberry filling and puree, there are peach and vanilla natural flavors in the Peaches and Cream.
Nutrition
We should not expect much nutrition in a cookie. There are one gram of fiber, 21 grams of carbohydrates, and 18 grams of sugar in three macarons. 
However, you should know that there are only 160 calories and seven grams of fat. This amount is quite small, so you can eat three and more macarons without worrying about gaining weight.
How Do Costco Macarons Taste Like?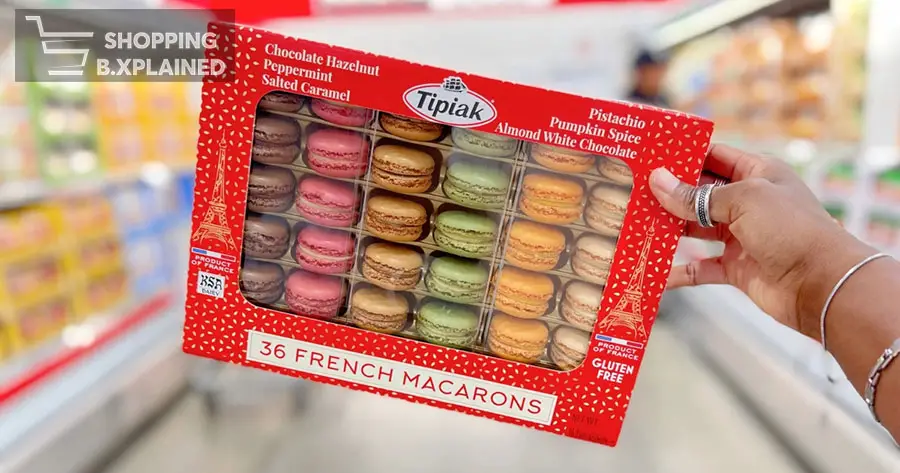 Different editions will have their unique taste. But there is much to talk about when it comes to macaron spring 2022. The edition contains six flavors: blueberry, lemon & yuzu, raspberry, pistachio, peaches & cream, and intense chocolate Macarons.
If you want a strong flavor, the blueberry or the raspberry will be your favorite choices. For having natural flavors, it will satisfy your desire for a sweet and fruity taste. 
The lemon & yuzu will be suitable for those who enjoy the tartness of lemon but not too much lemon in flavor. Although Intense chocolates are not much similar to chocolate, they are great with a brownie-like flavor. The pistachio is not unique like the others, but the taste is fine. 
All macarons are not overly sweet but crispy and soft and taste fresh. They all together satisfy different people with different preferences for food.
How To Store Costco Macarons? 
Food will spoil gradually without preservation methods, and Costco Macarons are no exception. Fortunately, sugar in Macarons can act as a preservative to prevent the cookies from perishing for at least some weeks. 
It will help if you put them in a container to prevent them from exposing to the air. Should you have a space in a fridge, it will be an ideal place for the Macaron storage as they have high sugar content and dairy. 
If you see some signs of a dry or stale texture, it means your cookies are going bad. However, you still need to know that the moisture will make the macarons less crispy and soft even when you store them in the fridge. An airtight container will help reduce the process.
Frequently Asked Questions 
How Much Is The Costco Tipiak French Macarons? 
There are different editions, so the Costco macarons' price also changes. It may cost you a little extra or less for different locations and the time you want to buy. However, For the 36 french macarons Costco price, it will be inexpensive, around $20.99. It is quite reasonable for a box of 36 cookies.
Does Costco have heart-shaped macarons? 
Yes, but in January and February only. These type of heart macarons is a seasonal item for Valentine's Day.
Conclusion 
Macarons Costco will be amazing french treats for your family. Although it does not bring you much nutrition, it will give you a great time enjoying the yummy cookies with your beloved people. You don't need to spend a lot of money, but still try different flavors with a delicate and crisp taste.
See more