Intro
The Trader Joe's Bruschetta sauce is a fairly simple topping that goes well with a broad range of foods. This article will walk you through all the basics you need to know about this delicious topping and even guide you through creating your own homemade version.
Bruschetta Overview
This sauce is incredibly low in salt, sugar, carbs, fat, and cholesterol from a nutritional standpoint. The fact that this topping has only 180 milligrams of sodium in each serving (according to Open Food Facts) is a big benefit since many other toppings and sauces of a similar nature have higher salt content.
The sauce comes in a 12-ounce jar that can be easily found in the dry and canned goods department. The price is also extremely affordable, about 2.99 dollars per jar. Moreover, as Trader Joe's Bruschetta doesn't contain animal products, vegans may comfortably eat the topping without any concern.
How To Use Trader Joe's Bruschetta Sauce?
This bruschetta topping is traditionally served on top of grilled bread with garlic and olive oil. You may add melted cheese or top your bruschetta with grated parmesan to give it extra flavor. For a Bruschetta/Caprese-inspired snack, add fresh basil leaves and sliced mozzarella.
The best thing about this nice pasta sauce is that you can be creative while cooking and pairing it with any dish you like. There are several options for what you can do with the sauce, such as turning it into a dip, salad dressings, etc. The possibilities are endless.
Bruschetta Recipe – How To Make It At Home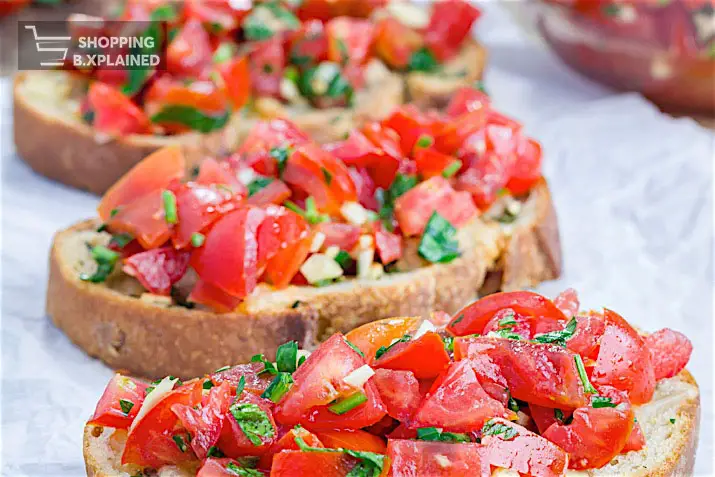 If you don't want to buy traditional Bruschetta at Trader Joe's, you can attempt to make your own version of this sauce at home.
Ingredients
Here is the combo of ingredients you need to prepare.
1.5 pounds of Roma tomatoes
White balsamic vinegar
Canola oil
Olive oil
Basil
Garlic
Basic seasonings (sugar, salt, and black pepper)
Step-By-Step Guide
Apply the steps below to make your own version of Bruschetta sauce.
Step 1: Dice the tomatoes into small square pieces. Put them in a bowl.
Step 2: Season the tomatoes with olive oil, salt, garlic, basil, and vinegar. Mix them all together.
Step 3: Taste and adjust the seasonings based on your personal preference.
Frequently Asked Questions
How Long Can I Get The Sauce In The Fridge?
Trader Joe's Bruschetta Sauce can stay in the fridge for up to three days if you cover it well and maintain a steady temperature. In reality, you can keep it a bit longer; but notice that the dipping sauce won't hold up to its fresh texture and consistency.
Suppose you bought the sauce from Trader Joe's store; it can be stored in the fridge unopened for two to three months without losing quality.
Can I Freeze The Trader Joe's Bruschetta Jar?
Yes, you can. The topping for bruschetta freezes incredibly well and can be defrosted anytime. Just be mindful that glass can crack when subjected to sudden changes in temperature, so use extra care when putting and taking your sauce out of the freezer.
Is The Sauce Gluten-Free?
Yes. Trader Joe's Bruschetta is made of tomatoes, garlic, basil, olive oil, and white balsamic vinegar. As you can tell, the recipe does not include wheat and other grains, making the sauce gluten-free. Thus, you can rest assured that you still combine this perfect sauce into your gluten-free diet.
The Bottom Line
A simple slice of French bread or a more complex spaghetti dish might benefit from adding Trader Joe's Bruschetta. In addition to being vegan and gluten-free, it receives outstanding ratings from customers worldwide. Let's include it in your diet now to boost the flavor of your cuisine.
See also: