Instead of the exclusive service of the restaurant, many businesses nowadays have specialized and created a new business category. They offer food delivery through the app, notably UberEats and DoorDash. 
The growth of this market has broadened the choices of modern consumers and poses an ongoing debate to find the cheapest one. As two leading brands, which is cheaper, Doordash Or UberEats? Scroll down for details. 
Doordash & UberEats At Quick Glance 
Uber Eats and DoorDash are both food delivery services accessed via smartphone apps in the US. They gained traction little by little for nearly a decade.
In 2021, both recorded explosive growth. UberEats announced its revenue jumped to 230%, while DoorDash's figures for the same period were 20% higher. The abundant inflow of money clearly shows the user's preference for these applications.
In general, the operation of the two is not much different. For instance, both are available on smartphones or PCs. Once you download the app, you can navigate to the ordering site. 
Browse a long list of restaurants and dive into one that suits your taste. It is similar to online shopping – add to the cart and pay. The difference is that a delivery man receives and processes your request instantly. You wait for a while and enjoy an appealing meal at home.
So what makes a competitive advantage? Without a doubt, wise consumers often give fees a lot of consideration. If this problem matters to you, do not sleep on our comparison below. 
What's Cheaper: Doordash or UberEats?
It can be observed that UberEats often sets its service fees higher than that of its rival. 
Still, it may be biased if we make an assertion. The many factors involved in this battle make it difficult to decide the winner.
On the bright side, some common trends can give you hints. 
A Breakdown Of DoorDash & UberEats Fees 
Both share the same charging categories. This means you can calculate the price variation between these two food delivery apps. Below is a table showing a detailed comparison.
Criteria
DoorDash
UberEats
Delivery Fee
$1.99 – 5.99
$0.49 – 7.99A priority fee may be set aside to ensure your driver does not stop at any previous stops.
Service Fee
10-11% of the total price
This range may vary depending on the city. In crowded urban areas, it may increase to 15-17%.
15% of the total price
The minimum point is $3
Order Fee
$2 for orders less than $10
$2 for orders under $10 and $3 for ones from $10-15
Surge Pricing
The volatility of this component is based on the change in order quantity. Yes, it is the law of supply and demand. If your order arrives during rush hour, you must pay more to enjoy the delicious food or wait longer. You cannot say no to this delivery charge unless it is off-peak.
How Can You Get Lower Fees At Doordash And UberEats? 
Tricks For DoorDash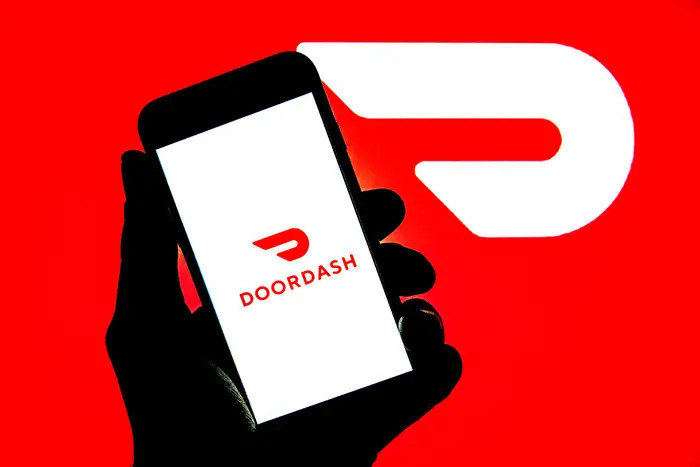 Have you ever suspected that some people cheat to get cheap shipping rates? There are indeed a few tricks, but they are legal. Here's what you can do to lower your total price from UberEats.
Watch out for seasonal deals
Some seasonal deals knock on your door as a surprise, usually at the beginning of the month. Things get even better on vacations. 
UberEats typically displays information about these specials in the "Deals" tab. For example, the Holiday Hub program offers $20 coupons for orders over $60.
Benefit from promo codes
This offering is no longer strange to users of food delivery applications. Most platforms release a decent amount of code to an existing set of users. One of the usual options is a $25 cut on delivery fee.
New members can achieve so much more. They get a huge discount on their first order.
Share referral link
Nothing can stop you and your best friend from double benefits due to your mutual sharing. The larger the circle of relationships, the more rewards.
For example, she will get $10 off once you share a referral code through the app. Remind her to visit her profile and receive notifications. You are rewarded with a free credit on your following order. To enjoy all the gifts mentioned above, head to your account settings and tap on "Invite Friend."
Join monthly subscription Eats Pass
The delivery fee is zero for orders from $15 or more for the restaurant partners on the selected list. You also get an additional 5% discount on the total value.
With each successful payment, Uber Rewards Points are accumulated in your account. The system allows the participants to convert them into money for the next time.
Additionally, eateries on the platform have added their conditional discount programs. This benefits package is well worth your investment.
Tricks For DoorDash
Essentially, DoorDash's discount tips work the same way as its competitor. The first difference lies in the free delivery policy in the subscription service for orders of at least $12 or more.
According to the app, participants can take a $4-5 decrease in each payment. Some users have agreed to this. They reported that the savings on delivery fees reached around $100 within two months.
DoorDash's promo codes and coupons are as effective as UberEats. It would help if you kept an eye on the application to take advantage of them before they expire.
Besides, do not sleep on referral programs when you try to optimize costs. The link from an account only applies to the first 25 recipients.
DoorDash or UberEats In Comparison: Which Is Better?
City Availability
UberEats gains the upper hand in this battle. Thanks to its long development history, it is present in more than 4000 cities in the US and Canada. This company has expanded its service worldwide, including North America, Europe, Asia, and New Zealand.
DoorDash currently serves a few markets, such as the US, Australia, Puerto Rico, and Canada. The good news is that it covers most bustling cities. However, it has a long way to go to catch up with UberEats' dense network.
Customer Support
Here is another plus for UberEats. The application has arranged a 24/7 customer care line. Meanwhile, DoorDash encourages users to raise their issues via in-app chat. Some people feel unsatisfied with this setup when urgent problems occur.
Ease Of Use
Both interfaces display user-friendly tasks. The two providers aim for the smoothest and most efficient experience possible so that users do not get bored. 
You can go through several steps, from adding to the cart, placing an order, using a promotion, and paying in a few minutes. It is tie for two services.
Speed Of Delivery
It isn't easy to decide on the winner because there are many subjective factors. Perhaps the driver has to wait a long time for the food at the restaurant or gets stuck in traffic. 
However, the driver's allocation can change the game. For example, DoorDash has focused on San Francisco while UberEats launched strong hits in Miami. Therefore, you can expect faster delivery times in the target market of each.
Food Variety
Most of the famous fast food brands are available on both platforms. However, when it comes to niche tastes, each one has a different strategy.
Among DoorDash's more than 310,000 partners, many restaurants serve US cuisine. You can also find top-quality options to enjoy luxurious meals.
UberEats goes its own way. It looks for local partners and introduces them to users. It is also trying to diversify its portfolio of international catering brands. With over 320,000 options, you never see a duplicate in your menu.
Verdict
Both shine their way. The favorite choice comes down to your preference. Which factor is the most important to you? That's how you come up with your favorite one. Feel free to test both with the same conditions and make up your mind.
FAQs 
Is Doordash More Expensive Than Ubereats In Terms Of Monthly Subscription Fee?
NO. Both cost subscribers $9.99 per month. Is this payment too much? We do not think so! You get access to the extra benefits listed above. The total fee cut is many times greater than the monthly charge. Loyal users should take this strategy as a long-term investment.
Is Uber Eats Bigger Than DoorDash?
According to Satistas, DoorDash took the lead in the food delivery market in February 2023. Its market share accounted for more than half (65%) and stayed far ahead of the remaining competitors. UberEats was the first runner-up, with 23% of the market share.
Both were the leading food deliveries in the US, but DoorDash is doing better. 
What Is The Cheapest Food Delivery Service?
DoorDash's delivery fee is the most affordable. This system often charges 20% of the total value for the shipping cost. You can also consider UberEats for a range of 20-30%. 
You may be blessed during off-peak hours or in cities with wider coverage. Another competitor is GrubHub which asks for up to 30-40%.
Conclusion 
Though many factors are at play to decide whether Doordash is cheaper than Ubereats, DoorDash may sometimes cost you a little less. It is important to take advantage of useful tricks to decrease fees. It would be best to consider other quality factors to get the best experience.
For more: