There are many different syrups and flavorings on the market, but they can be expensive.
Besides, if you are a fan of Starbucks coffee shops and are looking for ideas on what to drink, you might like to try their syrups. Starbucks has syrups that can be added to coffee but does Starbuck sell their syrups, and if so, where?
Can You Buy Starbucks Syrups?
Yes, you can. Starbucks always sells syrups in traditional flavors like French Vanilla, Hazelnut, and Caramel in grocery stores, online, and Starbucks coffee shops. 
For seasonal and premium flavors like Cinnamon and Pumpkin, you'll need to go directly to a Starbucks store near you to find out when these will be available again. While some Starbucks locations do not offer these syrups, others do, depending on the location.
Where Can You Buy Starbucks Syrups?
Syrups are not always available at any Starbucks stores. The easiest way to do this is by visiting your local grocery store or retail outlets. In addition, you can get it online.
In Starbucks stores
Syrups are sometimes available in Starbucks locations, but you should always call ahead to ensure they supply.
In retail outlets or grocery stores
Another convenient option to obtain syrups is through retail and grocery stores such as Fred Meyers, Target, Albertsons, Walmart, Kroger, and more!
Online
If you can't get the traditional syrups at your local Starbucks store, don't worry. You can purchase them directly from the Starbucks® Coffee page or through third-party sites such as Amazon and Bed Bath & Beyond.
Which Kind Of Starbucks Syrup Flavors Available For Sale?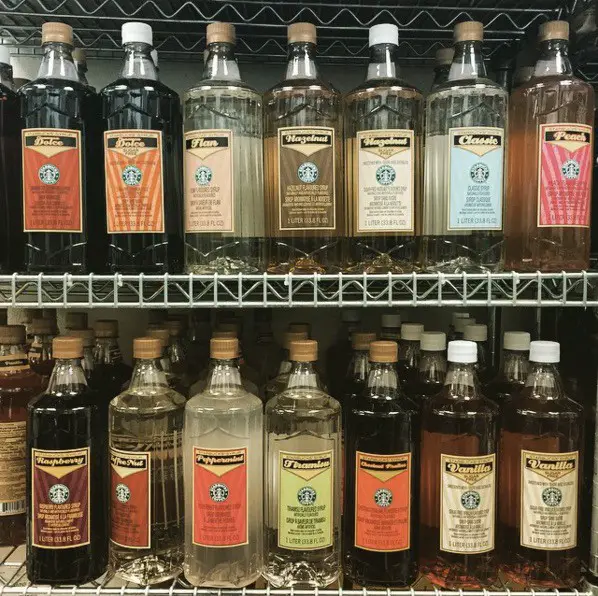 Here is a list of the syrups are available for purchase:
Starbucks naturally flavored Vanilla syrup
Starbucks naturally flavored Sugar-free Vanilla syrup
Starbucks naturally flavored Hazelnut syrup
Starbucks naturally flavored Caramel syrup
Pumpkin, Apple Crisp, Cinnamon, and other premium syrups are only available seasonally or for a limited time. Consequently, they are not typically available at this store.
Although you may add flavors such as raspberry, toffee nut, pineapple ginger, and cinnamon to your Starbucks drink in-store, you cannot purchase these bottles for home use.
FAQs
What brand of syrups does Starbucks use?
Is Torani syrup used at Starbucks? Unfortunately, this firm does not utilize Torani syrup. In fact, they manufacture their own brand of syrups or by Fontana.
If you're interested in purchasing, there are plenty of places you can find them, like Amazon and Walmart, or purchase the syrup directly from the Fontana website.
Which sizes of Starbucks syrup bottles are available?
The typical Starbucks syrup bottle holds 12.7 fl. oz. (360 mL), which means it can supply around 12 flavors for your cravings at home. 
Additionally, some branches provide a variety of packs of Starbucks syrups, giving you more options to personalize your iced beverages with this coffeehouse chain!
How many calories are in Starbucks syrups?
It depends on which one & its size. A chart on the Starbucks cafe website explains calories per syrup, but it isn't apparent.  
For instance, Hazelnut syrup has the following nutrients in a single serving of two teaspoons (30 mL):
Calories: 80
Sodium: 0mg
Total Fat: 0g
Total Sugars: 19g
Total Carbohydrate: 20g
Potassium: 6mg
Protein: 0g
On the other hand, lower the amount of syrup if you want your drink to have fewer calories.
What ingredients do Starbucks syrups contain?
Like most other Starbucks products, you can find all the ingredients on their website: www.starbucks.com. Products like syrups use mostly natural methodology to create flavored products.
For instance, Vanilla syrup comprises water, sugar, natural flavor, citric acid, and potassium sorbate preservatives.
Final Thoughts
Overall the answer to does Starbucks sell their syrups is yes! Now you can buy Starbuck syrup and enjoy your favorite drinks at home and save money. These syrups are great for any occasion and can be used to sweeten coffee, tea, or even cocktails!
If you would like to know more Starbucks, you can also read our related articles on: