Thousands of people make their purchases at Best Buy – one of the top retailers in the United States. However, not every order comes out satisfied. Sometimes customers may ask to return the items and get a refund.
In this post, let's dive deep into Best Buy laptop return policy specifically and its refund-related issues in general so that you can prepare a better mind before placing an order at this famous retailer.
Best Buy Laptop Return Policy – Q&As
When Can I Return A Laptop To Best Buy?
As long as you provide the receipt or proof of purchase, make the return request within the return window (15 days), and make sure the product is still on good terms, you may be able to return the laptop with a full refund.
When Can't I Return The Laptop To Best Buy?
The answer is when you cannot satisfy the requirements above. To be specific, if you cannot provide a receipt, then Best Buy may require other proof and documents from you to prove the purchase. The refund fee will be deducted case by case.
What about returning the laptop after 15 days? Well, in most cases, you cannot return the laptop anymore. However, if that item is in a special program, or you are a Best Buy "premium" customer, then the return window may vary case-by-case from 30 to 45 days maximum.
Do I Have To Pay Extra When Returning The Laptop?
No, you don't! You can even have a refund if you return it within 15 days, full, new, with the receipt.
Do I Have A Refund When Returning The Laptop?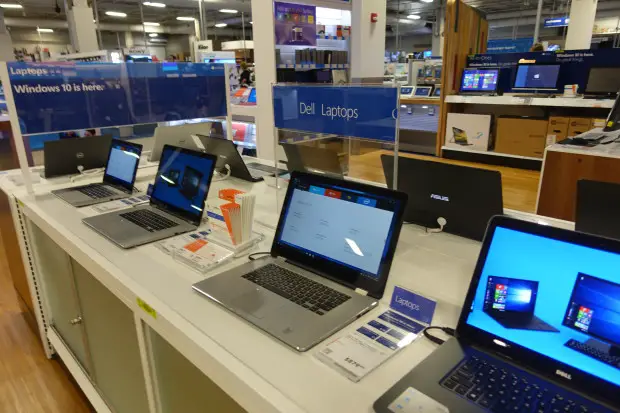 Yes, you will have a refund. If you provide the receipt or proof of purchase 15 days after buying, and the product is confirmed not damaged, you will have a full refund. In case you cannot provide proof, or the products have some problems caused by yourself, then the fee will be deducted.
Can I Have A Product Replacement After Returning My Laptop?
Yes, you can – it is called "product exchange". The policy is similar to return – you must place a request within 15 days, ensuring the item is still on good terms with full accessories and receipt.
What Should I Prepare Before Returning My Laptop And Asking For A Refund?
Before returning the laptop, please make a checklist on the below points:
Do you have a receipt? If not, you must have proof of purchase, such as packaging, credit card statements, and photo ID.
Have you erased all data unconnected to all Drives and Clouds on the laptop?
Do you still keep the packaging and bundling items (if you had)? If not, then you will be deducted a small refund fee.
Did you place the return request within the eligible window? Please check with the store staff because the period can vary on each item.
Can I return opened laptop to Best Buy? Yes, you can if you satisfy all criteria above!
Is The Best Buy Return Policy Laptop The Same For All Countries?
Yes, it is. The return policy is applicable and similar to all countries that Best Buy placed its official stores in.
Can I Return My Electronics Devices At Any Best Buy Local Store?
Yes, you can. As mentioned above, the Best Buy return policy for laptops is the same everywhere, so as long as you can provide enough documents and make sure the product is full and on good terms, you can return your electronic devices at any Best Buy local store. In fact, Best Buy recommends its customers return to any of their shops as near as possible to avoid shipping charges.
Can I Return My Devices At Best Buy Without A Receipt?
Well, it is hard, but it is possible. If you want to return the purchase to Best Buy but unluckily lost the receipt, then it is a must to provide proof of purchasing the item at Best Buy. In particular, they need original packing, accompanying and bundling items (if had), packing slips, credit card statements, and a valid photo ID. Quite complicated, right? That is the reason why you had better keep your receipt!
In case you lost the receipt but also lost some part of the accessories or cannot provide the necessary documents stated above, they will have to deduct the refund fee. 
This is reasonable as you haven't given them back the full product, so not the full fee! Sometimes, Best Buy can even deny the return request if the items are used, damaged, or core items lost. Please make sure that you return it during the exchange period as well!
Can I Return My Laptop To Best Buy When I Simply Don't Like It And Have No Error Issue?
Yes, you can! For most purchases at Best Buy, you can return to the store with a full refund within 15 days after buying. From day 16th, you can return the laptop, but now, there may be no refund fee for you!
However, the refund policy also depends on the customer program for that specific purchase and your customer profile at the moment of buying. Those who buy at Best Buy a lot and have a "premium" profile, they may get into a special customer care program that allows them to get a refund after 15 days. You should check your account with the store clerk. 
Sometimes, if you buy the laptop during the holiday season or during a special discount time at Best Buy, you may get offers such as 30 to 60 days refundable. Please ask the store staff for clearer information!
Can I Return The Bonus Items?
It is based on the type of "bonus" items you want to return. For example, if you get the item as a "special gift" or a "bonus" item along with the main objects you bought, then if you return that "gift", you may need to return the item you also purchased if you want a refund. In case you don't want to return the main purchase, or it is used already, then, unfortunately, Best Buy cannot refund you in this case.
On the other hand, if the item you want to return came as part of a combo, Best Buy will have a different policy. Typically, the company will provide you a special discount when you buy bundling items as a combo, so if you give back one of the items in the combo, there will be no refund for you. You may also need to pay the object with the original price, which is higher than the price you had when buying as a combo.
That being said, you should consider carefully before buying at Best Buy because the refund policy is quite strict nowadays.
Final thoughts
We have dived so deep into Best Buy's laptop return policy and other refund fee-related issues through this article. Best Buy has always been known as generous in its refund policy, but, as we mentioned before, it causes complicated procedures to help you get full money back when returning your thing. So, it would be better to consider carefully before making a payment so as not to be regretted later!
To know more about Best Buy, you can also read our related articles on: