One of the top U.S. electronics retailers nowadays is Best Buy, who is famous for offering various rewards programs, discounts, and benefits exclusively to its staff to motivate the good spirit of work.
If you are working for the Best Buy, you may probably wonder what the Best Buy staff benefits are and how you can take advantage of them.
Best Buy Employee Discount In 2023
Best Buy can discount from 20% – 60%, depending on the kind of items, but employees must have worked for at least three months before getting a price deduction.
Continue reading if you would like to know more about Best Buy, for example, "Do Best Buy employees get discounts?" or "What are the Best Buy employee discount rules?".
Can Employees At Best Buy Receive Discounts?
Both full-time and part-time staff working at Best Buy have the ability to receive special price deduction on different merchandise.
These products, having enough conditions for staff to get discounts, consist of:
The Geek Squad of Best Buy also offers benefits for the technology service except for the products above.
Pay attention that staff has to spend the retail cost on such products as gaming systems or products of Apple because Best Buy does not apply price deduction for them.
Besides, to buy these products from this retailer at good prices exclusively for staff, another condition is that you have worked there for no less than three months.
How Much Discount Will The Best Buy Employee Receive?
Depending on the original cost that Best Buy bought the item from the manufacturer, the worker just needs to pay the cost plus 10% cost of an item.
For example, if the retail price of a product is $100 and its cost is $50, Best Buy's workers just need to pay $55, including $50 plus 10 percent of $50, so Best Buy's workers are reduced for $45, which is one of the most saving rules.
As you know, COGS is not disclosed and is known for sensitive information. Therefore, only internal workers have the right to see the cost of goods.
How To Check The Best Buy Discount For Employees?
The staff can log on to the personal account provided by Best Buy to check the rules. Log on to the ETK first, then check all effective price cuts which are available on the personal tab.
Remember that Best Buy can require its workers to present their ID numbers to verify their advantages. Besides, to avoid impersonation or misuse, the only way is to check the programs by the in-store computers. 
Best Buy can reject your log-on if you continuously log into the staff account at another place.
How Can Employees Get A Best Buy Discount?
You can be required to submit the worker ID number to handle the Best Buy employee benefits online or in-store shopping faster.
The salesperson can instruct you how to qualify for price cut off if you are going shopping at the store but, in case of buying online using the worker account of Best Buy, the system automatically applies a discount code to each product in the purchase list.
What Benefits Do Employees Get At Best Buy?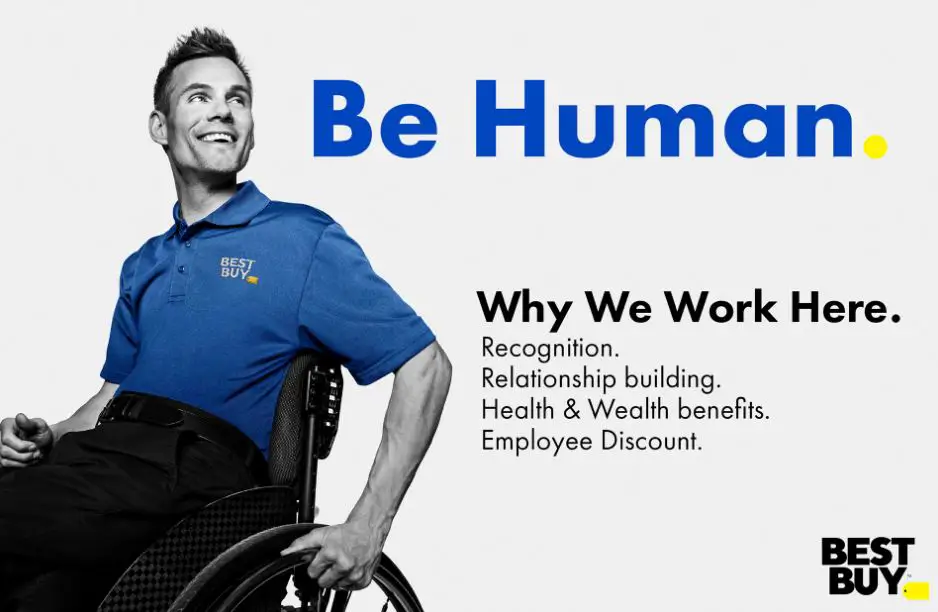 There are many various benefits for those who work in Best Buy, including:
Price reductions 
Competitive reward program
Besides, depending on the flexibility and choice of the worker, there can be other special opportunities.
All the benefits packages concentrate on happiness, good health, and welfare, divided into three main kinds of well-being, including financial, physical & mental and, personal And Social Development.
You can refer to the table below to learn the details:
Finance
Physics And Mentality
Personal And Social Development
Incentive pay
Support program
Commuter benefits
Price reductions
Behavioural health insurance
Legal services
Stock buying plan
Critical illness coverage
Paid time off
Retirement welfare plan - 401(k)
Paid leave and maternity support and
Support program
D & AD insurance
Medical drug coverage and prescription
Pet insurance
Disability insurance (Short term & long term)
Bereavement leave
Life insurance
Mental health resources and counselling
Caregiver pay for family care and child bonding
Care program
Identity protection
Remember that the eligibility for staff to get these benefits to vary according to:
Labor status (part-time/full-time or)
The service duration
Your position
Besides these worker discounts of Best Buy written above, you probably find the related post on:
Conclusion 
To make the labor satisfied and motivated at work, Best Buy provides various price reductions with many attractive benefits. 
The rule of discounts is fixed with the formula. The original cost of the product plus 5% cost is the price that workers will pay for an item, but the workers must have been working for at least three months.