If you are here because you just received an acceptance letter from Home Depot, congratulations, you must have successfully passed the application process!
We are here to tell you all about the Home Depot dress code, so you can make a good impression on your manager and fellow Home Depot colleagues. But if you are here to read about the dress code for entertainment, that's fine too!
Home Depot Dress Code In 2022
In case your interviewer did not let you know during your appointment with them, we will gladly give you the information:
The dress code at Home Depot consists of a shirt with color, an orange apron, and pants. Pants may vary from slacks, jeans, or shorts that cut off right above the knee. If you have a pair of comfortable shorts that unfortunately rise more than 3 inches from your knee, you may have to go back and change. All as follows:
Allow
Not Allowed
Shirts
Blouses, t-shirts, polos, and sweatshirt
Tank tops, sleeveless tops, or one sleeve tops
Pants
– Jeans. Any color is acceptable (no rips or tears)
– Slacks
– Khakis
Legging, Yoga pant
Shoes
Closed-toed
–
Hats/Caps
Home Depot hat or from one of the vendors (John Deere, Cub Cadet, etc)
Hat with other brands' logos or offensive language
Shorts/Skirts
Shorts and skirts that are 3 inches above the knee (not recommended)
Sports shorts
Hair
Hair is clean, color dyed hair is acceptable
–
Tatoo
Not offensive, not required to cover tattoos
–
Everything else regarding your attire is completely up to you since Home Depot is quite lax about accessories, body art, and other matters. As long as what you wear does not pose a safety risk, you can definitely sport it as an employee!
In case you want to know about the details from Home Depot uniform policy (hair, piercings, tattoo…), those facts are below, so read up if you find it helpful!
What's The Deal With The Apron?
Any day at Home Depot will not be complete until you see an orange apron or two around the store's facility. That is because it is the only staple item for customers to recognize a Home Depot employee or for company colleagues to recognize one another on the shift.
These bright orange aprons stand out well from any background, which helps customers identify the staff to ask for help from. They also serve as a protective and utility layer for the staff to move about, as they are made of protective fabric with pockets. Therefore, the staff can bring a few items of their needs, and prevent spillings on their clothes.
When you are an employee at Home Depot, it is the only place to wear the orange apron. These pieces do not leave the store, not even for washing. This is to prevent outsiders from sporting as an employee and messing with the customers and the merchandise. You are also not allowed to wear the aprons outside of your working shift.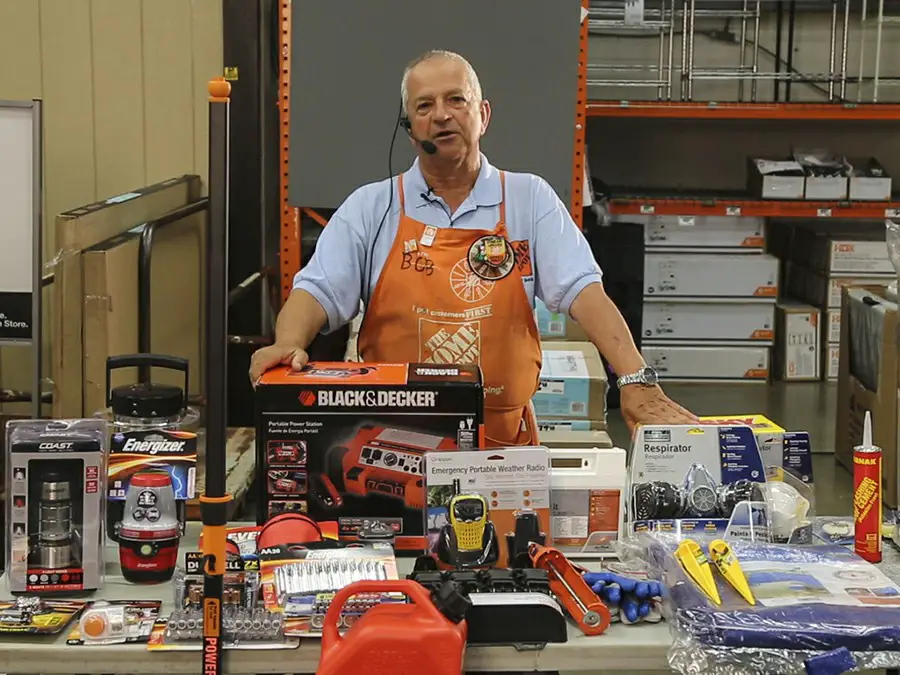 Your store manager will be the one to distribute the aprons and collect them when the working time is over. They are responsible for keeping, sending, and replacing these staple pieces when the situation calls for it. If you have soiled, torn, or otherwise damaged your orange apron, go to your store manager and talk to them about the matter.
Even though the orange color pops and is interesting to look at, there is a tradition for Home Depot employees to customize their aprons on special occasions. So long as it's not another brand blatantly on top of your Home Depot apron, you can use badges, pins, drawings, etc., from the company or elsewhere to decorate your apron!
Holidays are when you start to see the staff getting creative on the aprons. We have seen spiders and ghost pins on a staff member's apron for Halloween, as well as a little plush elf on another's during Christmas. Not all associates have the permission to put things on their apron, but most of the staff present on the shop floor can do so with ease!
What Should I Wear To Work At Home Depot?
The policy states for collared shirts and pants/shorts, but how can you be stylish while on the job? The secret lies in mix-matching with the only consistent item: the orange apron!
Color: Orange goes well with a variety of other colors on the color wheel, especially those on the opposite side. So colors that are on the spectrum from blue, indigo, to purple will be a good match. 
Be sure not to use too saturated colors, or both colors will clash and hurt your customers' eyes. Aside from that, white, black, brown, and grey are neutral colors that go great with everything, so those are some easy options for you!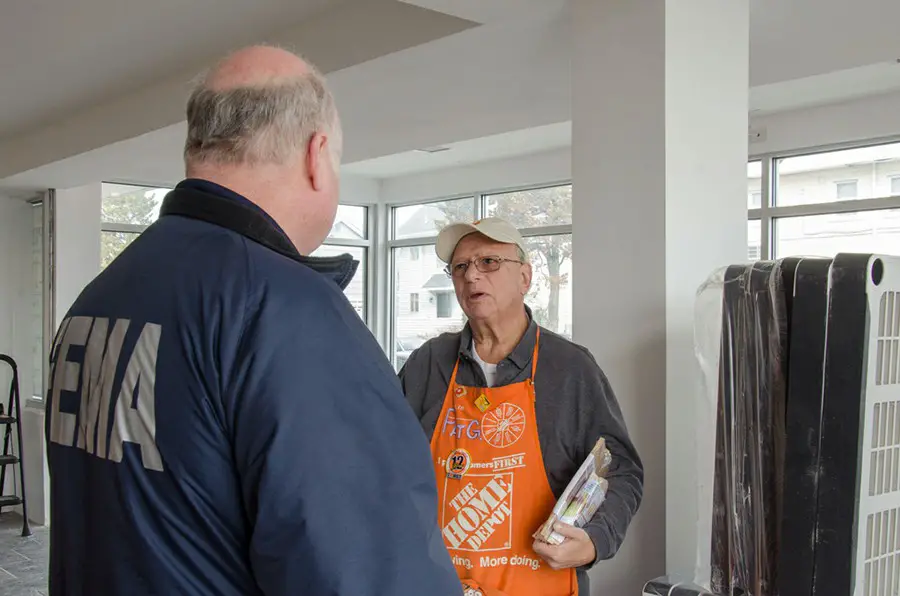 Form: You will be wearing a shirt and pants underneath an apron, so please keep that in mind. If you wear too baggy clothes, you will have a tough time stuffing the fabric behind the apron straps. Clothes that are too thick would result in the same situation.
Collared shirts that are form-fitting, or at least the right size for you, will be the best idea and make the apron sit comfortably on your body. Pants that help you move around fast and conveniently also help you move and work more flexibly in a shift.
Safety: If you wear a shirt or pants with too many rings or buckles, they will bound to catch onto something and/or knock things over. They will also cause you discomfort whenever you sit down or lie down. Moreover, if your shoelaces are too worn, they will trip you. It's best that you wear rather plain and safe clothing on the job.
Those are a few tips we have for you for now, but if you have any other mix-matching options, let us know!
Are There Rules Against Piercings, Tattoos, Etc.?
Home Depot is very lenient about piercings, tattoos, and other forms of body art. As long as your accessories do not pose a hazard or have any obscenities on them, you are free to have them on your body when serving at this store. 
Still, the policies may vary from store to store, so we encourage you to take this question to your sectional managers.
Does Home Depot Have A Uniform?
Home Depot does not have a full-blown uniform. As mentioned, it features an apron that nearly all employees are compelled to wear. 
Only one team in the entire store called the MET – Merchandising Execution Team has their own orange or black shirt.
What Can I Not Wear At Home Depot?
Home Depot allows most but not all types of clothes when an employee is on his or her shift. 
Clothes and body arts that contain symbols of political, religious, or personal beliefs are also not allowed. Home Depot appreciates your opinion, but the company does not consider it to be appropriate at work.
Clothes that have other brands' names or images are not permitted. This is to prevent customers from getting distracted or confused by your attire.
Conclusion
That should be everything you need to know about the Home Depot dress code. Once you have gathered the appropriate attire, don't be late for Orientation day, or you will risk missing other rules regarding the job. We wish you luck!
Source:
Related Home Depot Employee source: