Keeping a rabbit as a pet has become more and more popular thanks to its cuteness and adorableness. 
Petsmart seems like an ideal store for you if you already plan to have one for yourself. And the first question that pops up in your mind is "Does Petsmart Sell Bunnies?".
We have already done a little research on your behalf to figure out the answers to your questions.
Does Petsmart Sell Bunnies in 2023?
Petsmart no longer sell bunnies in any of their stores. Instead, they have collaborated with an animal shelter that promotes their bunnies online, assuring a secure adoption procedure. 
Customers must reach 18 and spend between $50 and 125 dollars to adopt bunnies.
Continue reading to find more about the time and reason they discontinued putting rabbits for sale in-store, the bunny adopts procedure, and more!
Adopting Or Purchasing Expense
How much do bunnies cost at Petsmart?
Purchasing a rabbit at their stores or even online is impossible these days because they haven't sold any rabbit since 2007.
However, they work with an adoption center with bunnies so that you can adopt a bunny from the shelter. The amount of money you have to pay will range from $50 to $125.  
How much should I pay when adopting a bunny at PetSmart?
You should pay no exact amount of money as the fees are different from adoption centers. But don't worry, the fees are typically between $50 and $125. That's the price for one bunny.
How To Adopt And Take Care Of Rabbits?
Which criteria should I meet before adopting a rabbit at PetSmart?
They only allow people from 18 to adopt a rabbit (or other animals). For that reason, you must bring along your valid ID to make sure that you are old enough to be the new owner of this rabbit.
What is the adoption procedure?
With over 9 million pets adopted both in America and Canada, they are not fresh off the boat in this field. Therefore, its process is clear and easy to follow.
Below are steps you need to finish before owning a rabbit:
Go to https://petsmartcharities.org and click on the "Adopt" section at the beginning of this website.
Input your postal code
Instead of choosing dogs or cats, you should click on "Other" and choose "rabbit" in the picklist.
Then click on the "search" button, and choose your favorite bunny. Once you find a bunny you like, choose "learn more" to get more information.
If you have already found a suitable bunny, you can click on "Ask the group about this pet" to send the email to the shelter directly or take a look at the "My Story" section to find their contact .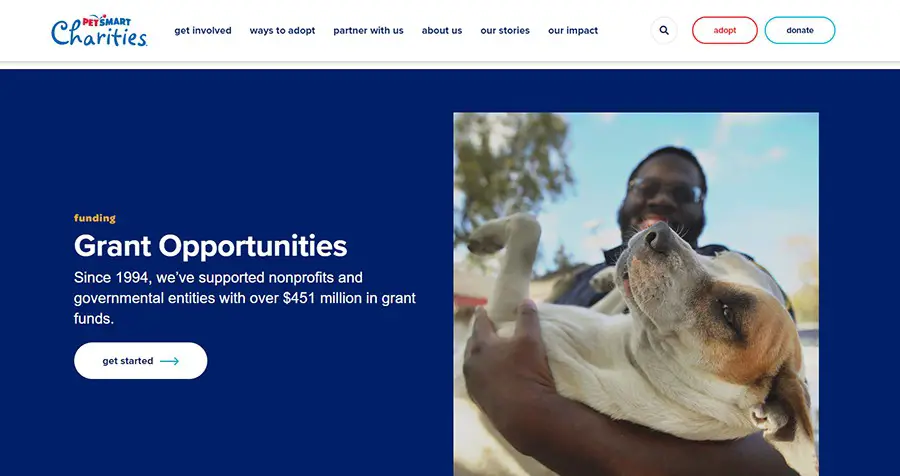 A quick reminder that if you want to know more about the bunny, do not hesitate to email the animal hub and remember to check the mail frequently.
How do I look after a bunny? 
Taking care of rabbits is not a science rocket, so that everyone can do it at ease. The only thing you must know is what bunnies or rabbits need to survive and grow.
You can find all of these instructions at their stores or website. 
If you have a bunny, it is important to remember these requirements:
Provide clean water.
Provide them enough food like hay or pellets to eat.
Provide an area that makes them feel safe.
If these basic requirements are met to be happy, you can enjoy a good life with your new pet! Bunnies love grinding teeth on whatever they find in the cage, so make sure electrical wires and similar objects are covered or out of their reach.
To entertain our little friends, you can buy toys or treats made out of wood that you can easily find on the Internet.
Other Relevant Questions
Has PetSmart ever sold bunnies?
They used to be a paradise for bunny lovers to come to buy and play with rabbits. Furthermore, they can come and purchase equipment, accessories, or food for their fluffy pet at home.
However, in 2007, they decided to stop selling these fluffy creatures.
Why did Petsmart stop selling bunnies?
The reason rabbits are not available at their stores is because of the increasing number of abandoned rabbits after these little creatures are purchased. Therefore, their CEO , Mr. Phillip Francis, had made a tough decision that they wouldn't sell any bunnies since 2007. 
Nonetheless, some reports from PETA animal rights activists showed that they didn't stop that business like what they had said. Under the pressure of animal activists and advocates, they must follow what they had announced. 
Which animal charities is Petsmart working with? 
They have partnered with about 4000 non-profit and government-owned enterprises to support animal welfare from all areas of the U.S, Canada!
They also are dedicated to helping animals in need. They've donated more than $451 million through their charity work, including funding for Wings of Rescue, which aerially transfers pets from shelters that have no room left and at-risk areas so they can find safe homes!
What Kinds of Live Animals Is PetSmart Selling?
If little fluffy creatures are what you adore, they still have many options for you. 
There are Roborovski Dwarf Hamsters for sale, Long Haired and Chinese barefoot. If you're not located near one of those areas, the store will ship your pets to you. In some cases – ask before purchasing so that there aren't any surprises along the way.
For under $25, buyers get a chance to purchase an adorable Russian or American dwarf hamster while spending less than ten bucks if choosing from amongst many other types, including chinchillas which cost quite more at 150 dollars.
Conclusion
Although you can not buy bunnies either online or offline, you can choose to adopt these fluffy things from their partners. The fees will start from $50 and do not exceed $150.
If you cannot find a suitable bunny for yourself, they also offer other fluffy pets like hamsters, gerbils, etc.
Related Petsmart Source: