Like other retail stores, the Walmart (WM) retail chain will also have occasions when it is crowded and empty. Besides, the company also has huge discount days, helping you buy more products at a more favourable price.
Customers may often wonder, "How busy is Walmart right now?" and whether it makes sense to go to the store at that time.
This article will answer your questions in this article. In addition, it also gives other key moments in the store such as restocking, clearance, and big discounted time. Stay on reading for more information.
Walmart Busy Hours
Walmart's busy hours are on the weekends during the usual seasons, especially between 12 pm and 3 pm. Numerous stores are crowded with buyers, the checkout counters are always busy, and the shelves sometimes lack items.
Besides, Walmart's busiest ones are probably Black Friday Sales in November each year. It is the best day to shop at Walmart for up to 50% off, so no one does want to miss out.
The Best Time For Shopping In Walmart
The best time to go to Walmart is from 7 am to 11 am on weekdays and 8 am to 11 am on weekends. In these two time periods, you can shop at Walmart with ease!
At these times, the stores usually have fewer customers, and the goods are also filled on the shelves more fully, which is contrary to the above two times is the busiest time for Walmart: from 12 pm to 3 pm on weekends.
That is the best time to shop at Walmart if you are wondering. But don't leave yet. Besides providing ideal shopping times, this article will provide you with when items here are restocked and the most discounted time. Keep on reading for more details!
When Does This Retail Chain Restock Its Products?
Walmart splits its time to add more products to the shelves. Perishable products, such as fresh fruits and vegetables, will usually be replenished between 10 pm and 7 am. Therefore, customers who buy food in the morning will choose the freshest food.
Other items such as clothing, home appliances, electronic equipment, etc., will be split up several times a week. They will sometimes depend on the density of customer purchases. However, the most popular times are early morning at 7 am and early afternoon at 1 pm.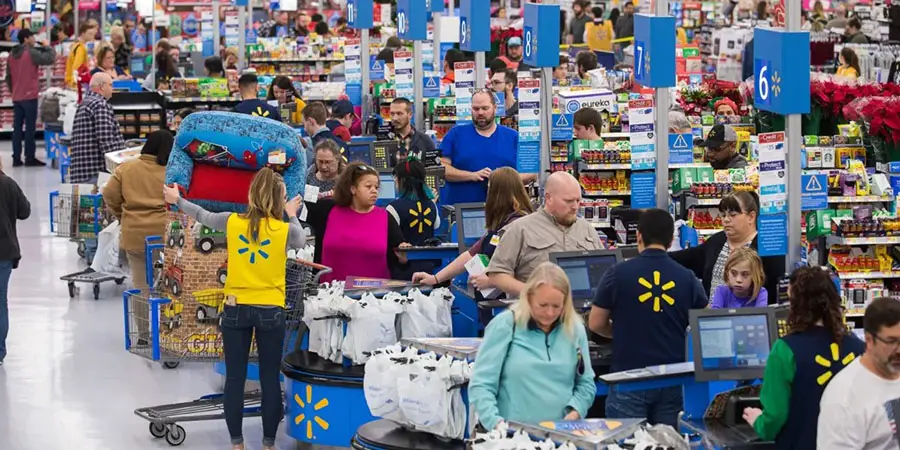 What Is Walmart's Clearance Sale Day?
A clearance sale is a sale campaign to clear inventory. This campaign only applies to certain items that did not meet their sales target last month and could cause problems with sales this month.
Clearance days usually start on the first week of the month, from the 1st to the 5th. As a result, this is one of the best times to go to Walmart and buy goods at a lower price than usual.
When Does This Company Have Deep Discounts?
When Walmart has deep discount programs, its customers can buy goods at preferential prices. Walmart is a large retail chain, so you may have more options for your shopping cart with less money charge.
This day often falls on Black Friday Sales in November annually. Most items at Walmart are discounted, even up to more than 50%.
Besides, this retail chain's deep discount day can also follow its competitor in the market share. That is the Amazon Company. This company has a day that it deeply discounts customers, called Amazon Prime Days (APDs).
On these occasions, Amazon has a huge promotion about the price for its loyal customers, Prime members. Therefore, Walmart often creates equivalent promotions to compete and attract buyers. Then, you can keep an eye on Amazon's APDs program to see if Walmart is offering discounts around the same time or not.
Conclusion
If you want to shop comfortably, you should go to the store from 7 am – 11 am on weekdays, and 8 am – 10 am on weekends. You should also avoid 12h – 3h on weekends if you hate crowded areas.
If you want to buy fresh food, go to the store in the morning. There are two periods when you can save your money more: on Clearance sale day and Black Friday.
Hopefully, this article has supported you in making a better choice when going to Walmart to shop and spending less money than you usually do.
Related Articles: