Walmart has an interesting regulation for goods returns, particularly on fresh food. Some people think you can give back any edible items to the retailer, while others are afraid they cannot.
So can you return food to Walmart? This post will outline all the details regarding this issue.
Can You Return Food To Walmart In 2023?
Absolutely yes. Customers can now give back both non-perishable and fresh food products after purchase if they're not satisfied for some reason. Additionally, non-perishable types will be accepted for up to 90 days, while fresh produce is before expiration.
This goodwill and guarantee policy has been in place for decades. The interesting aspect of this regulation is that it is not for the retailer Supercenters but also Neighborhood Markets and other locations. 
Their guarantee policy is highly respected. However, exceptions and exclusions may make you think twice before you want to send back a food item.
Walmart's Fresh Guarantee Policy
Their new regulations allow consumers to request a refund or replacement for the perishable products they bought from the store. It also includes fish and meats, bakery goods, vegetables, and fresh fruits.
Nevertheless, these requests must be made no later than 90 days from the date of purchase (for non-perishable products) and within the expiration date (for fresh produce).
Which Ways Can You Bring The Products To Walmart?
There are two ways you can bring them back to the retailer. The first way is through their service email. If you prefer an in-person experience for a quick solution, you can go to the local location and ask for your money back.
However, the retailer might not give your money back; you will have an exchange for other goods or get some store credit instead.
Moreover, you can reach out to (800) 925-6278 – the customer service and ask them for help. They may need some information about your purchase, so make sure you have the receipt.
Can You Get A Return Without A Receipt?
Yes, but the following are priority items for the policy:
Unopened products
Unused frozen items
Non-perishable items
The manager can refuse your request if the goods you purchase are perishable or opened.
However, since you cannot provide a receipt to prove your purchase, the final decision to give your money back will depend on the manager. Usually, you will get an exchange or store credit in this case.
Is Frozen Food Acceptable?
It is acceptable as long as you haven't used or opened it. You'd better bring the frozen items to the same location you bought them from, and remember to provide your receipt.
Moreover, consumers cannot return this product in stores that don't carry a frozen food section; this goes the same for bread. If the branch doesn't have a bakery section, you cannot give them back.
Which Fresh Produce Can You Return To Walmart?
Meat
According to their fresh food guarantee, customers who buy deli meats or other pre-packaged meats and any non-prepared meat from the supermarket's meat section can return their purchase if it happens to be off-color, spoiled, or smells not so pleasant.
You should contact them immediately for either a replacement or store credit. You usually cannot get a refund for perishable products like meats, as we've mentioned before.
Vegetables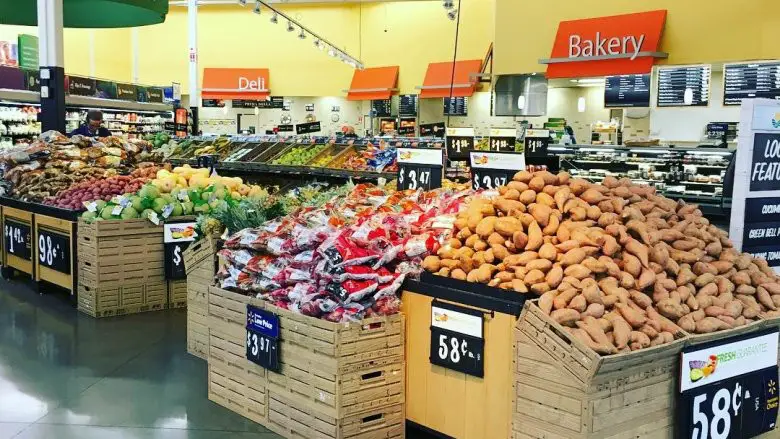 Vegetables are a difficult item to enjoy this policy as it belongs to perishable products.
Unless you provide a receipt for recent purchases, the product has not shown signs of opening or use and is still fresh; the branch manager will likely favor a refund.
However, it is very rare for customers to want a return for vegetables because they often check the quality carefully before buying.
Fish
Walmart's fish return policy states that they will still refund you if there are any problems with the fish you bought. 
Though the corporation likely doesn't want to take the fish back, you can keep it if you want.
What Other Things Can You Return To Walmart?
Can you return groceries to Walmart, like baby food or confectionery?
Yes! Most items found in the grocery section of this retailer, including formula and baby food, are returnable with a receipt for up to 90 days from purchase. 
In other words, even if an item becomes stale or is damaged, you have 90 days to get an exchange. You can do it at a CS desk in the store by simply requesting an exchange on a different flavor of baby food! 
However, they tend not to give you a refund unless you ask for it.  
Online Items
If you have ordered online from the retailer and have a change of heart or don't like it, then good news! 
Customers can return most unopened items that they bought through their website for any reason. Head to your local store for this process or send a request to their service email.
Alcohol
Yes, the retailer accepts to take alcoholic beverages as long as the customers return to the store where they purchased them and provide the receipt. 
You would rarely need an alcohol return, though!
Tobacco
Luckily, they will take back your unused or unopened tobacco products as long as they've got a receipt! Remember to bring them back to the same store where you bought them.
Can You Return Groceries To A Different Branch?
Of course, a location will take back groceries if they are purchased from other stores; this excludes alcohol or tobacco products, though. 
You see, if you happen to lose your receipt, you'll need to go back to the same store in which you initially purchased the item. That way, they can check by looking at their documentation on file.
Disclaimer: Not all stock may be the same in all stores, and if you want to get a replacement or an exchange, the thing you need might not be available at some locations.
What Are The Refund Methods?
The company will happily accept products noted in their terms and conditions (as mentioned above). 
They will provide a refund in the form of cash or store credit if the return is under $25. For higher returns, they will also offer you a gift card for later purchases.
Takeaway Points To Note
The company policy is undeniably consistent with these straightforward regulations:
 Nonperishables and frozen products typically have a return within 90 days. 
Even when you haven't opened them yet, perishable items can't be returned.
The store will take your items even if you don't have a receipt ( you might not get a refund, they will offer you a replacement or an exchange instead)
Final Thoughts
Their wide variety of products and excellent policy make Walmart the ideal place to shop. However, as we mentioned above, there are a few restrictions that you should know about before you try to take advantage of the Walmart food return policy.
We hope you found this article informative and helpful. If you have any other questions that we did not cover, please leave them in the comments below.
Reference Source:
Related Walmart Source: