Amazon is a big company that attracts a lot of labor resources. Amazon also facilitates candidates and helps its employees increase their income through the candidate referral program. 
They can refer their acquaintances, friends, or family members to work at Amazon. This article will introduce more detailed information about the Amazon employee referral bonus 2023.
Does Amazon Have Employee Referral Program?
The answer is yes. There is also no limit when you refer candidates to Amazon. The candidate referral program is one of the current recruitment channels that companies are quite interested in because of its positive and effective results. This program will create conditions for freelance recruiters to improve their income and for recruiting businesses to find quality candidates at the lowest cost easily.
How much is Amazon referral bonus?
Amazon is also a company that applies for a candidate referral program. Specifically, each Amazon employee will receive $125 for the Tier 1 position, which is related to some work in the warehouse. You can also get a higher bonus if you work in other areas. Remember that the more difficult the recruitment process is, the more bonus you will get. 
According to the employees, you can even earn $1000 thanks to the employee referral program. This money can change if the candidate you referred to works for a higher position. There are also some cases where you cannot receive a bonus. It may be due to the lack of paperwork or some commitments.
Candidates must commit to working at Amazon within 60 days – 90 days, or they will not receive the referral bonus. In addition, you can earn extra bonuses if you are productive and can work during vacations.
Benefits Of Amazon Employee Referral Bonus 2023
Here are some of the benefits that employee referral programs bring to Amazon. 
Attract High-Quality Candidates
With the advantage of having friends who are internal employees, candidates applying through Talent Referral all know in advance and understand the requirements of the job and the company's cultural environment, so they usually basically meet the initial criteria. 
It brings a competitive factor to candidates and significantly helps the recruitment department save time in screening resumes and cross-checking before the interview rounds. The opportunity for a bright candidate to "reveal" through referrals from internal staff can be quite high compared to other forms of recruitment.
Simplify The Recruitment Process
Recruitment is simplified because instead of being present at a job fair, job agency, or other recruitment location, the initial selection of new employees can be done internally. The recruitment process is shortened quite a lot. It is a good sign for positions at Amazon that are in urgent need of additional personnel.
Save Time And Money
The shortened recruitment process saves time and saves a lot of costs. Besides, the recruitment department can reduce the effort in searching and screening resumes. 
Amazon Employee Referral Program helps optimize recruitment costs by paying referred candidates only when they are hired. Therefore, the recruitment budget is spent more effectively than other recruitment channels in that the money spent is sure to ensure the right candidate for the vacant position.
Frequently Asked Questions (FAQs)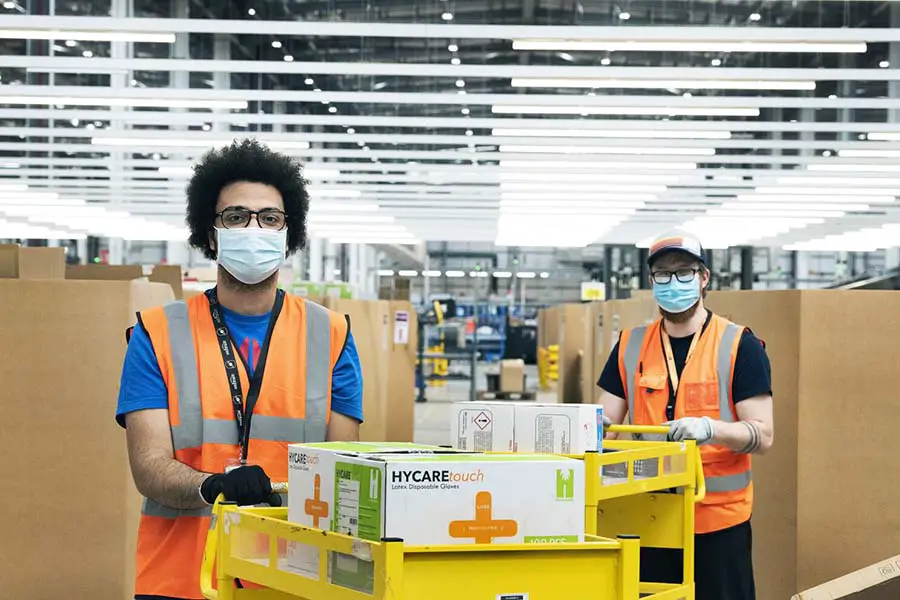 Does Amazon Give Its Employees Bonuses?
Of course, yes. Amazon always spends an amount of money as a bonus for their employees in one year. Employees who work harder or have higher productivity will get more bonuses.
For example, if you are ready to work during the holidays, you will receive money. Amazon is much busier these days when people tend to go shopping more frequently with more goods. 
In particular, the bonus for working on holidays ranges from $150 to $300 depending on if you work part-time or full-time. In addition, if there is evidence that shows you work harder than any others, you will also get rewards and bonuses from Amazon.
Who Should You Refer To Amazon?
Deciding who to refer to Amazon is also an important factor because Amazon pays more attention to the quality of its employees. Many people think that they can introduce anyone to receive a bonus, but the reality is not simple like that. The candidate must commit to working for Amazon for at least 60 days and ensure the productivity of the work. 
Therefore, it would be best to introduce someone who is hard-working and has further experience in this field. You also assured me that Amazon would test the candidate carefully. After completing all commitments, you will receive a bonus from Amazon.
Does Amazon Offer Its Employees Other Financial Benefits?
Amazon also provides its employees with other financial benefits. The most financial benefit of Amazon is the 401(k) plan. This plan means Amazon will give you $0.50 for each $1 of your contribution to the plan. The maximum amount you can contribute to the 401(k) plan is 4% of your pay. 
It would be best if you also remembered that Amazon does not accept all the other contributions. You will receive financial benefits after three years of vesting services, and one year of vesting can exchange for 1000 hours you work on Amazon.
Does Amazon Offer A Sign-On Bonus?
Employees will receive a sign-on bonus for the first time. The bonus amount may be different, but it can be worth thousands of dollars. 
However, you need to commit to working at Amazon for a certain time to receive this bonus. This kind of bonus can encourage the recruitment process, and it is also considered a gift for employees who want to apply for a position on Amazon.
Conclusion
Amazon also provides its employees with other benefits. In particular, you will receive a bonus for high productivity or working during holidays. If you intend to apply for a job on Amazon, consider it carefully.
Related Amazon Employee Source: